The state of media freedom in the Balkans today is worse than it was after the wars of the 1990s, Dunja Mijatović, the media freedom representative for the Organization for Security and Co-operation in Europe (OSCE), told the audience at a symposium held at Columbia University on March 11th.
The event, "State of the Media in southeastern Europe: From Crisis to Corruption" was held at Columbia's School of International and Public Affairs and organized by Columbia professor Tanya L. Domi, scholar Jasmin Mujanović and the Harriman Institute.
Speakers included journalists and scholars representing Bosnia and Herzegovina, Montenegro and Serbia. Macedonia and Azerbaijan were also discussed.
Mijatović noted that European Union officials often visit Balkan countries, but have shown little interest in human rights there. Meanwhile, she also stressed that prime ministers, presidents and foreign ministers from South Eastern Europe have failed to condemn threats made against journalists. Several participants cited a recent statement made by Johannes Hahn, EU Commissioner for European Neighborhood Policy and Enlargement Negotiations, that reports of media freedom violations in Serbia were mere "rumors" without proof, as a particularly troubling development. Mijatović called Hahn's comments "dangerous".
Aida Cerkez, the chief of the Associated Press bureau in Sarajevo, said that apart from her colleagues at the local Reuters bureau, she considers her team to be the only truly independent journalists in Bosnia, largely free from the government meddling that other publications often encounter.
University of Albany journalism professor Rosemary Armao addressed media ownership in the Balkans. She said that research shows it's unclear who owns and influences much of the media in the region. Armao added that few local media agencies are able to do conduct real investigative reporting.
All panelists spoke about threats and smear campaigns (also known as "media lynches") against journalists in the pro-government press, noting specific threats of rape and death, as well as misogynist speech directed against women in the profession. Panelists were also in agreement about the troubling degree of self-censorship that exists among journalists in the region.
Professor Domi said that Macedonia currently has the worst conditions for LGBTQ people in the Western Balkans, and that the population is often the "canary in the coal mine" for the erosion of rights in other areas. Domi also addressed accusations of election fraud against the Macedonian government, which she described as another example of the freedom of expression currently under threat in the country.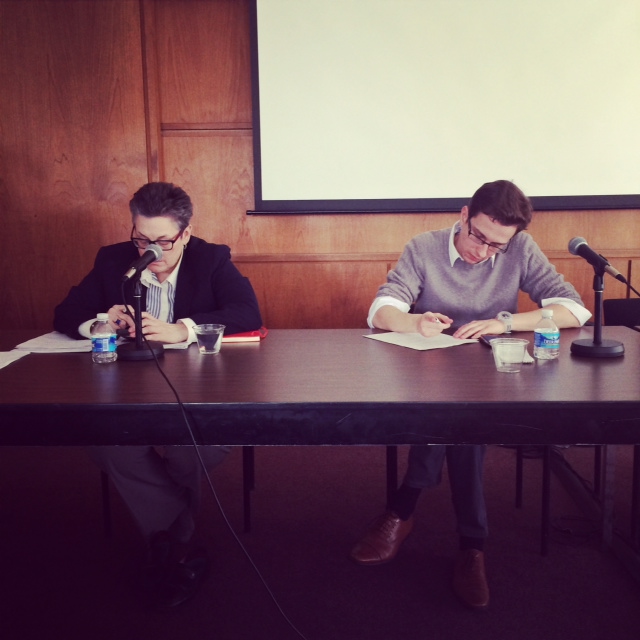 Lily Lynch, co-founder and editor-in-chief of Balkanist said the website, along with Pescanik, had been hacked late last year. While Serbia's Prime Minister Aleksandar Vucic vowed to investigate such occurrences during his October visit to the London School of Economics, Lynch said that they've continued instead.
Mijatović asserted that media freedom has deteriorated in all 57 member states of the OSCE. The OSCE member states span three continents, North America, Europe and Asia, and include more than a billion people, according to the organization's website.
Milka Tadić Mijović, the U.S. correspondent for the Monitor, an independent weekly from Montenegro, said that the media environment in the Balkans is very much dominated by partisan politics and that it's very difficult to publish rebuttals. (Related: Tadić Mijović speaks on Erosion of Media Freedom in the Balkans: Shadows of the Nineties)
In the world press freedom index for 2015, compiled and released by Reporters Without Borders, Macedonia is ranked 117th, the lowest of all countries in the Western Balkans. Montenegro is ranked 114th. Reporters Without Borders says it's important to note that the index should not be interpreted as an indication of the quality of the media in the countries concerned.
Here are the 2015 rankings of several countries of interest:
#117 – Macedonia
#114 – Montenegro
#87 – Kosovo
#82 – Albania
#67 – Serbia
#66 – Bosnia and Herzegovina
#58 – Croatia
#49 – United States
#35 – Slovenia
#10 – Estonia
#9 – Jamaica
#8 – Canada
#7 – Austria
#6 – New Zealand
#5 – Sweden
#4 – Netherlands
#3 – Denmark
#2 – Norway
#1 – Finland
An earlier version of this article originally appeared on Zlatko's website. Photos by Balkanist.