Dodik doing things
In addition to the roughly $3 million that Dodik has given to Karatnycky's Myrmidon Group and a subsidiary in recent years, he also continues to pay the Washington D.C.-based international law firm Picard Kentz & Rowe a monthly fee of $167,000 in exchange for a "legal and development strategy". They've been working for Dodik for five years, and in 2011, the firm launched a website called the BiH Dayton Project. It looks like a simple news aggregator, but it's actually more of a promotional platform celebrating the accomplishments of President Dodik.
"It's a website for investors, but also for journalists, researchers, and students," Don Picard of Picard, Kantz and Rowe told Balkanist. He also explained that they'd decided to create the site because they felt coverage of his client was biased, and "stuck in the past."
But the BiH Dayton Project is also a retrograde project that's preoccupied with the 1990s. The only positive reporting is reserved for Dodik's "achievements", which usually involve meeting an employee of Microsoft or shaking hands with a diplomat from Scandinavia. The site also reveals Dodik's troubling attitude towards dissent. "…2013 saw some disturbing political developments in Republika Srpska, including an escalation of negative rhetoric on the part of opposition parties," reads one report. Picard Kentz & Rowe receives about $2,004,000 from the government of Republika Srpska each year. The BiH Dayton Project, which was launched in 2011, currently has 14 "likes" on Facebook.
There have been other expensive bungles. In 2008, Dodik hired the doomed "super firm" Dewey & Leboeuf. They were paid $175,000 per month to come up with a "legal and diplomatic strategy" for dealing with Bosnia's "peace enforcer", the Office of the High Representative. But the financial crisis hit that same year, and in 2012, Dewey & Leboeuf failed in a spectacular and very public way.
Then Dodik decided to add another first-class company to his roster of rich lobbyists: Quinn Gillepsie and Associates. Their team is so packed with famous faces that the firm is occasionally featured in fashion magazines. Jack Quinn served as President Clinton's White House Counsel from 1995 until early 1997. Ed Gillepsie also failed fantastically in 2012; he was the senior advisor to the Mitt Romney presidential campaign.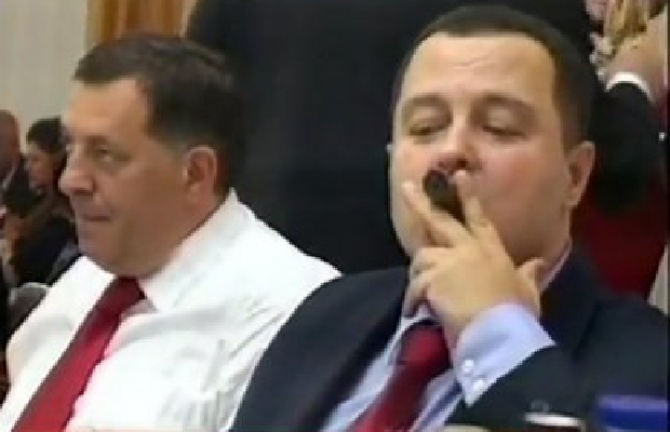 Also on the roster is Ralph Johnson, former Deputy Principal High Representative in the Office of the High Representative of Bosnia and Herzegovina. Now he's the President of the International Practice Group at Quinn Gillepsie and Associates. A few years ago, the firm snagged Adam Belmar, a former communications director for George W. Bush and a primetime television producer.
Dodik decided to keep splurging on the top-shelf lobbyists in the midst of a mounting global financial crisis. He ordered their services for three full years, from 2007 through 2010. The contract with Quinn Gillepsie and Associates made it clear that the government of Republika Srpska was obligated to buy first-class airline tickets and hotel suites for employees of the firm, including Johnson, the former deputy principal high representative of Bosnia and Herzegovina. Anything less would not do. However, details about what the people of Republika Srpska would get in return were less precise. Members of the team would provide vague services like develop Dodik's "comprehensive media strategy" and "national communications outreach". What can be said with a degree of certainty about Dodik's agreement with Quinn Gillepsie and Associates is that the government of Republika Srpska threw away $122,600 each month for the publication of "at least three" articles that no one would ever read. From the contract (emphasis ours):
"QGA [Quinn Gillepside and Associates] is hereby obliged to provide publishing of at least three media titles in U.S. media outlets each month. This can include public statements, topic specific articles, opinion editorials, or letters to editors in media like: The Washington Post, The Washington Times, The New York Times, The Wall Street Journal, USA Today, The L.A. Times, The Chicago Tribune, AOL Money News, The Examiner, Reuters, Yahoo! Politics, The Washington Business Journal, or other media outlets whose reputation is not lesser than that of the media listed above."
There are many problems here, the most important being that nobody reads AOL Money News, Yahoo! Politics, or The Washington Business Journal. Balkanist found one Quinn Gillepsie and Associates-planted article titled, "Bosnian Serb Government Praised for Role in Restoring Mosque", which reveals both the futility of the strategy, and what appear to be its true purpose. Published on something called PR Newswire with an embarrassingly loud disclaimer that it was distributed by paid lobbyists, the beginning of the article reads:
The RS government has pledged 700,000 euros for the reconstruction effort.  In recognition of this commitment, the Islamic community presented RS Prime Minister Milorad Dodik with a letter of gratitude during Tuesday's ceremony. This was Dodik's first official visit to the mosque since the beginning of the reconstruction. Mustafa Reis Ceric, the head of Bosnia's Islamic community, said, "Dodik's visit has confirmed that authorities in the Serb republic have a long lasting relationship with Ferhadija [Ferhad Pasha] and respect for different religions."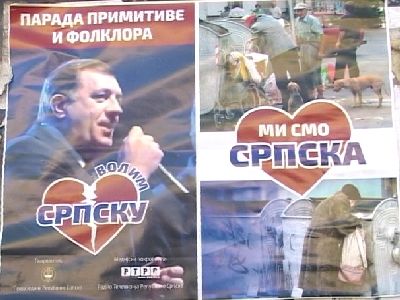 Dodik is clearly more interested in elevating his own position in the eyes of the broader public than that of his people or even the economy. "His real goal is to become a regional statesman to whom the world pays court," Matthew Parish, the former Chief Legal Adviser to the International Supervisor of Brcko, said of Dodik a few years back. And the swanky lobbyists, paid for by the public, are part of the realization of that goal.
Strategic non-communication
The government of Republika Srpska has spent between $70,000 and $96,000 every month on the Myrmidon Group for the last three years "to attract foreign investment" and "change perceptions of RS's leadership". And as of February 2012, Dodik has doled out an additional $15,000 per month to pay their shadowy, generic-sounding subcontractor, Innovative Global Initiatives and Solutions. Picard's contract is also still active, meaning an additional $167,000 per month is being paid for the failed BiH Dayton Project, which is also there to woo would-be investors and modify opinions. And the list doesn't end there. But what will Republika Srpska's taxpayers get in return? Will this strategy of rebranding Republika Srpska's leader bring foreign investment or any other tangible benefit to anyone other than Dodik?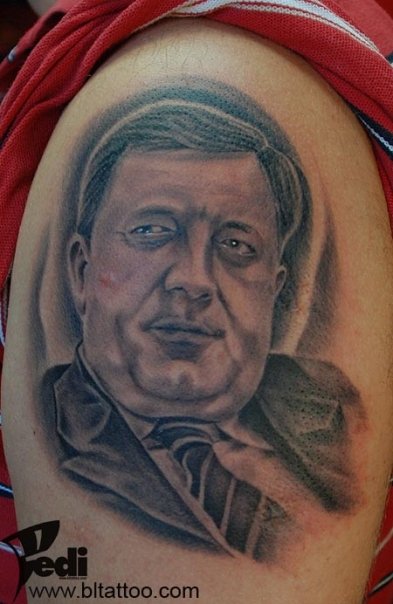 Republika Srpska has opened eight commercial offices around the world also meant to facilitate trade and investment. But it doesn't seem that anyone working in any of them really cares about attracting foreign investors. The latest update to Republika Srpska's listings in the FARA database was this October, when the sub-state government opened an office for Trade, Cooperation, and Investment in Washington D.C. Balkanist phoned the new office on Pennsylvania Avenue at least half a dozen times, and each time we got a voicemail message recorded by a perky intern who struggled to pronounce "Republika Srpska". Though the voice on the recording claims the office is open "between 8:30 AM and 5:00 PM, Monday through Friday", and a FARA document says the government of Republika Srpska has allocated $30,000 per month to pay for costs associated with the office, including a director, an executive assistant, office space, supplies, and a car, Balkanist has repeatedly been frustrated in its attempts to make contact with an actual human being. In fact, the exact same thing happened when Balkanist repeatedly dialed and redialed Republika Srpska's commercial administrative offices in Brussels, Belgrade, Jerusalem, Moscow, Stuttgart, and Vienna. If expenses in the other locations are similar to those in Washington D.C., the government of Republika Srpska is paying about $2.9 million each year for an office staff that may not work — or even exist.
"There hasn't been any cost-benefit analysis of Republika Srpska's enormous spending on international lobbyists, promotional campaigns, and representative offices in Brussels, Washington, Moscow, etc." Ivana Korajlic, spokesperson for Transparency International in Bosnia and Herzegovina, told Balkanist. "The public doesn't know what kinds of results they have and whether or not there's any sound justification for paying for them." Transparency International was also identified as a "traitorous" organization in The Death of Republika Srpska.
What else is Republika Srpska and its army of well-paid consultants doing to attract foreign direct investment — other than opening empty offices overlooking the Washington monument and Moscow's tree-lined Pokrovsky Boulevard? As Don Picard was quick to tell Balkanist, the government has revised the tax code to make it more favorable for foreign investors. And Karatnycky, the color revolutionary from Freedom House, has written it into the contract that he will promote Republika Srpska's free trade zone, a semi-autonomous area where many labor laws and customs regulations are effectively suspended.  Free trade zones are criticized by unions, who say the absence of enforceable labor laws makes workers more vulnerable. They can also attract a host of criminal activity, from cigarette smugglers to illegal weapons traffickers. Picard promised to send Balkanist an email detailing Republika's Srpska's investment opportunities, relevant contact persons, and achievements, but never did. Perhaps the $2,004,000 the government pays Picard each year for "strategic communication" would be better spent elsewhere.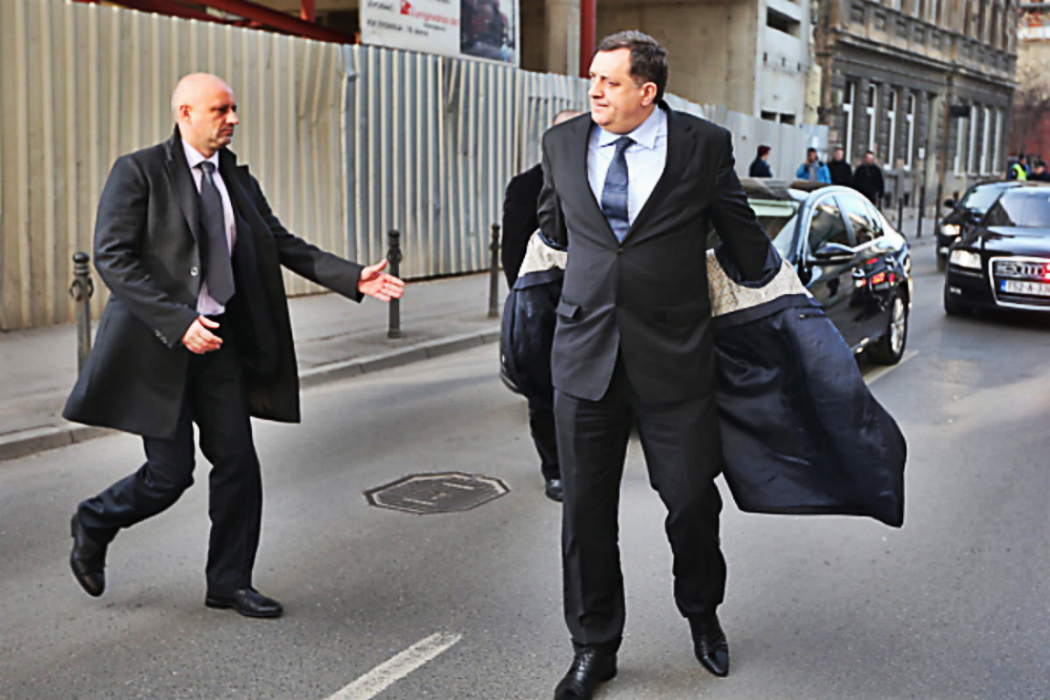 Money and Milorad Dodik
The most mysterious of all of Dodik's foreign agents is definitely the Laurus Group. Since 2011, they've been providing Republika Srpska with the same vague services that almost all of its lobbyists have, such as "oversee government relations strategies" and "develop a communications strategy". But it's 2014, and they still don't have a website. In fact, there's hardly any information about them anywhere. FARA documents reveal that they are very expensive: Dodik pays them about $540,000 in fees, plus an additional $110,000 in "office costs" each year. And while they have an address at a classy building on Connecticut Avenue in Washington D.C., the last item of their agreement with the government of Republika Srpska states that it is to be "construed, interpreted and applied in accordance with the laws of Austria". No further explanation is given.
After a little more digging, persistent internet research reveals that Laurus Group is pretty much the embodiment of the irrational paranoia propagated by the authors of The Destruction of Republika Srpska, which is distilled in the following passage:
"Crusading under the anti-socialist flag, pseudo-government formations such as NDI, IRI, IFES, IPEX, Freedom House, and hundreds of other organizations on the government leash accumulated enormous means from the U.S. Congress and State Department, and were in charge of establishing outposts of American authority in foreign countries under the guise of humanitarian action, oftentimes by assisting NGOs with civil society-building, human rights protection, and the organization of democratic elections and alternative media."
The chairman of Laurus Group is a man named Henry Jones IV from Arkansas. He's a member of the Tea Party and works with an organization that mobilizes conservatives to protest and perform street actions "the same way that liberals do".  He worked for the International Republican Institute (IRI) in several countries, beginning with Macedonia in 2003. While there, he assisted the late Macedonian President Boris Trajkovski with the development of his communications strategy. (Trajkovski died in a tragic plane crash in February 2004 en route to a conference in Bosnia and Herzegovina).
Later, Jones became the Political Director of IRI and joined the Committee for Open Democracy, a Florida-based NGO that monitors elections. He traveled to the Republic of Georgia as the group's "free and fair elections" representative in 2012. One biography says he's an expert in "change management" and has worked as a consultant "on six continents and in over fifty-four sovereign states and territories." He has a star-studded client list: He managed former Albanian Prime Minister Sali Berisha's election campaign, strategized with several key politicians in Kosovo leading up to the declaration of independence in 2008, is currently working with the League of Social Democrats of Vojvodina in Serbia, the Democratic Party of Albanians in Macedonia, and of course, Milorad Dodik of Republika Srpska.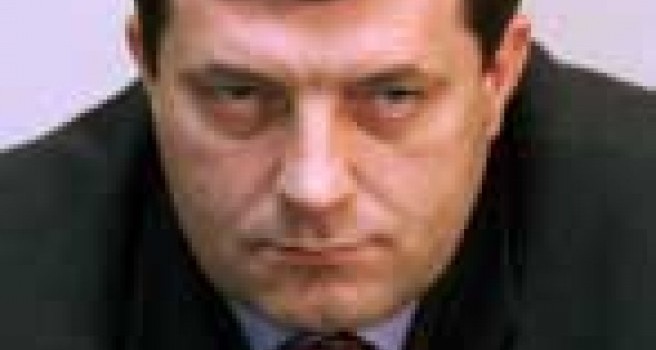 One of the largest private companies in Serbia, the scandal-ridden Delta Holding, is also a former client of the Laurus Group. Though Jones himself is an ardent right-wing Republican, he organized an "inauguration night pajama party" hosted by Star Wars star Carrie Fisher at the request of former Delta Holding Vice President Milka Forcan in Washington D.C. after Barack Obama took his oath of office in January 2009. The pajama party event was allegedly attended by "Hollywood stars and the Washington elite" though no names were given in the press release Jones had circulated in publications no one reads.
Incredibly, the inauguration night slumber party with Princess Leia and "gourmet sleepover-themed catering" was not the strangest event Henry Jones IV ever hosted. That was probably the bizarre breakfast roundtable he co-hosted with one of Republika Srpska's other lobbying firms in April 2009. Held at the historic St. Regis Hotel located just two blocks from the White House, the keynote speaker was then-Deputy Prime Minister of Serbia Mladjan Dinkic. US government officials were able to attend for free, as the event's purpose was to promote Serbia and Republika Srpska as investment destinations. The consulting firms hosting the $75-breakfast (for non-US officials) were the Laurus Group, Quinn Gillepsie and Associates, and Booz Allen Hamilton — the NSA contractor that employed Edward Snowden before he fled to Hong Kong with a suitcase full of state secrets. Naturally, the vice president of Booz Allen Hamilton was James Woolsey — the former CIA director who chaired Freedom House after the "Orangist" Karatnycky left the NGO to become a lobbyist. While the early morning scene may sound unsavory to some, the architects of the color revolutions had long since lost their appetite for regime change and democracy. These days, all they want out of the region are a few partners as rich and reliable as Milorad Dodik.
Amount spent on American lobbyists in 2012*
Russia
United Kingdom
Switzerland
Republika Srpska**
Turkey
Germany
Netherlands
Serbia
Belgium
Czech Republic
Monaco
Cyprus
Norway
Italy
Kosovo
Sweden
Iceland
$10,589,592
$10,430,623
$5,833,511
$3,908,755
$3,592,092
$2,583,280
$2,286,973
$2,154,968
$1,951,768
$1,770,648
$1,709,391
$1,511,807
$1,418,000
$1,218,347
$1,198,087
$919,970
$906,415
Montenegro
Croatia
Poland
Denmark
Ukraine
France
Hungary
Liechtenstein
Albania
Romania
Estonia
Macedonia
Luxembourg
Spain
Latvia
Lithuania
Bulgaria
Federation of BiH**
$683,778
$653,000
$619,769
$600,000
$438,962
$237,817
$225,000
$220,000
$184,214
$173,956
$96,000
$75,000
$68,120
$21,981
$0
$0
$0
$0
* All data obtained from www.fara.gov and the latest annual reports, which are from 2012. Calculations based on lobbying fees paid for with public funding. Private companies, individuals, charities, etc. were excluded.
** Republika Srpska and the Federation are the two major entities that make up Bosnia and Herzegovina.