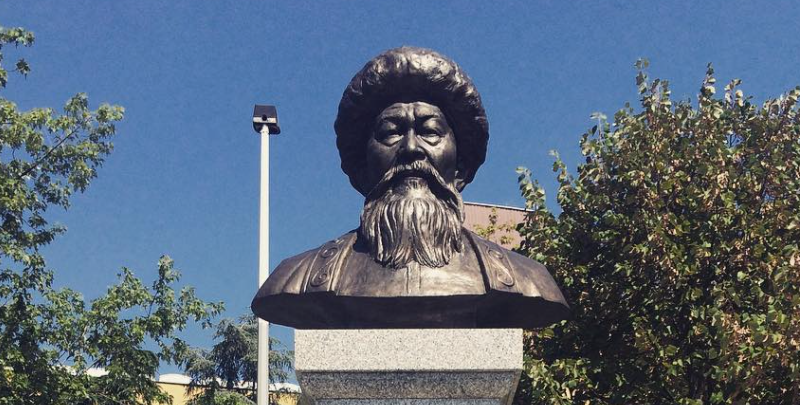 Kazakh dictator Nursultan Nazarbayev's first trip to Belgrade.
---
The newest monument in Belgrade is a bust of Stalinist poet and traditional folk singer Jambyl Jabayev of Kazakhstan. Jabayev, who died several months shy of his 100th birthday in 1945, is said to have composed numerous songs and poems in homage to Stalin, including "Obliterate". (Lyrics: "They are fascist bastards, assassins, delinquents/This dark-soul riffraff must be terminated/And plague-stricken corpses must be liquidated").
The statue sits in a park in front of the Energoprojekt building in New Belgrade. Gold lettering imprinted on the base of the bust describes the circumstances surrounding the statue's installment: The monument was dedicated on August 24th, 2016, on the occasion of Kazakh President Nursultan Nazarbayev's historic first visit to Serbia. The bust was unveiled at an elaborate ceremony officiated by Nazarbayev and Serbian President Tomislav Nikolić, and attended by Prime Minister Aleksandar Vučić and Belgrade Mayor Siniša Mali.
Nazarbayev has ruled Kazakhstan for almost 27 years. His regime has been accused of torturing and murdering striking oil workers in the western city of Zhanaozen. He is also known to operate penal colonies in the Karaganda region, the site of Solzhenitsyn's Gulag Archipelago. Amnesty International reported this year that torture is widespread in the country's criminal justice system, which has increasingly ensnared young activists arrested for the crime of sharing information about protests on social media.
The Kazakh dictator also has several things in common with the current leadership of Serbia. Both governments have hired Tony Blair and ex-Kanzler of Austria Alfred "Gusi" Gusenbauer as advisors. Both countries have welcomed investments in grandiose UAE-sponsored architectural mega-projects. The $1.6 billion Abu Dhabi Plaza in the Kazakh capital of Astana, which is "fully financed by investors from the UAE", will be the tallest building in Central Asia if it's ever completed. It was still under construction this past February when it was rocked by a powerful explosion and caught fire under somewhat mysterious circumstances. 
The 88-story Abu Dhabi plaza in Astana is a project of the emirate's largest developer, Aldar properties. Aldar Properties and handful of premium developers from the UAE, including the Mubadala Development Company, formed a joint venture called Al Maabar under the direction of the government of Abu Dhabi several years ago. Blair serves as a paid advisor to Mubadala, which is chaired by the crown prince of Abu Dhabi, one of his close friends. In 2014, Al Maabar became a subsidiary of Eagle Hills, the new developer responsible for the vast Belgrade Waterfront project. Abu Dhabi is also funding Blair's government advisory practice, paying for consultants in various countries where the UAE does business, including Serbia. And Arabtec, the top construction company in the UAE, won the tender to build the Abu Dhabi Plaza in Kazakhstan in 2013, the same year the company announced it would open a new regional office in Belgrade.
Nazarbayev was in Belgrade last week to facilitate the strengthening of Serbia's ties with the Eurasian Economic Union (EEU). The EEU was first proposed by Nazarbayev shortly after the fall of the Soviet Union, but is now thought of as a Russia-dominated project promoted as an alternative to EU influence in the former Soviet space. Its current members are Russia, Kazakhstan, Belarus, Kyrgyzstan and Armenia. 
Serbia signed a bilateral free trade agreement with Russia back in 2000, which later extended to Belarus and Kazakhstan, two members of the EEU's customs union. But Belgrade has long sought tariff-free access to all five countries of the EEU, meaning the addition of Kyrgyzstan and Armenia. Despite numerous announcements that such an agreement was imminent over the last several years, no definitive deal has ever materialized. In an article entitled "Serbia: Perspectives on Eurasian Integration" published by the European Council on Foreign Relations in June, author Jovan Teokarevic wrote that "Serbian politicians and businessmen now perceive the EEU as an opportunity to increase Serbian exports."  
Teokarevic continued: "In times of economic crisis, diversification of economic cooperation is essential". Belgrade views the nurturing of its unique established relationships with the EU, China and Russia — the latter including a potential trade agreement with the EEU — as "a move in the right direction". Few critiques of Belgrade's "non-aligned" or "neutral" orientation take the perceived economic benefits of this sort of "multi-vector foreign policy" into account, resulting in some fairly shallow and incomplete analyses.
At a meeting in Belgrade last week, President Nikolić told Nazarbayev that he expected Kazakhstan to finally help make this tariff-free trade dream with the entire EEU a reality. Now it appears that it finally is. Serbia's first exports to the EUU will likely be a fleet of Fiats from the country's car factory in Kragujevac. Kazakhstan had long blocked a deal with Serbia in order to protect its domestic auto industry. As of last week, Kazakhstan's Minister of National Economy Kuandyk Bishimbayev said the country would no longer stand in Serbia's way. An agreement with the EEU is of particular urgency to Fiat in Serbia, which has recently cut its workforce from 2,500 workers to just 700. Serbia's Minister of Trade Rasim Ljajić told SeeNews late last week that the country could sign an agreement on duty-free trade with the EEU "by November".
Nazarbayev's visit to Serbia and the unveiling of the statue of Jambyl Jabayev were widely reported on in the government-controlled Kazakh press. During the president's official visit, I met a TV crew consisting of a young correspondent and a cameraman from Kazakhstan wandering the grounds of the sprawling Palace of Serbia, just a few blocks from the new bust of Jabayev. They asked me a few questions about Serbia. The young female correspondent smiled and asked if we could take a selfie.
The visit also received a lot of media attention in Serbia. Significantly, Azarbayev said that if Kazakhstan and Serbia joined forces, that Serbian companies "could conquer China and the whole of Asia." In a country where domestic companies' export capabilities are judged to be weak — the total share of exports in Serbia's GDP is only 45 percent — the Kazakh dictator's bold statement on his first trip to Belgrade, and as a representative of the EEU, signified something potentially very new. As Teokarevic wrote back in June, "getting Serbia formally into the EEU orbit might become important for Russia, as a symbol of the EEU's attractiveness."
This article is the first in a series about statues of controversial political figures in the Balkans. From late dictator Heydar Aliyev of Azerbaijan to Hillary Clinton, we'll introduce you to some of the more eccentric monuments erected by governments across the region. If there's a statue you think we should know about, send us an email: lynch.lily@gmail.com.
All photos by Balkanist