The murders that led Goryachev to his Belgrade prison cell began in 2008.
The first victim was Fyodor Filatov, a 27-year-old anti-fascist who was stabbed to death in the stairwell of his apartment building on his way to work. Filatov was the leader of an anti-racist skinhead movement. By the end of 2009, two more icons of Moscow's lively anti-fascist community would also be dead.
But first, a particularly grisly attack would claim the life of a member of one of Russia's ethnic minority groups, who together comprise a full 20 percent of the population.
Behind a gloomy apartment complex in Western Moscow, workers removing garbage from residential waste bins were startled by a most grotesque site: A human head wrapped in a plastic bag. Some time later, the police would realize that the severed head belonged to a body found about twelve miles away, which had been stabbed six times. The victim was Salekh Azizov, a warehouse worker from Tajikistan.
Ilya Djaparidze was another prominent anti-fascist, and he was murdered on the eve of a major Dinamo FC football match in June. He had planned to lead a group of fans in a demonstration during the game. Djapardize and other activists had prepared to unveil a large banner that read "Football against racism".
Another ethnically-motivated murder occurred in September when a gunman fired six shots at 18-year-old Rasul Khalilov. The young man later died at a hospital.  He was a native of Azerbaijan, and a student at the Moscow Institute of Economy and Culture.
In November, Ivan "Bonecrusher" Khutorskoy was shot twice in the head. Anti-fascists  knew him for his exceptional athleticism and his love of punk rock. He was also a lawyer, and worked at a center for Moscow's street children. According to one friend, people called him "bonecrusher" because for Khutorskoy, "beating up Nazis was as routine as waking up in the morning".
In December, a 27-year-old World Champion Thai boxer named Muslim Abdullaev was murdered as he emerged from a Moscow sports stadium after a training session. The accomplished athlete from the north Caucasus region of Dagestan had allegedly been involved in a conflict with members of the Russian national team. He was hit over the head with a blunt object and shot.
Soon, rumors spread through certain circles in Moscow that a group calling itself BORN, an acronym for "Battle Organization of Russian Nationalists" (sometimes translated as "Militant Group of Russian Nationalists"), was behind the string of killings. The group, which used Third Reich-inspired iconography, e-mailed images of Azizov's execution-style beheading to human rights organizations. But many in the Russian media openly questioned whether the group actually existed, certain that BORN was just an internet movement, or a total fabrication. One media figure called BORN "a purely comic-opera character". And yet, the killings continued.
Sosa Khachikian was found dead inside his own apartment. Someone had broken in and shot the 47-year-old taxi driver from Armenia in the head. BORN eagerly claimed responsibility for Khachikian's murder online, citing the man's alleged beating of a pregnant Russian shopkeeper as motive.
Stanislav Markelov was a human rights lawyer who always took the most difficult cases. He defended political dissidents and migrant workers from the Caucasus and all corners of the CIS. For a lawyer in Russia, these were the kinds of cases that could create mortal enemies out of perfect strangers.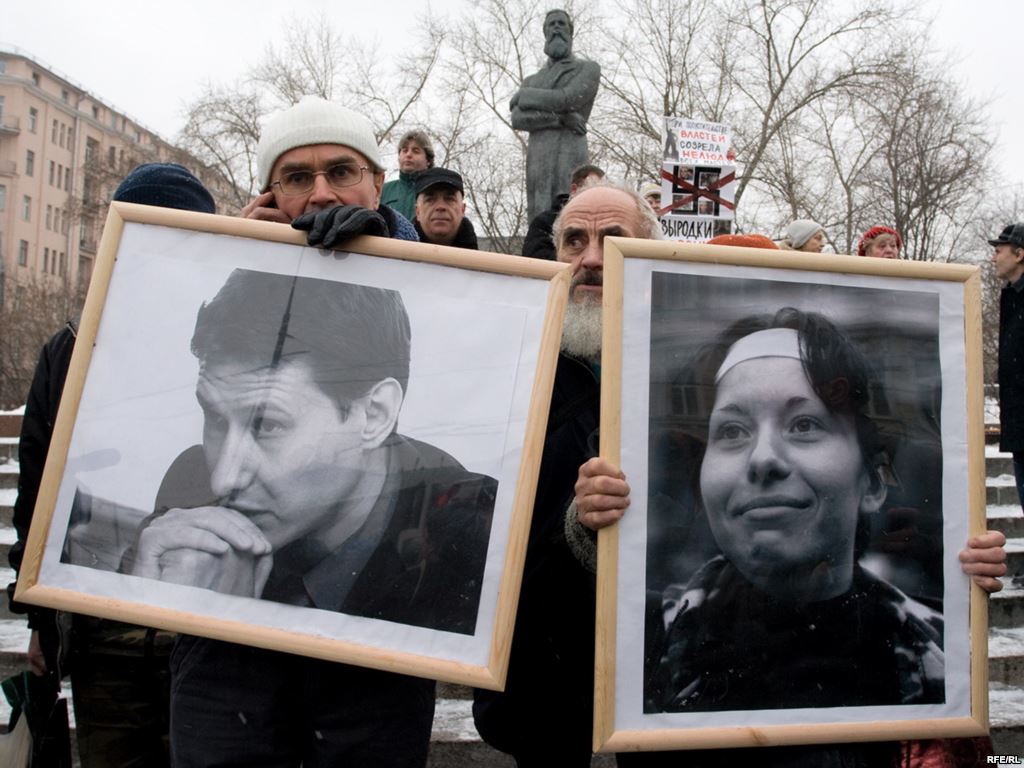 In fact, Markelov was still advocating for the victim of one of the country's most controversial crimes -the brutal slaying of an 18-year old Chechen girl by a Russian colonel- when he was gunned down in broad daylight, a short walk from the Kremlin. When Anastasia Baburova, a 25-year-old journalist for the beleaguered opposition newspaper Novaya Gazeta came to Markelov's aid, she was shot and mortally wounded herself. Baburova was the fourth reporter for Novaya Gazeta to be murdered since 2001.
The double homicide made headlines across the world, and the Kremlin was widely condemned by human rights organizations. Mikhail Trepashkin, a colleague of Markelov, commented that the murder "proved yet again that in our country it is dangerous to be a defender of the rights of the people, if the opposite side is the state or people near to it."
The slaying of judge Eduard Chuvashov would only strengthen this claim. Chuvashov had recently presided over the trial of the White Wolves, a neo-Nazi group that killed migrants from Central Asia. His murder in April 2010 was the last attributed to BORN. Chuvashov was shot in the stairwell of his own apartment building by a gunman who used a silencer. But his image was captured by a security camera. He was a tall Slavic man, and looked to be about 30 years old.
Soon after the murders began, other far-right groups started talking about the suspiciously good treatment Russky Obraz got from the Kremlin. It was impossible to ignore: The government had even given Goryachev special permission to organize an outdoor rock concert in central Moscow.
The midday event was headlined by the skinhead band Kolovrat, whose members have been accused of everything from double homicide in Russia to promoting Nazism in the Czech Republic.
While other ultra-nationalists and neo-Nazis were envious of Russky Obraz, their street credibility was undermined by speculation that its members "served a higher master". Dmitry Dyumushkin, representing a rival organization, talked to the Financial Times about the group in 2010. "It was a double organization, created by the Kremlin," he explained.
Earlier that year, a spokesperson for Russky Obraz named Evgeny Valyaev spoke very confidently when he said he believed the authorities would give the organization a "green light which would allow us to take over the political field".
But that kind of confidence wouldn't last long.
The first definitive sign of Russky Obraz's unraveling came when Russia's federal security service (FSB) announced it had arrested co-founder Nikita Tikhonov and his girlfriend Eugenia Khasisas as suspects in the midday slaying of Markelov and Baburova. The suspects — whom the media dubbed the "the nationalist Bonnie and Clyde" owing to their constant pawing at each other — insisted they were innocent.
But the most shocking moment of the 2010 trial came when Goryachev testified against his best friend: Goryachev claimed that Tikhonov had threatened to kill him "because of their differences as to nationalist tactics". The investigators also played a video recording of Goryachev's interrogation in which he stated that both suspects had confessed to the crimes. Meanwhile, the murder weapon, a 1910 Browning, had been discovered in Tikhonov's home. But Tikhonov claimed that Goryachev had asked him to take care of the gun – after the murders had already taken place.
The jury, however, sided narrowly against Tikhonov, and he was sentenced to life in prison. Khasis, for her part, was sentenced to 18 years in a penal colony.
But Goryachev wasn't present for the sentencing phase of the trial. He was already about 2,000 kilometers away.
Two years ago, Goryachev fled his hometown of Moscow and relocated to a provincial city in the Serbian flatlands about an hours' drive from Belgrade. The reason for his abrupt departure is the subject of some dispute.
There were rumors that he left Russia because he feared retribution from other far-right extremists for testifying against Tikhonov and Khasis. Some said his home address in Moscow had surfaced on some skinhead websites.
Others say he fled because there was mounting evidence that he was the murderer. In fact, Goryachev had been named a suspect in the Markelov and Baburova slayings since the beginning. As Novaya Gazeta reported in April of 2011, "Goryachev…suspected of complicity in that crime [the murders of Markelov and Baburova] and some other criminal actions, including the creation of an organized criminal association…has in spite of this been allowed to leave Russia…"
Even more damning, it had been determined that Tikhonov was right about the 1910 Browning: it was Goryachev's.
In a rather bizarre twist, Goryachev sent a letter to the court attempting to officially withdraw his testimony against Tikhonov and Khasis, but only after he was safely ensconced in the pleasant Serbian town of Sremski Karlovci, population 8,700.
The contents of the letter, which he'd had notarized, were shocking. Goryachev claimed, among other things, that he'd been abducted by the FSB and forced to make a false statement incriminating his best friend, and that during his interrogation he'd been denied access to an attorney.
However, many in Moscow were suspicious of his motives. As an editorial in Novaya Gazeta from early 2011 read, "How can anyone in his sane mind believe Ilya Goryachev's claims? Why then did Mr. Goryachev who, as we know, was at that time a suspect in a murder case, write these strange lines? In order to comfortably switch his role to that of a witness by dropping hints that he has connections in high places. One must hand it to him, he has succeeded."
And it appeared he had, at least in one respect: In Serbia, Goryachev continued to enjoy privileged access to high-ranking politicians. In fact, not long after his sudden departure from Moscow, Goryachev found himself sitting on a plush velvet chair and sipping coffee in Vuk Jeremic's office. The foreign minister had been kind enough to grant the neo-Nazi a radio interview.
Jeremic, it seemed, was among the most impressive politicians Goryachev had ever met. Two weeks before his arrest in Belgrade, he published a lengthy article about Kosovo that concluded with a glowing assessment of Jeremic. As the accused killer wrote, "Jeremic impresses as aggressive in a good way, and he's a tenacious politician. He knows the value of his word."
Goryachev also praised Jeremic's capabilities as president of the UN General Assembly. As he later wrote, "When Jeremic said 'Kosovo will enter the UN over my dead body'…you can trust his word".
While Jeremic has recently mentioned his desire to become the next Secretary General of the UN, Goryachev seems to think Serbia needs the former foreign minister leader closer to home. The last sentence of his 9,290-word rant reads, "Jeremic, future president of Serbia".
When asked why he had so generously opened the doors of his cabinet to a neo-Nazi murder suspect, Jeremic answered that he granted interviews to pretty much any journalist that asked. In preparation for this article, I contacted Vuk Jeremic and asked him for an interview. He did not respond.
Of course, the interview with the young Muscovite was approved back when Jeremic was considering a stab at the presidency of the UN General Assembly, a post he knew he needed lots of help from influential people in Russia to win.
But Jeremic was hardly the only Serbian politician to grant Goryachev such undue access. He was a participant in events hosted by the Srebrenica Historical Project in Banja Luka, a city in neighboring Bosnia-Herzegovina. And it was in Banja Luka where he was "officially received" by Milorad Dodik, president of Republika Srpska and a fellow supporter of the Srebrenica Historical Project. The controversial NGO essentially promotes denial of the Srebrenica genocide — the July 1995 massacre of some 8,000 Muslim men and boys by Bosnian Serb forces. The organization has objected to the "genocide denial" characterization, clinging to the old Holocaust denier's adage "we're just saying there isn't enough evidence". Under Dodik's leadership, Republika Srpska has funnelled more than one million dollars worth of taxpayers' money to the Dutch NGO.
Goryachev seemed to appreciate Dodik's blunt rhetorical style, even quoting him in a speech on at least one occasion. Speaking to members of Russky Obraz about a proposal to build a new mosque in Moscow, he borrowed a line from a recent television interview with Dodik: "The beauty of a city depends on a number of mosques in it. The less mosques there are — the more beautiful a city is."
A few years back, Goryachev met Tomislav Nikolic at the annual "Stop the Hague tyranny" rally. Nikolic, who is now the Serbian president, was so glad the young neo-Nazi could attend the event that he presented him with a Swiss watch.
More recently, Goryachev was invited to the Serbian parliament by friend and Serbian Radical Party (SRS) member Dejan Mirovic. Ilya Goryachev brought along Roberto Fiore, father of the Italian far-right party Forza Nuova. Fiore, who once said he was "proud to be called a neo-fascist", fled to Britain in 1980 after some of his associates in a far-right terrorist organization bombed a Bologna train station, killing 85 people. Though he was cleared of any direct involvement, he was convicted of subversive association and conspiracy in the attack. He returned to Italy only after the statute of limitations had run out.
Goryachev published an article on right-world.net about their meeting at the Serbian parliament. "Roberto Fiore discussed with Serbian politicians the current political situation and troubles they face… The leader of the Forza Nuova told the story of his party, and also about his friendly relations with Benito Mussolini's granddaughter — Alessandra." Friendly relations indeed: Italian gossip magazines report that Fiore made a sex tape with the granddaughter of the late fascist dictator.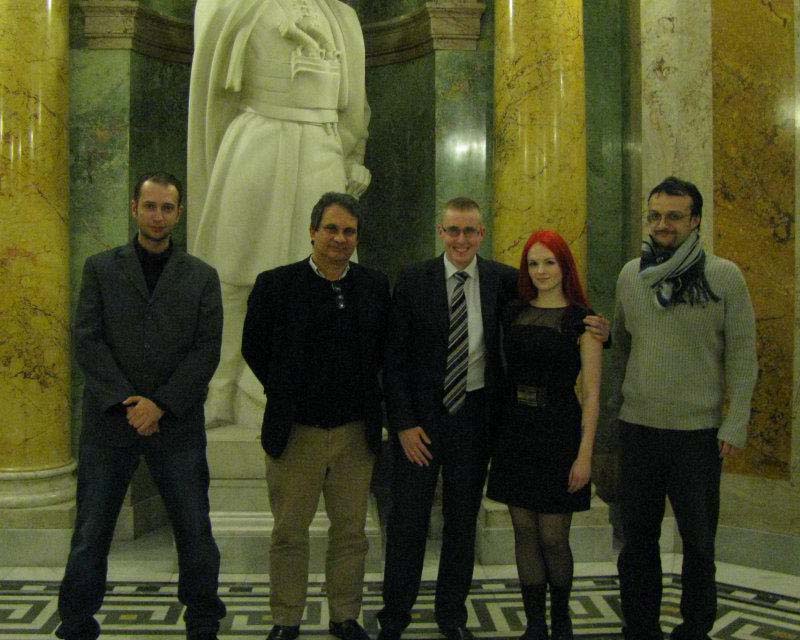 The circumstances surrounding Goryachev's May 8th arrest were very weird. First, he was apprehended at Belgrade's Nikola Tesla airport, even though his lawyers claim he had no plane ticket or plans to fly anywhere. Second, Vladislav Surkov resigned from Russian politics the same day, meaning Putin fired him.
In one of his letters from Belgrade's central prison, Goryachev confirmed that Surkov's team had been tasked with monitoring and coordinating the activities of extremist groups, including Russky Obraz. This would make Surkov the organization's most powerful contact inside the Kremlin. Goryachev speculated that his arrest was part of a larger mission to unearth incriminating information about former officials who, under Surkov's direction, had worked closely with extremist groups. By linking Surkov and others in his orbit with the BORN murderers, Putin would be able to discredit a powerful and politically unreliable opponent (some say Surkov, who had previously been a staunch Putin supporter, was fired for expressing sympathy with anti-Putin protesters). Eliminating Surkov's camp would allow Putin to further consolidate power.
So the arrest was either part of an attempt to gather damaging information about political foes, or, in truly Surkovian fashion, an elaborate theatrical performance of such an attempt, designed to obscure intentions currently unknown.
Of course, just because your arrest is politically motivated, doesn't mean you're not guilty. Goryachev has been charged in absentia with ten counts of murder, as well as arms trafficking, and "organizing and taking part in an extremist organization". In addition, he's been charged with two counts of attempted murder, both ethnically-motivated and cruel – both victims narrowly escaped with their lives. But the former Russky Obraz leader insists he is innocent, and is currently fighting an extradition order that would bring him back to Russia.
The Serbian court initially approved Russia's extradition request, but Pentronijevic managed to get the decision reversed on appeal. Just a few weeks ago, the Serbian court again announced that they intended to reinstate their initial decision and to extradite him back to Russia. His lawyers say they'll fight the decision before the Serbian appeals court again.
And so even from his cramped cell in Belgrade's central prison, Goryachev seems to have retained some privileges. His defense team, in both Serbia and Russia, is comprised of prominent celebrity attorneys. In addition to Karadzic, Petronijevic has defended numerous obscenely rich turbo-folk stars. Clearly Goryachev hasn't lost all of his friends in high places.
In an interview with the Russian magazine Slon, Feygin was asked how he became the young man's attorney and on whose initiative. Pussy Riot's former lawyer was brief. "His friends made me an offer," he said. Who those friends were, however, he wouldn't say.
.
.