The Haveit group recently protested against International Women's Day in Kosovo. Their art vehemently rebels against power and water shortages, nationalism, LGBT discrimination and the oppression of women prevalent in Albanian society.
Pour flour on the Kanun, the Albanian book of patriarchal laws, and spread it with a rolling pin.
Conceived as a response to International Women's Day, Tager is the latest performance by Haveit – an art collective comprised of a pair of sisters living in Prishtina. They beat the fundamental text of women's oppression in Kosovo at its own game by using the activities associated with stereotypical housewifery. "There is no reason to celebrate March 8th [International Women's Day]. It would be more appropriate to protest, especially against the Kanun, which was – and still is – the basis of women's oppression," they said.
The Kanun sees women as a burden to the household. For example, they have no right to inherit property from their parents' homes. Tager, the title of the video, is an Albanian word for "fair" which is only valid for men and used in the traditional book of laws. Regarding the unorthodox treatment of a book in their video – cooking it – they answered: "We have nothing against books, but we do have something against the mindset of this one. With our performance, we intended to boil the mentality of the Kanun, which is still present in our contemporary society."
All in their twenties, Hana and Vesa Qena and Lola and Alketa Sylaj form Haveit. One of the guiding themes of their art is protest against the patriarchal yoke of their daily lives. In July 2014, they published a video performance called Palidhje, i plast (Nonsense, lame), where they used statements recorded on Kosovar TV which highlighted the gender stereotypes and male supremacy of the society. The girls react to the televised comments with just two words: "palidhje" (Nonsense) and "i plast" (lame).
Their artistic work also fights nationalism, in abundance everywhere in the Balkans. On Prishtina's Mother Theresa square, the city's main pedestrian street, they found the following message scrawled in graffiti: "Tradhtarët plumbin e kanë hak" (Traitors have merited the bullet). With the help of a friend, Dardan Zhegrova, who had experience with tagging, they replaced the nationalistic quote with "What color is your flag when it burns?"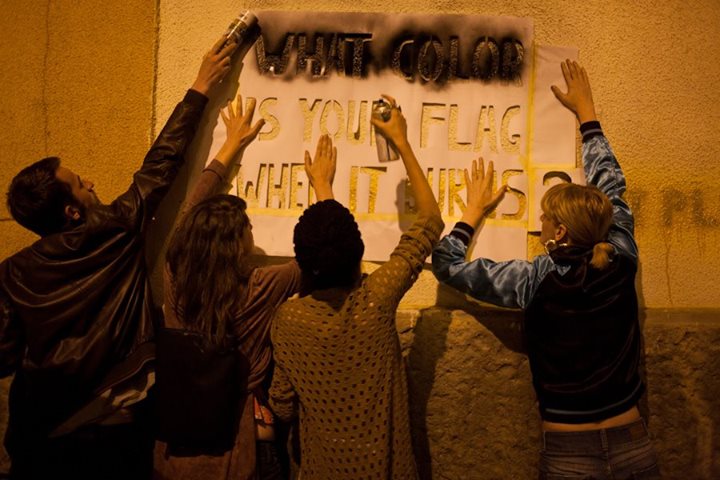 They also try to illustrate their struggle with the day-to-day difficulties confronted by nearly every Kosovar. Often, their artistic performances are staged in Kosovo's public spaces. "There Is No Water, But There Are Fountains" is one such example. In July 2013, in front of the National Theater on Prishtina's Mother Theresa square, they washed four hand towels in the square's fountain, which pointed to the following irony: Every neighbourhood in Kosovo's capital has a fountain, while the city's inhabitants often lack running water at home.
The women from Prishtina also support the LGBT population. On Valentine's Day 2013, they kissed on Kosovo's main pedestrian street and then uploaded photos of the action to their Facebook profile. "When we woke up the next day, we were shocked. The photo had gone viral and we received over 100 death threats," Hana told Al Jazeera.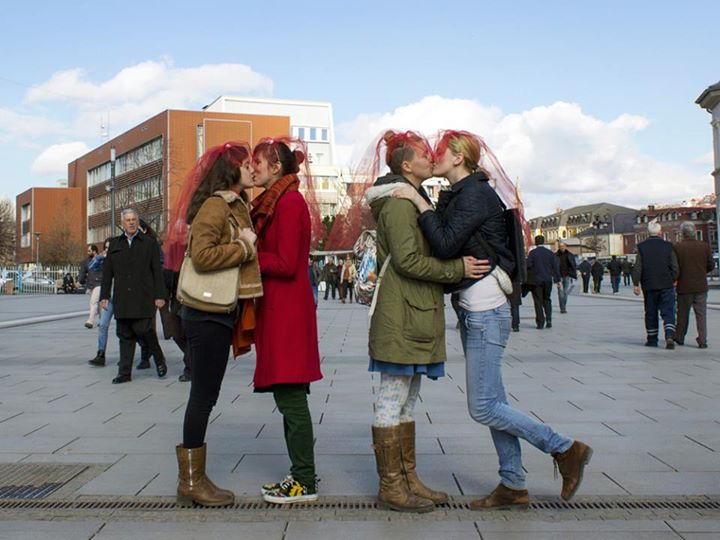 Haveit has a modest but very innovative way of realizing their performances. The four girls enrich the country's art scene: They force their compatriots to face the unpleasant realities of their society. The ambitious art group is also a model for exposing grievances in their country. They are surely a thorn in the side of traditional-minded Kosovars, but this should only motivate them to draw more attention to injustice in the youngest country in the Balkans.
Check out Haveit's Facebook page for more!