It is difficult to observe the world from these hills resting on the Adriatic while staying focused and not succumbing too easily to a fateful interpretation of historical dates or to the widespread feeling of the cyclical and unchanging nature of (futile) existence. Nevertheless, this April 6th can serve as an excellent moment for a microscopic analysis of the social signatures we leave behind us.
April 6th is the Day of the City of Sarajevo.
Exactly 70 years ago, Yugoslav National Liberation Army troops freed the city. In their successful operation to free Mostar at the end of February 1945, the Dalmatian and Herzegovinian Division 8 Corps made a breakthrough and defeated the German-Ustasha divisions headed by the "Devil's Division" Wehrmacht unit. This unit was formed by recruits from the Independent State of Croatia and German command staff as well as the 9th Mountain Ustasha Home Guard Division, underpinned by German artillery regiments. After freeing Mostar, the release of Sarajevo became the next strategic target in the general offensive for the liberation of Yugoslavia.
Despite great losses in Germany itself, the fascists' long-lasting defense carried on. This tactic ensured a safe withdrawal from the city in which they themselves were committing acts of vengeance and murder. Finally, on April 6th, Sarajevo was freed.
On the same date when the black fascist shirts of Wehrmacht and Ustasha regime were expelled – on April 6th, 1992, the citizens of Sarajevo rose against the new, neighbor-friendly type of fascism of those who, having putting on shirts that dried on the communal clothesline the previous morning, woke up as Chetniks and shot at mass peace protests. They killed Olga, a mother of two children, and Suada, a student of medicine whose last words were, "Is this Sarajevo?!"
That day began Sarajevo's defense against a new type of hatred, a new fascism that would last 1425 horrific days and nights, the longest siege of a city in the world – as if such discipline had any purpose, as if Sarajevo didn't know some other, more Olympic disciplines.
This April 6th, 2015, Sarajevo looks dynamically and adequately, freshly and functionally, like some of the other wrinkled but lively European capitals. Congrats have been shouted, the day is celebrated, flowers are released, and coffee is consumed in neatly ironed shirts. Yet Sarajevo today is paralyzed by divisions and ethnic gerrymandering, which citizens both jokingly and incorrectly call the partitioning of red blood cells – as if erythrocytes know whether they're Muslims or non-believers, as if the oxygen molecule binds differently to the lungs of atheists than to the lungs of those who penny-pinch on the holidays so they can buy kosher wine or a suckling pig.
Almost all social energy is directed – pardon, trapped – in the overcoming of strict naz(t)ional-formulas that have trickled down to such a level that they are present in the choice of a bank account, in the (im)possibilities of medical treatment, or the selection of a kindergarten.
The indisputable necessity of division and dictating the categorizations in which citizens are cornered without the right to second options or any variation resembles the comical Borges quotation from a Chinese encyclopedia in which animals are divided into a) those who belong to the King, b) those who smell, c) domesticated, d) small pigs, e) sirens, f) monsters, g) dogs on the loose, h) those who are included in this classification, i) those who are riled up like lunatics, j) countless, k) drawn with a thin paintbrush made of camel hair, l) the rest, m) those who broke the pitcher, n) those who look like flies from a distance.
This April the 6th, fascism is incorporated into the Constitution, the menu, into the formula that divides children, cuts streets, so it feeds meaningless institutions and supports an entire class of proud leeches in beautiful shirts who expertly handle this formula of division in Banja Luka, Mostar, or Sarajevo and fill their extended guts while munching on about blissful coexistence.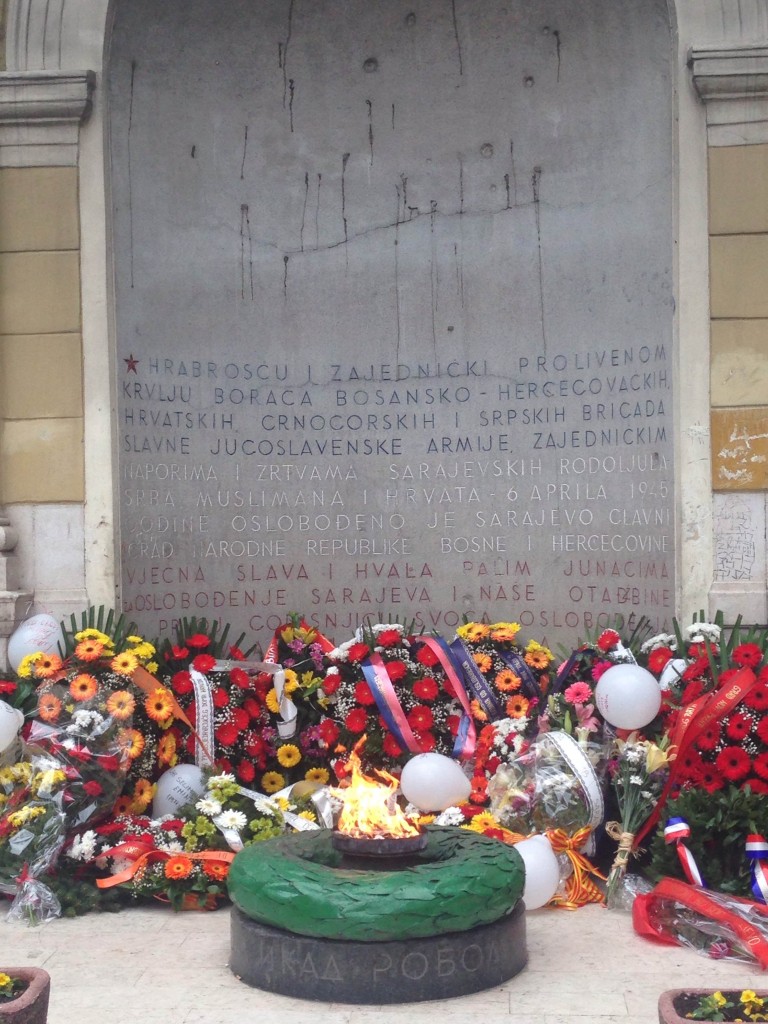 On the other hand, this is the one place where the spirit of togetherness and equality is most present. In the city, in shops, or in the theater, Sarajevans skip, bypass, evade, and ridicule all those limits, lines, and watchtowers between which they still live, laugh, and rest. It is a question of survival, of healthy spirit and humanity, not of any NGO project goal assessment, colonizers' ironing over of the conscience, or capitalist brand fraternization. In this city, antifascism is a daily discipline. 24/7, without stopping.
Because here, this is totally clear: coexistence does not exist. There is only life or non-life. And Sarajevo today, this 6th of April, more than all Yugoslav cities shamefully but persistently preserves precisely that fire of life – that Sarajevo Eternal Flame on which every wooden stick can lean, eager to backlight its cave and expose the mythical shadows that darken it. Today and forever, "Sarajevan" means antifascist.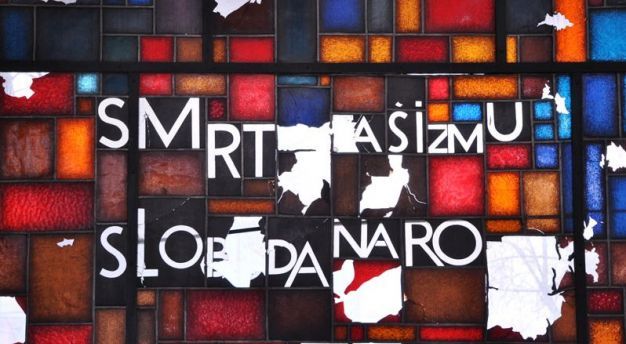 Translated from the original B/C/S by Jordan Maze