The West played a major role in bringing the Serbian Progressive Party to power with an absolute majority in parliament. But one PR firm in particular, said to practice "dark arts" of media manipulation, was the brains behind it all.Recently, I was asked to comment on the state of journalism in Serbia. I responded by saying that we can't look at the deteriorating media climate in Serbia without first examining the role the Western media played in bringing the current government to power. The complete lack of objectivity on the part of the international community and press in the pre-election period was deeply disturbing and contrary to the promotion of so-called democratic principles of political choice and plurality. It's clear that the editorial policy of many major English-language publications was simply to align their messaging with that of their respective governments.
The US was particularly fond of the Progressive party. In September 2013, American Ambassador Michael Kirby told the popular daily Blic that he "was sure that [now Prime Minister Aleksandar Vucic] would not become a dictator", and lauded the ascendent leader for signs of "freedom of media and democracy". (A little advice for ambassadors the world over: if you have to reassure the public that the politician you're backing is "not a dictator", you are supporting a dictatorship).
Balkanist launched a year ago in part because we saw the slow train coming, and never shied away from criticizing the government even when it went against popular opinion both in Serbia and abroad. This came at a high price. (I never understood why the consular staff at the US Embassy told me in January that I should "leave the country until after the elections in March". Now I think I know).
The Progressives' overwhelming win in the last election means a single party now has a monopoly on power. Serbia's party system has become unbalanced. The Progressives received 48.8 percent of the vote, while the Socialists, in second place, took just 14 percent. Support for opposition parties has been decimated and their leaders reduced to mere bit players in the puppet theater of Serbian politics. How did it happen?
Bell Pottinger helped make it happen. The secretive British firm was founded by Lord Bell of Belgravia, an aging, chain-smoking Conservative who was knighted by his longtime client, Margaret Thatcher, in 1990. The marketing and PR company has always tried to keep its client list hush hush, and maybe for good reason. Notable among its past and present clientele are longtime Belarusian dictator Alexander Lukashenko, First Lady of Syria Asma Assad, Augusto Pinochet, FW de Klerk (when he ran against Nelson Mandela for president of South Africa) and the government of Bahrain. A registry of political consultants reveals that the Government of Serbia was a "fee-paying client" of Bell Pottinger's through November 30 of last year. The Government of Serbia generated a minimum turnover of 150,000 to 200,000 euros for Bell Pottinger in the nine months between January and November 2013 — making it one of the firm's two highest-paying clients in Europe's Transparency Register.
Balkanist spoke with Daniel Hamilton, a partner at Bell Pottinger who regularly tweets about the Balkans, via email. "Bell Pottinger fully complies with both EU and UK legislation and public affairs industry rules on transparency, and has nothing to add to the declarations we have made on the various public registers", he wrote. "I have a long-standing [sic] in the Balkans and observed the elections in North Mitrovica, Zvecan, Zubin Potok, Lesak and Leposavić last year in a personal capacity."
Of course, the beneficiary of Bell Pottinger's expertise in marketing and reputation management was the Serbian Progressive party, but the Serbian public should ask themselves who paid for it. The Progressives have also continued to use the London firm's services well beyond the period stated in the current registry — the PR agency even threw a party for journalists on election night.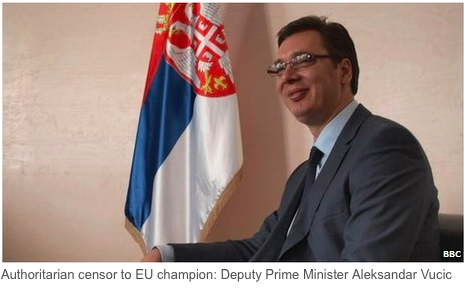 Interestingly, the Government of Serbia, Etihad Airways, and the United Arab Emirates were all clients of Bell Pottinger at the very same time. The PR firm helped shape the media narrative about Vucic's Serbia as the latest investment destination, and was still doing so as recently as ten days before the vote. A March 6 press release from Bell Pottinger titled "Serbia Secures $1 bn Loan from UAE" dedicates nearly three paragraphs to comments from Vucic, including the dubious pre-election promise "the loan will benefit each and every household in Serbia." Has it?
In a separate note to editors, the press release contains praise for the "current government":"…GDP is predicted to grow at an average annual rate of 5.8 percent until 2020 under the current Government's programme focused on investment growth… In the first quarter of 2013, FDI inflow was EUR 330m compared to EUR 180m in the same period of 2012. During the same period, there was also a 25 percent increase in exports."
Most press releases issued by Bell Pottinger direct readers to the website "Serbia in Europe", which the the PR firm apparently created for the Serbian government. It appears utterly useless. A slider informs the visitor: "Serbia is a democratic country with human rights and basic freedoms". Of course, it also has a news section with articles favorable to Vucic and the Progressives, like "World's Best Bonds for Serbia on Pro-EU Vucic's Poll Lead", and "Serb Progressives Win Majority in Parliament on EU Pledge". In an eerie parallel with the Facebook page for the BiH Dayton Project, which we examined for our piece on American lobbyists in Republika Srpska, the Twitter account for "Serbia in Europe" had exactly 14 followers at the time of writing (note: the Twitter account has gained six followers since March).
But Bell Pottinger has other strengths. One of them is placing flattering stories about tyrannical clients in prestigious publications.
Several years ago, a series of puerile profiles of the glamorous Syrian (but "British-born") Asma Assad and her family began appearing in a number of slick magazines and online media, including a now infamous Vogue spread titled, "A Rose in the Desert". Bell Pottinger insist they only advised her about how to establish her own communications office in Damascus.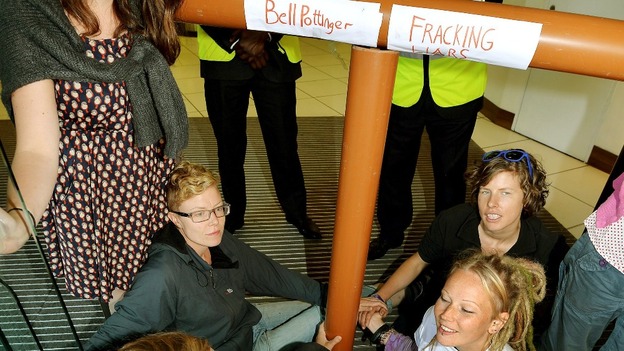 Andy Beckett, who was granted a rare interview with Lord Bell of Belgravia at the firm's London offices in the moneyed Mayfair district, offered relevant impressions of the lobby."The day's newspapers hang from clips on the wall," he wrote. "The implication is that Bell, who has worked in PR or advertising since 1959, can get you or your company or government into them."
There have been some pretty fluffy pieces on Vucic and his Progressives published in the Anglo-American press this past year. "Aleksandar Vucic: The Man Who's Bringing Belgrade in from the Cold", from The Independent in August 2013, is one of the more egregious examples. "Serbia Deserves its EU Dream", recently published in the Financial Times is another. Election coverage by the BBC also went a tad overboard. "[Vucic's] party is also credited with normalizing relations with Kosovo," one segment under the sub-header "Super-guy" read. "It's a remarkable story of redemption for Aleksandar Vucic."
Not only do employees of Bell Pottinger get positive articles published about their clients in supposedly "objective" news media, but they've also been known to sanitize their clients' Wikipedia profiles, deleting negative information while inflating achievements. They were caught doing this so many times, that in late 2011, Wikipedia suspended 10 accounts associated with the firm.
Then, undercover journalists with the Bureau of Investigative Journalism caught top executives of Bell Pottinger on camera claiming they had connections to the numerous high officials in the British government, including William Hague. They also said they could set up a meeting for a client with David Cameron "within 24 hours" and discussed how to "drown out" damaging Google search results about human rights violations. The execs admitted that Bell Pottinger has an entire team that "sorts" negative information on their clients' Wikipedia pages and explained that MPs hostile to investigative journalism could be "used" to attack reporters for minor errors. A senior executive for Bell Pottinger proudly called these methods "dark arts".
Vucic and others in his orbit certainly have very dark pasts they'd like to hide. Bell Pottinger has helped Vucic reframe his so the broader public has largely learned to forgive him his earlier years as Minister of Information under Milosevic as a little "youthful indiscretion". But Vucic will be under even greater scrutiny as prime minister with an overall majority in the parliament. If Bell Pottinger remains with the Progressives, they will guard him vigilantly — no matter what he's done. "The reputation they have is as an agency that goes where other agencies would fear to tread," said Alec Mattinson, the deputy editor of PR Week.
Bell Pottinger knew who the new premier had to be in order to win the elections: Serbia's standard-bearer of stability, its superman, its pro-EU reformer, its corruption-fighting, power-consolidating tamer of the oligarchs. But the West's main rationale for supporting Vucic and the Progressives in attaining the absolute majority in parliament is the belief that they will eventually remove the preamble to the constitution that defines Kosovo as a part of Serbia. If that is indeed the case, it will take a very long time and the cost will likely be very high.
Cover photo credit: Kurir