Balkanist spoke with Branislav Radeljić, Managing Director of Contemporary Balkan Art (CoBA), a new platform to promote the talent of emerging and established Balkan artists.
---
How did you come up with the idea to launch the CoBA platform?
Being an art lover myself, I talked to two colleagues, Ana Russell-Omaljev and Ivan Sukovic, and we agreed that the contemporary Balkan scene could be represented much more outside its geographical demarcation. We also met with various art critics and they confirmed that apart from very few names who have secured a lot of attention in global art circles, not much has been heard about contemporary Balkan art. This could have to do with the region's troubled past, characterized by political instability, economic stagnation, international isolation… We are less concerned about this, and more about opportunities to promote the fantastic talent of emerging and established Balkan artists. This can be done by organizing exhibitions, but also by hosting workshops and informal gatherings with artists, so that some other audiences can hear their opinions about, let's say, art today and possible future trends. So, with all these aspects in mind, CoBA is imagined as a platform where knowledge, sophisticated taste and investment in artwork interact.
How does CoBA select artists it will represent and work with?
This has not been an easy task. Ivan, CoBA's curator and art consultant, plays a crucial role in the selection process. Ana, CoBA's creative director, possesses a great sense of trends and art market expectations – an extremely relevant aspect considering representation. So, we spend hours, if not days, discussing all sorts of issues, as it is important that all parties are satisfied. Our approach is to put quality before quantity; many see this as a more difficult way of doing things, but it makes our platform quite unique. Also, when talking to artists, I am often asked who is already in or will join CoBA, as one feels much better if surrounded by similar yet different talents, than if placed somewhere where discrepancies should be ignored due to some other aims (usually, profit-driven). In fact, the positions of artists we work with are already acknowledged both locally and internationally, as they have received various awards and participated in numerous solo and group exhibitions, international fairs and artist-in-residence programs. Our mission is that by working together we strengthen the presence and reputation of artists in the West, which, in return, will consolidate our own platform.
Can you tell us a bit more about the themes characterizing the work of CoBA artists?
In CoBA we are interested in concepts that balance dominant artistic paradigms and the personal sensibilities of each of the artists. They use different genres and visual expressions in order to explore questions and dilemmas related to the society they live in and, even more precisely, a particular context (for example, political, religious, popular and mass culture). Accordingly, their works reflect strong emotions and experiences, confirming CoBA's commitment to pluralism of ideas. By looking at our artists' recent and current production, I would say that they have every capacity to add a new layer of identity to the CoBA platform.
I know you recently had a successful event in London. Do you envision art shows being a big part of CoBA's work in the future?
We are truly pleased with our inaugural exhibition held in London in mid-June. For this occasion, we decided to present the works of Roman Djuranovic, Tadija Janicic and Zolt Kovac. This very well-attended event gathered members of the Balkan diaspora, local art lovers and collectors as well as some gallery owners. Ana and I talked about the platform and the London-based critic and art historian Alexandra Lazar provided an overview of different Balkan art initiatives. In the meantime, the guests had an opportunity to listen to the singer Jovana Backovic. When it comes to our future work, art shows are very important both for individual artists and platforms like ours, so we are already planning some new exhibitions. Actually, the artists we represent are also continuously invited by other galleries and organizations to exhibit worldwide. For example, Roman will be showing his work in New York City, at Taglialatella Gallery, from 21 July.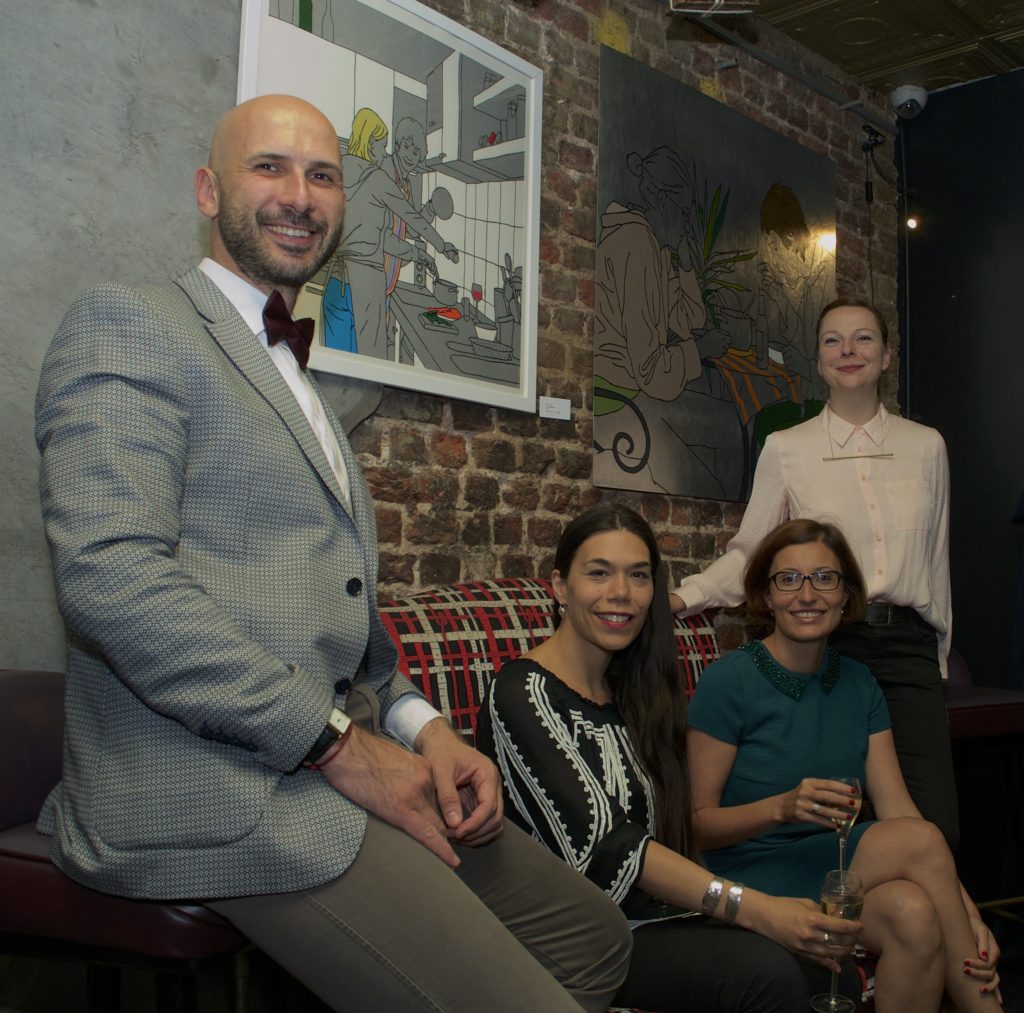 To what extent have different, if any, cultural institutions from the Balkans expressed interest in cooperating with CoBA?
Given that CoBA was launched only in early 2016, we are pleased that there has been some basic interest in our work and we hope this will eventually translate into some proper collaboration. It is a well-known fact that a number of Balkan countries, especially the ones that are not in the EU, tend to allocate a rather limited amount of resources towards cultural activities and new initiatives. This means that many artists, collectives and platforms have to rely on other sources of funding, including private donors, non-governmental organizations, etc. Honestly, sometimes it does not take much money and effort to support an artist; it is much more about a willingness to see others flourish. While we are contacting different institutions, we are also keen on receiving proposals for cooperation.