Hello everyone. To supplement our more in-depth coverage of elections across the region, we will provide live-ish updates and blogs here, especially on or leading up to election day. Please send us your tips and photos to editor [AT] balkanist.net.
10:30 PM CET: Mladjan Dinkic has just resigned as head of the United Regions of Serbia (formerly G17+), a party he co-founded 17 years ago, due to poor results in the election. Dinkic has long been seen as one of the "survivors" in Serbian politics, having served in many coalitions and the head of many ministries, including the Ministry of Economy.
9:20 PM CET: Preliminary results from CESID indicate that Vucic's Progressive party has won more than 50% of the vote. The next closest party is Dacic's Socialists, who look to have received about 15%. That's a 35% percent margin.
In 2010, Hungary held parliamentary elections in which Orban's nationalist Fidesz party won 52.7% of the vote, and the next closest party, the Socialists, won 19.3%. That's a 33.4% margin. An ordinance that ordered posted in public buildings declared the result "a revolution in the polling booth" that would bring about "a new social contract".
This result in Serbia should alarm those in the EU and the United States who have been cheerleading Vucic all along.
8:10 PM CET: The polls have officially closed and results are expected shortly. Everyone take a shot of rakija each time Vucic says the words "reforms", "corruption", and "stability" in his speech tonight.
4:45 PM CET: Exit Festival's statement about attempts made by "some party activists" to offer tickets to the the UK's favorite summer music festival in Novi Sad:
"We are informing the public that it has come to the attention of the EXIT festival organization that some party activists are offering fake tickets for Exit 2014 in exchange for two votes in the parliamentary elections. We warn all fans of EXIT not to succumb to these attempts and to not allow their votes to be manipulated in any way."
4:20 PM CET: Though Aleksandar Vucic has attempted to portray himself as a frugal statesman eager to curb spending and trim excessive state salaries, Serbia's public debt is ballooning. Last year, the public debt increased by $2.42 billion to about 63 percent of GDP. But the astounding part is that a full $590 million of that was spent during the month of December alone. This likely means the government decided to start their pre-election spending, to court votes and to "buy the social peace": Nationalist turbo-folk icon and war criminal widow Ceca Raznatovic even gave a free New Year's Eve concert with a dazzling light show right in front of the Serbian parliament building in Belgrade. It was probably as expensive as it was symbolic: The architects of Serbia's own destruction in the 1990s have returned to the political stage, front and center, pariahs no more.
4:00 PM CET: Getting off to a bit of a late start with our live-ish blog, but we're happy to continue our long-running tradition! We'll start with the latest voter turnout (as of 2 pm) results by city, which come courtesy of eizbori: Belgrade — 29.33%, Novi Sad – 31.78%, Niš – 28,79%, Kragujevac – 29,26%, Čačak – 27,34%.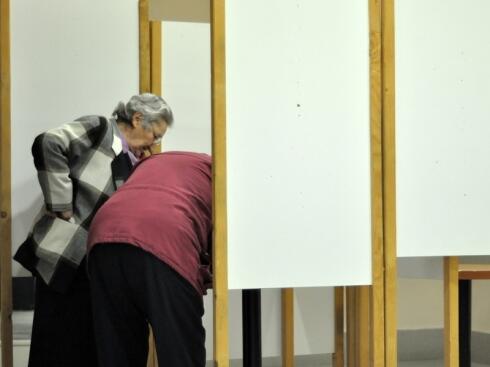 Voters in the Southern city of Nis, where the voter turnout is around 30%, according to different sources. (Photo credit: Juznevesti)   North Kosovo  9:00 PM CET: Goran Rakic, the Belgrade-backed candidate, won 52.6 percent of the ballots. 8:15 PM CET: We have reports of a 20.86 percent turnout in North Mitrovica, and that Citizen's Initiative Srpska candidate Goran Rakic, who is backed by the government in Belgrade, has a "convincing lead". 7:30 PM CET: The monument on Miners' Hill in North Mitrovica, built in the former Yugoslavia to commemorate the miners who went on strike during the German occupation: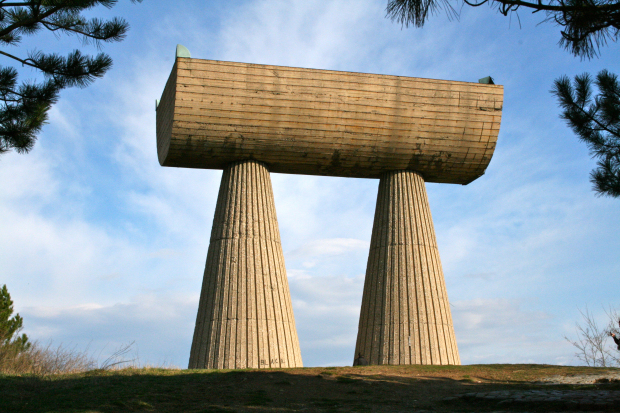 7:00 PM CET: The polls have closed in North Mitrovica. 6:45 PM CET: One of four candidates in today's North Mitrovica mayoral elections is currently sitting in a jail cell. Oliver Ivanovic was arrested just a few weeks ago on war crimes and other heinous charges that are alleged to have taken place in 1999 and 2000. Some Serbian leaders have complained that this was an ethnically-motivated arrest in advance of an important election. But few see the political dimension or the larger context: Ivanovic is not Belgrade's candidate. He's running with the Citizen's Initiative "Freedom, Democracy, and Justice". The Serbian government's pick for the Citizen's Initiative Srpska list is Goran Rakic, who is also backed by Vucic's Serbian Progressive Party (SNS). Ivanovic's arrest allowed Vucic to feign outrage on behalf of "his people" and ratchet up the ethnic tensions (always popular) before today's vote. Here's a statement he gave to the media, which he claims he sent to Lady Ashton: We seek a clear explanation, because we have a couple of questions that are difficult to find answers to, such as why Oliver Ivanovic was charged with something that happened 13 years ago, and how come he – if he had committed the crime – moved freely throughout Kosovo, talked to everyone… and then suddenly on the eve of [repeat local] elections he is arrested. One might ask Vucic the same thing about the murderers of slain Serbian journalist Slavko Curuvija, who were permitted to walk free for 14 years until it became politically expedient to arrest them in the middle of election season. 6:30 PM CET: Polls in North Mitrovica close in half an hour.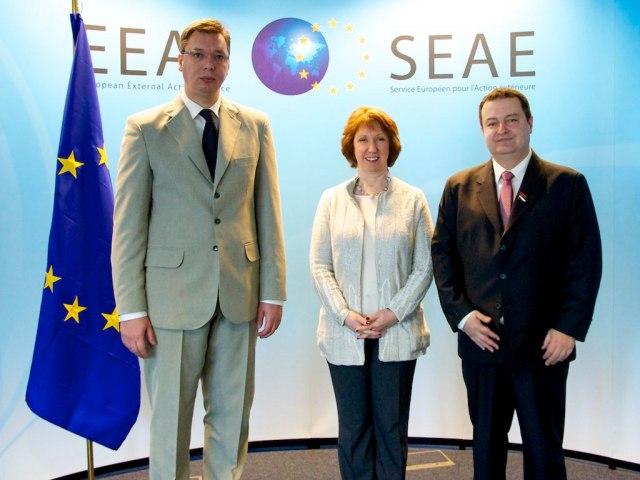 5:30 PM CET: Latest count says 4,976 have voted, which is 17.5 percent of registered voters. 4:30 PM CET: As of 1400: 3,663 people had voted, which is 12.88 percent of registered voters in North Mitrovica. 3:45 PM CET: A voter in North Mitrovica wore a kilt to the polling station today. "Because to vote in Kosovo, you've got to have guts," explained one Serbian observer. (On Twitter via @Zlikiliki)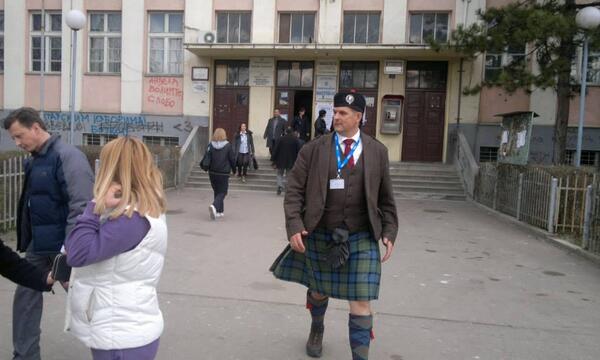 1:15 PM CET: Another grey Sunday, another election in North Mitrovica. 
The fact that inhabitants of the town must endure their fourth mayoral vote in less than four months is both farcial and tragic, especially considering the conditions under which many were forced to vote last time. But Aleksandar Vucic, the most powerful man in Serbia, wants to use the March 16 early election to consolidate his power (or secure "a strong mandate to implement difficult economic reforms and remove the necessity to compromise with other parties," as the Western press has presented it), which means he must portray himself as both the steadfast savior of the Serbian narod and a pro-West, pragmatic reformer who reads Max Weber and "looks to Europe for his future". With this election in North Mitrovica, he will attempt to do both things and more.
We've already written about how a new vote in North Kosovo benefits Vucic in Serbia's own general election next month, by helping him appeal to nationalist voters. But North Mitrovica is also important to his PR team for other reasons, who have seized upon the international community's anxieties about "unrest" in places like Ukraine and Bosnia and Herzegovina and are now attempting to portray Vucic as the standard bearer of regional stability. This was evident in a live appearance he made on CNN earlier this week, to address "riots, protests, and mutinies" and congratulate himself for presiding over a state that hasn't experienced any of them during the 21 months he's been deputy prime minister.
http://www.youtube.com/watch?v=YP21t4sGRa4
We've already read at least one report from North Mitrovica today about the "mass arrival" of people from Serbian state institutions, who are probably there to "encourage" residents to vote and ensure stability so that Vucic can claim another victory.