Divo Naselje / Lagjen e Trimave, Kumanovo – Easy to miss and barely noticeable under any other circumstance, a short, cobbled street, leads into a small neighbourhood of about 20 houses. The small street is part of a larger neighbourhood called "Divo Naselje" that is inhabited by both Albanian and Macedonian residents. Divo Naselje started as an informal annex settlement to the town of Kumanovo. In this little street, lacking any urban planning, a close cluster of Albanian families built their modest homes.
Taking a taxi up from the town centre, past the open air market, the bullet holes in the houses become visible. Upon entering the small road, the damage over just a few hundred metres was massive, with almost no house left untouched. Bullet holes and holes from larger projectiles pockmark the walls, with evidence of explosions puncturing kitchens, living rooms, and bedrooms. Some houses are roofless, others are completely burnt to the ground.
A partial clean-up operation had begun the previous day, a Sunday. But the large number of projectile holes in the houses was not matched by the few bullet casings that could be found on the streets. However, the use of personal weapons, machine guns, hand grenades, and rocket-propelled grenades (RPG) was evident. Not only were a variety of projectile holes and fragmentation damage visible on the houses but also empty ammunition packages. What appeared to be an undetonated RPG was even visible on the upper floor of one of the destroyed houses.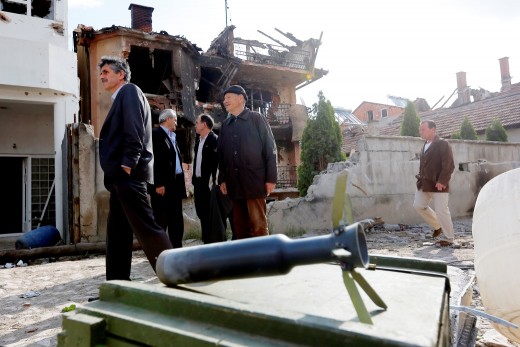 As residents stated, the shootings and explosions started just before 5 AM on Saturday morning, with no warning being given by the police to evacuate. Having been woken up by the noise, residents sought shelter in their basements, fearing injury or death. Fortunately, some residents stated that they had already evacuated some family members beforehand, having heard rumours in town of a forthcoming police action in their general neighbourhood. However, no one expected anything of this scale.
When asked if they saw any group of unknown men in their neighbourhood that would indicate some suspicious activity, the residents stated that they had not seen or heard anything of the sort. If they had, they say that they would not have remained in their homes. Several residents state that some who tried to flee were arrested in the process. Some claim maltreatment by the police, while others claim valuables had been stolen from their homes.
Upon entering the houses, it becomes clear that they had already been searched. Furniture was overturned, and the contents of drawers and wardrobes strewn across rooms. Still, the police seemed to have made themselves comfortable. Empty packets of pork meat were left behind; bottles of water strewn around, half-eaten bread, biscuits and half-drunk fruit juice created the sense of a recently abandoned picnic site. Judging by the sheets, some beds even looked like they had been slept in.
What really happened is unclear. Confusion remains as to who was arrested, released, or even took part in the fighting. However, the residents state that only one civilian was injured by a stray bullet, and none of the locals had been killed. One cow, the key source of livelihood of one of the poorer families, was another casualty. It had been hit in the leg by a stray bullet, so it was slaughtered on Monday.
Proof of serious injuries and bloodshed nevertheless remain, in the form of large patches of blood in at least 5 different locations and numerous surgical gloves left behind. A large pool of congealed blood remained on the floor of one of the houses, in front of the living room window.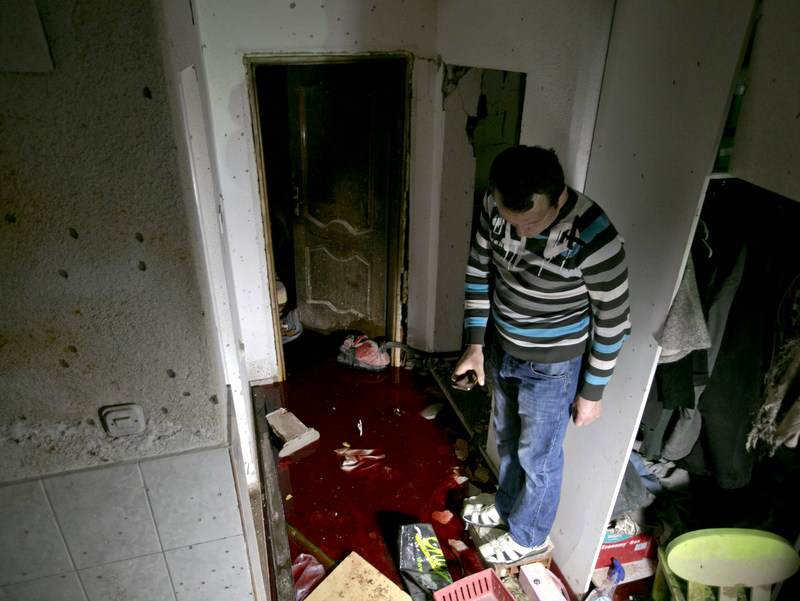 The trust of the residents in in the security forces is minimal, with many believing the event having been staged to distract the public a series of political scandals rocking the Gruevski government. Several residents stated that they feared being caught up in a staged event, framed and sentenced to lengthy prison terms. A group of residents also sent out a public appeal for information on three of their neighbours who are believed to have been detained but have not been seen since the weekend: Irfan Lutfiu, Besnik Ajdini, and Afrim Seferi.
Despite all that has occurred over the past few days, the Albanian residents reiterated several times that they co-exist peacefully with their Macedonian neighbours and that they had no intention of fighting against their neighbours, let alone with the security services. They blame the government for trying to ferment an ethnic conflict meant to obscure the crimes of senior politicians in the ruling administration.
But the residents of Divo Naselje/Lagjen e Trimave still demand answers from the authorities. They want to know where their imprisoned relatives are being kept and, above all, why such a dramatic police action was undertaken without provisions for the evacuation of the residents or with care to their safety. What happened last weekend has made this little street in Kumanovo famous for all the wrong reasons. These events will be remembered for years to come—as will the still unclear political fallout.
A version of this story was previously published in Albanian for 

Gazeta Express

and

Bota Sot

.