On the political culture of failed NBA basketball star Darko Miličić.
When I told a friend that I would be writing a short bio piece about Darko Miličić's politics, he said that this would be almost impossible because the retired basketball player's ideology was "just a secondary manifestation of his general craziness". And indeed, his eclectic character and multifarious career seem to elude any analytical scrutiny of his political viewpoints.
Darko Miličić's life has thus far followed an intriguing trajectory from professional basketball player to fisherman, farmer, hunter, horse enthusiast and lately, kickboxer. His basketball career skyrocketed in 2003 when he became the second pick of the National Basketball Association (NBA) draft in 2003 and a member of the reigning NBA champions, the Detroit Pistons. For those of you who do not follow the NBA that closely, being the second pick is a big thing! It's particularly significant because the players at the top of the same year's draft almost all went on to become NBA All-Stars, including LeBron James, Chris Bosh and Dwayne Wade. Miličić became the highest-placed European player ever at the time, and if you add to this the fact that he was only 18 years old, he was looking at a blistering future in professional basketball. However, things did not work out that way. His inability to establish himself among his peers has led to him often being picked as one of the biggest basketball busts in the history of the NBA. Trying to find an answer as to why Miličić was hyped to such an extent before he'd even entered the NBA, an article in Slate magazine described him as "the dubious beneficiary of a hazy mixture of group-thinking and magical thinking, a pre–YouTube moment made of wishful scouting reports from distant lands and flavored by a hint of racism." This hint of racism was characterized by the widespread perception of Miličić as the "idealized vision of the Euro prodigy, a fantasy of the young and impossibly skilled white big man", perpetuating narratives of "hardworking and disciplined" players versus those "lazy [ones who are] dunking all the time." Incidentally, it was laziness and "wasting his talent" that many commentators saw as the main reasons for his not succeeding in the NBA.
However, despite his patchy career in professional basketball (which officially ended in November 2012), Miličić became an established figure in the post-Yugoslav sports and tabloid press, more often than not for his controversial political viewpoints rather than his sporting skills. The media loved him for his outspoken vulgarity as well as his direct, unapologetic and polarizing statements. Miličić achieved cult status among basketball fans in Serbia and became known as the guy who was never afraid to say outloud "what was on everybody's mind", particularly where so-called "patriotic topics" were concerned. There were few other athletes from Serbia who were able to embody that same kind of genuinely nationalist sentiment with an authentic notion of "being one of the gang". Other "politically aware" athletes, such as swimmer Milorad Čavić, who was stripped of his Gold medal at the European Swimming Championships in 2008 for wearing a t-shirt that said "Kosovo is Serbia" during the official ceremony, Montenegrin basketball player Nikola Peković, who tattooed a motif from the 'Battle of Kosovo' on his upper torso, basketball player Milan Gurović, who had a tattoo of Draža Mihailović on his arm and was well known for his nationalist viewpoints, and footballer Mateja Kežman, who was known for his outspoken religiosity and support of the Serbian Orthodox Church, did not manage to overcome the existing distance between ordinary fans and athletes in the same way Darko Miličić could.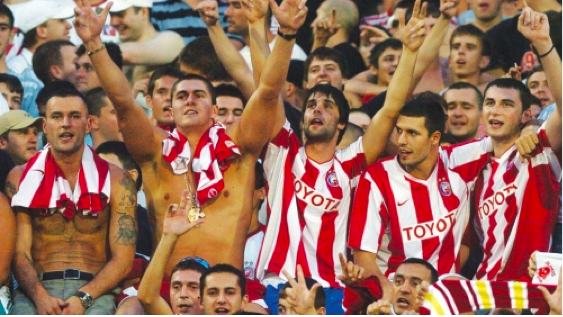 Most of Miličić's provocative statements over the years have fallen well within the mainstream of everyday Serbian nationalism and have been of an almost folkloristic nature. As such, they did not cause much of a stir in the international media. It was only in late 2013, when he joined a rally organized by the Serbian Radical Party to support accused war criminal Vojislav Šešelj, that his views gained wider attention. At the rally, the self-proclaimed "Srbenda"(translated colloquially as 'great Serb') was recorded making some controversial remarks: "What hurts me is that us Serbs in our Serbia cannot 'Serb-around'. That is a problem now. The man [Šešelj] has been there [in the Hague] for ten years, and we all know for no reason, and we are not allowed to mention him. Our neighbors with whom we were in conflict are celebrating [alleged war criminals acquitted by the ICTY] as their heroes, while in Serbia, if we mention Šešelj on the street, we get arrested." Asked whether it was "clever" to attend a meeting of the Serbian Radical Party, Miličić in his incomparable way said that he "never thinks about whether something is clever", but rather "does what is in his heart".
But Miličić has done more than engage in nationalist politics after his retirement. Much to the international media's surprise, he entered the 2013 World Carp Classic, a big annual fishing tournament in Italy. He had already been fishing professionally for more than five years at that time, he pointed out during training camp with the Boston Celtics in 2012, his last club in the NBA. He told reporters that he was just a "simple guy" who liked to hunt and fish. When he's "back home" he has a team with whom he travels and goes fishing. His new life as a simpleton on the Serbian periphery also saw him take up horseback riding and hunting. He also invested money in an orchard. Yet this life seems to have been a bit too simple and reclusive for Miličić for it to last.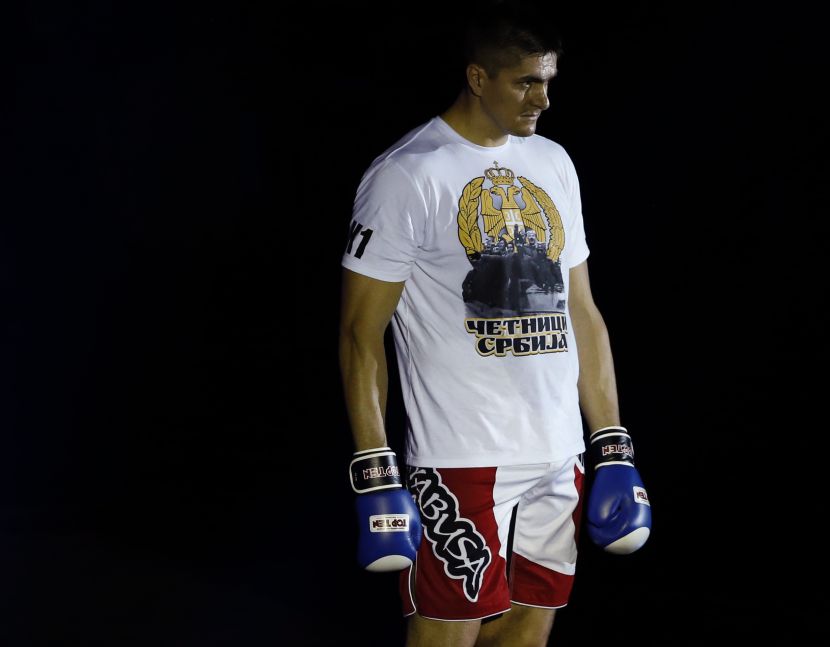 His announcement that he would try out his skills as a professional kick boxer seemed like a move back to the old, crazy Miličić and attracted quite a lot of international media attention. In December of 2014, he was ready for his debut. He made sure that his first performance would be a memorable one. Miličić entered the arena accompanied by the tunes of the ethno-folk patriotic song 'Oj Kosovo, Kosovo', wearing a t-shirt (allegedly designed himself) emblazoned with the words "Četnička Srbija". However, the exhibiting of his political ideology did not stop there. Only after taking off his t-shirt was the crowd able to admire the two new tattoos prominently placed on his stomach: portraits of the two Četnik commanders Momčilo Ɖujić and Nikola Kalabić. Maybe his tattoo artist suggested that they would go well with the portrait of Draža Mihailović on his back. (If you want to read up on the role of the Četnik movement during WWII, Marko Attila Hoare's research blog is a good place to start). To round out the kitschy exhibition of nationalist paraphernalia, Miličić's support team were wearing t-shirts printed with the words "Kosovo is Serbia" beneath a skull and bones.
The fight itself was over quickly, when Miličić was disqualified in the second round due to a nasty leg wound. But the wounded athlete promised that it would not be the last time he would be seen in the ring. A few weeks later, he was back again, only this time celebrating Orthodox Christmas, shirtless with the infamous ultranationalist singer Baja Mali Knindža.
It seems that my friend was right: that Miličić's life, since his retirement from professional basketball, has been driven by boredom and/or general "craziness", and most importantly, by having too much money. Though to be fair to Miličić, some of that money has ended up as significant donations to several humanitarian causes — only supporting the argument that there is no straightforward classification of his persona. Maybe his preoccupation with nationalist iconography, paraphernalia, and folklore represents his search for an answer as to why he failed "out there" in the wider world. However, we should hope that these kinds of politics and ideological messages as embodied and disseminated by Miličić remain as marginalized as they are and not take them too seriously. In that case, we could reduce our analytical interest to the question as to what kinds of crazy things Darko Miličić is going to say or do in the months and years to come.
Cover photo credit: AD/Vice