A participant at a conference on LGBT issues in Serbia is in critical condition at a Belgrade hospital today after a brutal attack left him so injured he required emergency brain surgery. Alex Cooper, a conference participant and graduate student at Central European University, told Balkanist that witnesses said the perpetrators shouted, "we don't want foreigners here" as they beat the victim, who is from Germany.
Other participants, led by the organization Labris, quickly assembled a march as a show of support for the individual targeted in the incident and as a protest against the protection the Serbian government has afforded other perpetrators of similar acts of violence.
German ambassador Heniz Wilhelm also spoke at a press conference at the Hotel Metropol earlier today, where the event, "The Future Belongs to us: LGBT Rights on the Road to the European Union" was to be held.
Cooper told Balkanist that people he spoke with were "in shock".
"Everyone seems so defeated," he said.
More details coming soon. Check back for updates.
Sunday
1230 CET: Three of the alleged perpetrators in the attack have been arrested, according to Blic.
Saturday
1820 CET: According to sources in Belgrade, the 27-year-old attacked this morning is awake and has communicated with doctors. He will still require close monitoring for the next 48 hours, owing to the severity of his head injuries.
1730 CET: Serbia's Interior Minister Nebojsa Stefanovic pledged that the authorities under his command would identify the perpetrators of this morning's attack: "I ordered an intensive investigation so the attackers are brought to justice soonest". Stefanovic also told the AP that foreigners are welcome in Serbia. 

The German ambassador has also noted the xenophobic dimension of the attack.
For some, the incident was reminiscent of the September 2009 murder of 28-year-old French football fan Brice Taton, who was beaten to death with baseball bats and iron bars in a bar in central Belgrade. A crowd of thousands (some place the number at around 5,000, while others say it was closer to 10,000) Belgraders turned out to protest against such violence in their city — one of the largest demonstrations in Serbia since the fall of Slobodan Milosevic.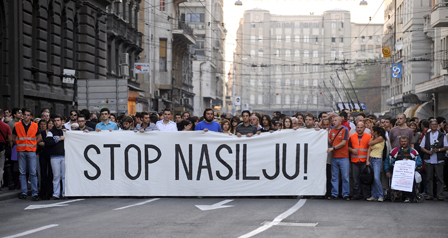 1700 CET: The AP has reported that the conference participant was attacked early on Saturday morning. The 27-year-old man was allegedly beaten with a glass ashtray in Belgrade's city center.
"He had a surgery and his condition is serious," Dusan Jovanovic, deputy director of the hospital caring for the man, told the AP.
The German ambassador in Belgrade, Heniz Wilhelm, was also quoted as saying that the attackers' comments "gave a new xenophobic dimension" to the assault.
1645 CET: Alex Cooper is in Belgrade, and sent us pictures of the protest and press conference held today. We are told that conference participants are in the process of preparing a resolution on the incident.
Cover photo of today's protest march courtesy of Labris.