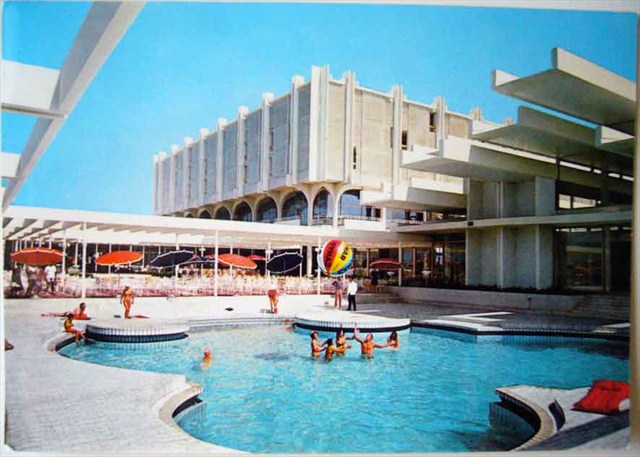 In 1991, Yugoslavia descended into civil war. Haludovo initially sat vacant because the conflict kept foreign tourists away. But the empty hotel proved useful for a different purpose. As Daniel Gubic, who owns a home on Krk just outside of Malinska, told Balkanist, "During the war many of the refugees were housed in the hotel or in the attached property,  so much of the inventory was damaged." When the war ended, the refugees were told to leave their temporary housing arrangements at Haludovo. But there were several families who didn't want to move out. When they were finally forced to, some took their frustrations out on the hotel by stripping it of any item of value imaginable, including pipes, radiators, copper wiring, and electric sockets.

Haludovo was privatized in 1995, in one of the decade's many shady privatization deals. Public companies like Haludovo were transferred to the Croatian Privatization Fund, which Franjo Tudjman and his regime subsequently plundered so they could bestow private ownership of state-owned companies to cronies and loyal supporters. And so, the joint-stock company Hoteli Holudovo Malinska d.d. was born. At the time of privatization, it was worth an estimated 27 million euros. In just a few years, it would be worth much less.
Soon, a man named Bozidar Androcec materialized from the margins of the telecommunications industry, poised to seize his piece of the Haludovo pie. He'd come into contact with Tudjman's daughter when she was involved in setting up telephone communications in state-run institutions. The consequences of Androcec's involvement with the resort would be disastrous. When the Croatian Privatization Fund announced it would sell a 26.4 percent stake in Hoteli Haludovo Malinska d.d. for seven million euros, only one person expressed interest: Bozidar Androcec and his company Boman AG., which was registered in the landlocked tax haven of Lichtenstein.
He couldn't pay the full amount right away, he said, but he could give them a few million and pay the rest off in monthly installments, plus interest. Apparently, he put forth a persuasive argument, because his plan was approved.
Meanwhile, Androcec didn't have a single crumpled banknote to his name. So he went to Dubrovacka Bank to try and secure a loan. A few years later, the bank folded amid accusations of corruption, but not before making a deal with Androcec that helped him buy up an enormous share of Haludovo.
So he paid the Croatian Privatization Fund two million euros, with zero intention of ever making a monthly payment to pay off the rest. Then he approached the Pension Fund and a group of small shareholders with a similar deal, promising monthly installments with interest. They agreed, and though he never paid them back, Androcec became the majority owner of Hoteli Haludovo Malinska d.d.
During this period Androcec used Haludovo's property to settle his personal debts, and supplement his income. Between 1996 and 1999, he (with the spineless supervisory board's consent) sold nine pieces of Haludovo real estate for a total of 5,100,000 euros. The company lost almost 30 percent of its value. Perhaps the most memorable (and despicable) transaction was the sale of the resort's Dubasnica Hotel. The buyer paid Androcec 818,000 euros, which he subsequently transferred to his own company, Boman AG.
It took the authorities until 1999 to intervene, but by then, it hardly mattered. Haludovo had been sliced up and sold, and had lost many of its most valuable assets in the process. For his part, Androcec knew he hadn't paid anyone for three years. Appallingly, Boman AG is still listed on Haludovo's financial reports as its seventh biggest shareholder, though he's never paid the company back for the Dubasnica Hotel.
In the meantime, few foreign tourists were returning to Croatia, especially not Haludovo. Available records indicate that the the Palace Hotel welcomed its last guests around New Year's 2002.
After so many years of neglect, the Haludovo Palace Hotel has become a very dangerous place. Piles of broken glass cover the floor. Large chunks of the concrete staircase have broken off and fallen to the ground below. Floors buckle. The skylights have all shattered, leaving shards of serrated windowpane hovering overhead. A long trail of blood leads up two flights of stairs to the top floor. And then there are the unsettling tags, probably written by high school students but still disturbing: "DIE HELP ME HELP ME" and Saxa loquuntur, which is Latin for "the stones talk". All in all, it's a bit of a horror show.
Of the old sprawling resort, only the tiny fishing village remains open. On a recent summer day, the village was filled with sunburned Bavarian families, and the modest konoba served a decent seafood risotto. There's also a Haludovo management office, just next door to the Palace Hotel. In fact, Hoteli Haludovo Malinska d.o.o. still has 24 employees. One of them, who asked not to be identified, shook her head as she explained that they're "just waiting for someone to do something." She turned to walk away and then suddenly stopped. "It's completely devastated," she added, referring to the Hell Hotel.
For many years, Haludovo's majority owner was prominent Armenian-Russian businessman Ara Abramyan, a UN Goodwill Ambassador who some say is involved in the trafficking of diamonds through the lawless Nagorno Karabakh Republic, a de facto independent state in the South Caucasus.
In 2007, Abramyan sold a large share of Haludovo to the British company Bitmass Limited, a shell company registered in the tax haven of the Isle of Man. Documents available on the self-governing Crown Dependency's website indicate that the director of Bitmass Limited is actually another company called Enmyn Limited, which has had more than 60 different directors since its incorporation in 2007.
Enmyn Limited also directs a Boca Raton-based operation called Faargy Invesco LLC (the company's lawyer, Charles Rubin, refused to answer any questions about Enmyn Limited, citing "the tangential connection with a client of mine, client confidentiality and related ethical concerns"). The Florida-registered entity is currently selling a massive luxury home with "multi-yacht dockage" in Fort Lauderdale. In addition, Enmyn Limited has also served as the director of USANA, a controversial vitamin company based in Utah that has been investigated by the Securities and Exchange Commission and the FBI over allegations that its multilevel marketing strategy is a pyramid scheme.
Though the shadowy Bitmass Limited is currently Haludovo's majority owner, Abramyan is the Chairman of the Supervisory Board and retains significant decision-making power. Many Croats have criticized the pro-Kremlin Armenian for allowing Haludovo to decompose beyond all recognition. They say that two Croatian presidents — Ivo Josipovic and his predecessor Stjepan Mesic — have met with Abramyan over a dozen times in an attempt to get him to begin working on the property (Putin even got involved on at least one occasion), but to no avail. According to his critics, Abramyan has failed to fulfill his contractual obligations and has never been serious about investing in Haludovo.
Indeed, the manager of the municipality of Malinska, Robert A. Krajlic, told Balkanist that "the construction permit procedure can start as soon as tomorrow".
But Abramyan insists it is the Croatian court system that has been negligent and guilty of stalling progress. He says a Croatian judge unexpectedly redrew the boundaries of the property several years ago, telling him he no longer had exclusive ownership of the resort's beaches or parking lots. Abramyan says this has prevented him from moving forward with his plan to turn Haludovo into a year-round medical and health tourism facility. In a recent interview, he referred to the Haludovo situation as "a nightmare".
While it's difficult to sort out exactly who is to blame for the decades of neglect, Abramyan is hardly the first businessman to complain about Croatia's hostile investment climate, especially in the hotel industry. Historian Zlatko Uzelac maintains that it is the national and local governments who are at fault. "The main problem isn't the private owners, but the state itself… the administration is torture… especially with hotels on the coast, and it's getting worse by the minute. The heavy and galloping bureaucratization of the whole system is the prime hindrance," he said.
But the government claims some of the hurdles were put in place for good reason: To prevent the unchecked construction of illegal hotels, like the ones that destroyed some of the best beaches in Albania and Bulgaria during the 1990s. Others say that's just an excuse, as Croatia's legislation concerning investment and coastal construction is seriously outdated, or worse, is still there because it accommodates corruption.
Though Croatian officials say they have eliminated many inefficiencies that had hindered foreign investment in the past, Croatia still has a reputation as a difficult place to do business. In 2011, the mayor of Hvar initiated a campaign to name one of the country's 1,185 islands "Facebook" in an attempt to draw attention to its coastline. So far, it hasn't worked. Last year, foreign investment in Croatia was a fraction of what it was before the global financial crisis hit, and far below that of other countries in Eastern Europe. Some hope the country's EU membership will encourage more foreigners to consider investing in the hotel industry, but the outlook remains bleak.
So for now, it looks like Croatia's deserted hotels will continue to deteriorate, a reminder of a time when the Adriatic Coast represented "the sunny side of socialism" — an idea the Haludovo resort embodied especially well. They're what one compulsive documenter of ruins calls "a small piece of history in suspension". But there are some lives in suspension as well: Investors who say they're waiting for the state to grant them building permits. Towns like Malinska waiting for "absentee" investors to begin building. Employees, like those who still work at Haludovo, who are instructed to strip hotels' interiors of valuable aluminum and stone slab but haven't seen a guest for more than a decade.