When violence broke out at polling stations in northern Kosovo on Sunday, politicians in Prishtina were quick to indict the Serbian government via Twitter. Belgrade, they claimed, was responsible for orchestrating the attacks on Kosovo's "almost perfect" elections.
It was a pretty confident assertion to make in the midst of all the chaotic, occasionally contradictory reports from that day, and especially in the absence of any independent investigation. (According to the international media, the culprits are still unknown).
Still, the perpetrators were Serbs, probably the same groups of ultra-nationalist football fans who regularly convene to terrorize their fellow citizens and light fast food restaurants and football stadiums on fire. They have received rather lenient treatment from the Serbian courts, which means the government is partially responsible for their acts of violence. If the rule of law was the law of the land, most of these young men (and certain members of the Serbian government) would be in prison.
But that wasn't the only bad news Kosovo's government delivered via Twitter on election night. According to members of Prishtina's political elite, Serbia's EU accession was in jeopardy.
"Incidents in North Kosovo will endanger EU integrations for Serbia. Kosovo did well," tweeted Petrit Selimi, Kosovo's Deputy Minister of Foreign Affairs. He attributed the statement to Professor Daniel Serwer of Johns Hopkins University, but it turns out it was a false attribution.
"That's not quite what I said," Dr. Serwer tweeted back, directing readers to his article titled "Belgrade and Prishtina need to work together".
Shenoll Muharremi, the former head of the EU Integration Agency and current Executive Director of Development Group LLC, tweeted directly to the offices of Lady Ashton and Stefan Fule, the EU's Commissioner for Enlargement, with the following demand: "Say it loud & clear: Elections fair throughout Kosovo. Serbia failed to do its part in the north." And later: "Serbia denied Kosovo a perfect day!"
Several international media outlets also reported that Serbia's EU candidacy was potentially imperiled. But on Tuesday, Swedish Foreign Minister Carl Bildt told Radio Free Europe that the violence in the north would not delay Belgrade's EU accession talks, and that Serbia had cooperated "very well" with Kosovo's local elections. While this was as much of an overstatement as calling Sunday "a great day for democracy", it did inspire confidence that Europe has learned that isolating Serbia is a terrible idea.
The behavior of Kosovo's political elite before, during, and after the elections has revealed just how much resistance there is to the implementation of the vaunted Brussels agreement, especially the integration of the 40,000 Serbs who still live in the country's north. Belgrade's obstructionism in this area has been well documented, but Prishtina has also done its part, by working to alienate rather than integrate Kosovo's Serbian minority. As Florina Duli, director of the Kosovar Stability Initiative, explained to the Economist on election night, Kosovo Albanians are "not that much interested in what Serbs are doing".
Apparently, the Minister of European Integration isn't interested either. At the height of Sunday's violence and confusion, when unconfirmed reports were flooding in about rounds of gunshots fired, masked men with bats, terrified civilians, broken ballot boxes, stolen lists printed with voters' names, assaults on election workers, and tear gas being fired off inside schools, Vlora Citaku made a little joke.
To be fair, Citaku's tasteless tweet was probably inspired by an insipid offer from Serbian Deputy Prime Minister Aleksandar Vucic (himself a former football hooligan) to "help stop the violence" by entering the Serb-majority areas of northern Kosovo. Obviously no one said yes to that.
In the meantime, the violence continued, and in those moments, it was uncertain whether or not there would be any serious injuries. Citaku somehow managed to find humor in this, tweeting, "Serbia trying to play the usual game: Pyroman and Fireman!"
But it was a visiting dignitary who made the most controversial remarks of the election season. About two weeks ago, Turkish Prime Minister Recep Tayyip Erdogan traveled to Prizren where he made his now-infamous, inflammatory speech. His host was Kosovo's Prime Minister Hashim Thaci of the Democratic Party of Kosovo (PDK), whose ruling coalition needed to pick up a few more votes, especially among the Turkish minority. Apparently pissing off the Serbs and invoking ancient memories of Ottoman glory and subjugation by declaring "Kosovo is Turkey" was deemed the most effective way to do this.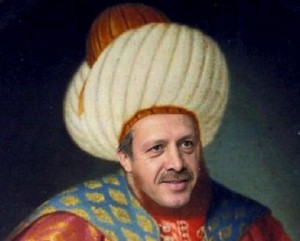 Despite the fact that Erdogan flagrantly violated diplomatic protocol by speaking at a foreign pre-election rally (an article titled "Thaci plans to use Erdogan for election" appeared in one of Kosovo's newspapers back in August), there were no objections from foreign officials. Erdogan and Thaci were able to fan the flames of nationalist discontent, and right before a sensitive election.
And Thaci's plan to maintain his grip on power using Erdogan seems to have worked. On Sunday, DPK's mayoral candidate, Ramadan Muja, won the most votes in Prizren — the city with the largest Turkish minority in Kosovo. Muja is currently facing corruption charges brought against him by EULEX, but with Erdogan and Thaci on his side, such legal troubles did not seem to threaten his mayoral bid. Though the winner will be determined in the second round of voting, Muja is currently leading in the polls. As far as the corruption charges go, he is alleged to have misspent funds and gifted state property to two "educational institutions" in Prizren run by the Gulen Movement, a secretive, "Scientology-like" Turkish cult.
The movement's leader is a man with anti-Semitic and fundamentalist views, "similar to those of Iranian revolutionary leader Ayatollah Khomeini." A former follower explained Gulen's aims: "His long-term goal is grabbing power in Turkey so to realize his longer-term dream of resurrecting a Sunni theocratic empire akin to Ottomans. He is a fan of Ottoman dictators, such as Fatih Sultan Mehmed, who killed their baby brothers to keep their throne."
No wonder Erdogan approves of the Gulen Movement. Turkish police under the PM's command spent the summer spraying anti-government protesters with tear gas and rubber bullets. Five people were killed and another 8,000 were injured.
Yet with Kosovo's elections over, it seemed that nobody in the region would have to worry about the reptilian autocrat from Ankara and his Ottoman fantasies anymore.
But after another cozy round of tea and biscuits with Lady Ashton ("the baroness paid £400,000 pounds to do nothing", if you believe the British press) in the ethnically-divided, fiercely nationalist lowland monarchy of Belgium, Kosovo's Prime Minister Hashim Thaci and Serbia's Prime Minister Ivica Dacic agreed to attempt another vote in the north, where Sunday's elections had been interrupted by ultra-nationalist hooligans.
Shortly after the election re-run was announced, Deputy Foreign Minister Petrit Selimi addressed a crowd in Ankara. "Erdogan is 100 percent right on saying that 'Turkey is Kosovo and Kosovo is Turkey' when he visited before local elections," he said in a tweet. Back for a second round indeed. Let's just hope everyone stays at home and fights on Twitter this time.
UPDATE: This article triggered a rather harsh Twitter exchange with Petrit Selimi, Kosovo's Deputy Minister of Foreign Affairs and (until this week) a regular Balkanist reader, read about it in a separate article.