For many, Balkan football is the epitome of violence, ethnic hatred and nationalism. Chris Etchingham looks at the other side of the region's most popular sport.
In recent weeks, there have been numerous high-profile examples of how football in the Balkans is used to push nationalist and religious agendas at the local level and on a higher stage and to a much wider audience. The Croatia vs Italy Euro 2016 qualifier (at Poljud stadium in Split), which was played behind closed doors due to previous fan misdemeanours, featured a large swastika bleached into the grass and was picked up by television cameras. At Bosnia-Herzegovina's 3-1 victory in Zenica against Israel, there were accusations that the home fans chanted "Jews goodbye" in German along with "Palestine, Palestine". Following previous well-publicized nationalist incidents, such as the Albanian drone flying over the pitch at last year's Serbia vs Albania match and England's Danny Rose being racially abused by Serbian fans during an Under21 qualifying match, it is very easy to tar the entire the Balkan region with the same brush.
One could be forgiven for thinking that football in the Balkans is nothing more than a toxic mix of ethnic and nationalist hatred. After all, the international (tabloid) media never seems to tire of reminding us of this on a regular basis. Yet there is another side to football in the region, one of cross-community cohesion and of once warring factions trying to reintegrate and cooperate. Several charities and non-governmental organizations have been operating at a grassroots level to entice once divided communities back together, and the bottom-up structure seems to have borne some fruit. The Cross Cultures Project Association is a Danish NGO which established the Open Fun Football Schools (OFFS) in Bosnia-Herzegovina during the late 1990s, and their Mission Statement claims that they use "fun football concepts as a tool to promote the process of democracy, peace, stability and social cohesion within the Balkan countries." The concept is brilliantly simple: they target children between 7-11, of which 30 percent must be female, from at least two ethnic groups. The same multi-ethnic concept applies to coaches who attend an intensive training course on coaching children's football as well as conflict resolution.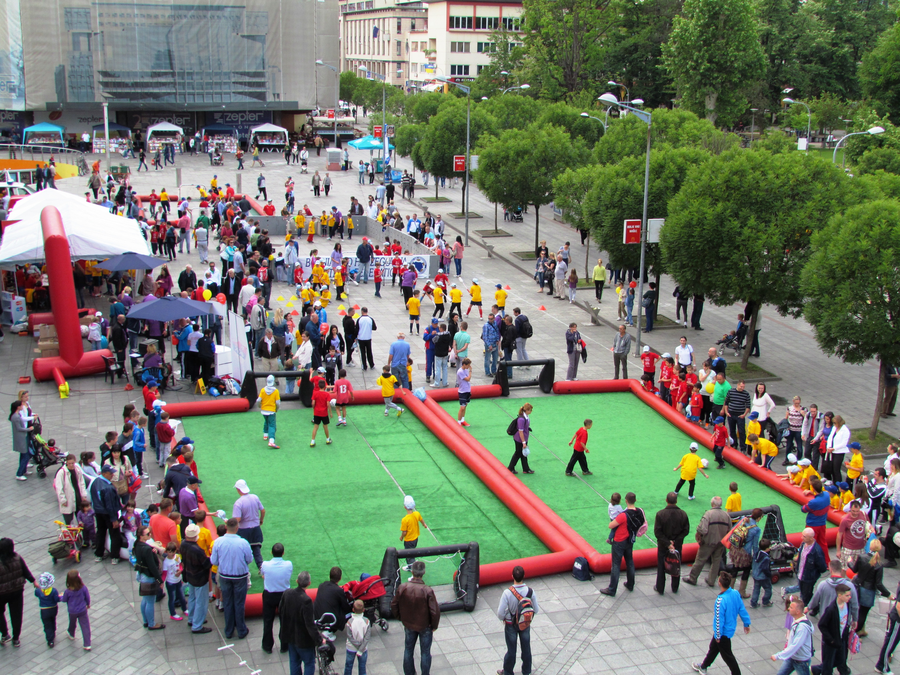 There is a belief among OFFS that much of its work must be driven from the bottom up rather than top down – that is, its work is to be driven by parents and volunteers on the ground rather than rules imposed from a distant head office somewhere in Denmark. The Balkan region had a total of 2677 local volunteers by 2009, testifying to the power of local ownership and participation. A 2011 evaluation study by the Danish Ministry of Foreign Affairs concluded that "the OFFS concept remains unique in the Balkans" and has established an effective network of coaches "and the bonds and friendships thus created have served to break down enemy images and promote reconciliation." The OFFS project continues and earlier this month the fifth Mini Champions event took place in Zenica. The events were endorsed by UEFA, MasterCard, Sony, and other sponsors, as 600 children from across 20 Bosnian towns took part. June also saw culmination of the OFFS organised Skopje Coca-Cola Cup. This was the climax of an event which has seen 2000 students from across Macedonia take part in a knock-out tournament which aimed to promote an active lifestyle in young people.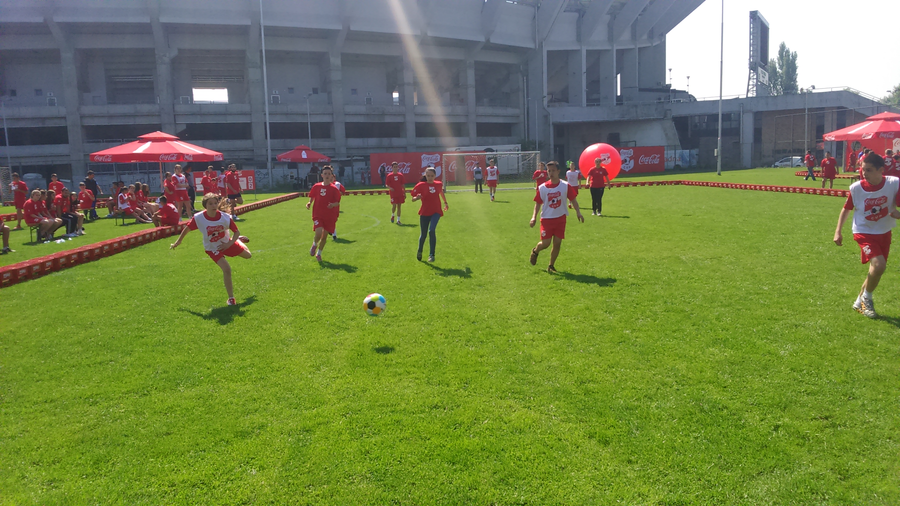 The British based charity Football Beyond Borders has also organised excursions to the Balkans with the aim of promoting cross community cohesion. In 2013 they travelled to Bosnia-Herzegovina and Serbia, believing that the region had been both ignored and misunderstood by Western Europeans who based their knowledge of the area upon the wars of the 1990's broadcast into their living rooms. As stated on their website, FBB wanted to "challenge the overhyped Serbophobia that the British media had created." Whilst acknowledging the distrust between the main ethnic groups, FBB nevertheless showed that football could attempt to overcome these obstacles. In Mostar they were housed with and played football with Croat and Muslim orphans and organised a multi-ethnic tournament including youth teams from FK Velež Mostar and HSK Zrinjski Mostar.
In Sarajevo, FBB organised a tournament between Serb and Bosniak teams whilst also taking time to participate in community workshops organised by local NGO KULT, where issues such as youth unemployment and discrimination were tackled. Following a brief stop in Pale they moved onto Serbia where they participated in anti-racism seminars and also found time to watch Red Star Belgrade play. They found Serbia and its people to be nothing like the stereotype portrayed by the media in Britain. It was a society at desperate pains to move away from the past and its status as a pariah state to one more inclusive on the world stage and sport had its place in that evolutionary process.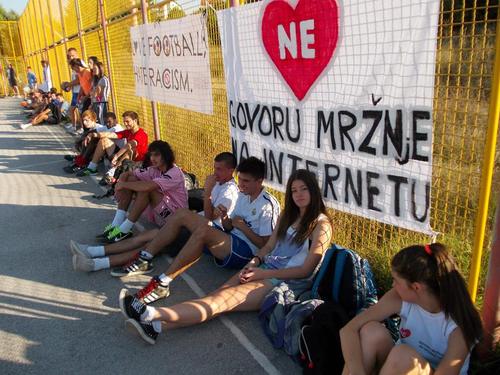 Last year's World Cup was a litmus test for Bosnia-Herzegovina's progression towards a socially inclusive state. Was its qualification seen as a cause for celebration for all or only for its Muslim population? As thousands packed the streets of Sarajevo to celebrate Bosnia's qualification Denis Bečirević, Speaker of Parliament, declared that "the national team has showed us all how to achieve results, not just in sports but in any field." Emil Vlajki, then Vice President of the Republika Srpska hailed the qualification with "all I have to say is bravo, bravo, bravo." Some Bosnian Serbs who traditionally follow the Serb national team also supported the Bosnian national team at the World Cup, though this was not a universal sentiment. There were also incidents of the Bosnian flag being burned in Croatian areas of Herzegovina. There is a sense that football has its part to play in breaking down recent divisions, though progress can be slow, reflecting wider political stagnation.
Of course, most of the work that organisations such as Football Beyond Borders, Open Fun Football Schools, and Football Against Racism in Europe do, don't get reported in the same dramatic way in the media as nationalist stunts. Their work is quieter, yet of immense importance and stature. The hope is that the children they work with will grow up to challenge both the nationalist co-opting of football and the media representations of the Balkans as a poisoned and divided place.