Arséne Wenger had lost enough. He'd gone more than a decade without winning anything, not a single league title, not a single trophy, not for nearly a decade had Arsenal won a single thing worth winning except a string of fourth place finishes in the Premier League, which earned them the right to lose in some humiliating fashion during the Champions League Round of Sixteen. Just lose, lose, lose. That had kind of become Arsenal's thing, until they ended up winning the FA Cup this year, probably because nobody else wanted it.
Through it all, just years and years of constant losing, Arsenal had refrained from buying its way into relevance. This was curious; Arsenal FC may have been founded in 1886, but only as a front for Arsenal LLC, a fine purveyor of gatling guns, field artillery pieces, and patent medicines for discriminating gentlemen. Over the years Arsenal had dabbled in a variety of sinful markets of varying profitability: moonshine stills, softcore pornography studios, beanie babies, black tar heroin and so forth, but gun running remained its primary concern. It was only when José Mourinho of Chelsea started poaching the best players from teams that had lost in the group stages of the World Cup that Wenger finally decided to stop losing all the time.
"Arsenal's fortune was built on capitalism, which is perfect and unassailable," he said by way of introducing the PowerPoint presented to Arsenal's shadowy board of directors. "Chelsea, on the other hand, are a bunch of corrupt, opportunistic cheats; everybody knows that. Let's spend those bastards into the ground." The board murmured in agreement, and with that it was set. Arsenal would buy the best players from teams that had survived the group stage. Wenger threw open the Arsenal vaults, filled with bricks of gold bullion, Spanish doubloons, bearer bonds, blood diamonds, bank notes, and seriously like a metric ton of Dutch tulips.
Wenger's first order of business was checking in with Mesut Özil, Arsenal's one indulgence during those many years filled with so many losses. Özil had performed well for much of the season but injuries sapped his form towards the end. During the World Cup he'd been nothing if not terrifically mediocre for the Germans, which was shocking because during the 2010 World Cup Özil had looked like he would be the future of fútbol. The future was beautiful, if a little bug-eyed, in those days. Now Wenger needed to figure out whether or not to flip Özil like a Tampa condominium. They met at a gin joint near the Copacabana, a mysterious beach of sin and intrigue.
"Mesut, your form has been poor of late, everybody knows that," Wenger said, but in French, which sounds haughty and obsequious at once, unless you are colonizing a foreign land, in which case it sounds suspiciously Belgian.
"You despise me, don't you?" Mesut replied, but in German, which sounds like any other language, except you have shrapnel in your mouth. Mesut liked German because it made him sound intimidating. Also, he was German.
Özil went on to explain that he had scored a goal against the Algerians, which should count for three goals since they have a Bosnian coach by the name of Halilhodzic, and you know what they say about Bosnians.
"What, they're practically Herzegovinian?" Wenger responded.
"No, that they are tactical geniuses without peer in the world of fútbol."
"I don't know anyone who says that. Why would you even say that? It feels gratuitous. Like you're pandering, somehow."
"You are a very cynical person, Wenger, if you'll forgive me for saying so."
"That doesn't answer my question about your poor form."
"Maybe I'd be in better shape if you hadn't run me into the ground at Arsenal this season. I'm a playmaker, then you ask me to link up with our worthless strikers and act like everything's going to be just fine. How can anyone play the beautiful game passing to Olivier fucking Giroud?"
"Tell you what, I'll sign Alexis Sanchez of Chile.  Do you think you can play the beautiful game with him?"
"What right do I have to think, huh? All the same. I have many a friend in the Copacabana, but somehow, just because you despise me, you are the only coach I trust. Sign Alexis if you want."
Wenger knew he would need another attacker, but there were problems. The group stage had been filled with beautiful attacking play, and goals had been plentiful as the maleficent worms coursing through Pepe's blackened heart. The knockout rounds had been something else entirely. Teams had dug in, preparing for war, and as has been the case throughout history, preparing a stout defense had only invited war. Among the casualties had been everyone's favorite player, Neymar de Santos Silva Junior, who was rendered hors de combat by a sneak attack from the Columbians in a game Brazil would win 2-1.
"Wait, they ate him before the main course?" Özil asked with some alarm.
"No, it simply means he was out of the fight, everybody knows that," Wenger explained.
With the Brazilian star convalescing, Wenger turned his attention to the breakout star of the entire tournament: the Columbian James Rodriguez. He had scored the goal of the tournament to knock out Uruguay, a howitzer volley from outside the box after having caught the ball on his chest. He played valiantly against Brazil as well, despite repeated kicks to the shin. James was the future of fútbol.
"That's not how you pronounce it," Özil informed Wenger.
"What? James. Says so right on his jersey.
"It's Ha-mez. It's like a regular name, but in Spanish. Like how they call Jesus Hor-hay."
"They do? I thought it was Hey-Zeus, because their first bible was written in Greek."
"I wouldn't know. I don't speak Spanish."
"But you played at Real Madrid for years."
"Yes but José forbid us from learning Spanish. Said that's what those sneaky bastards at Barcelona spoke. Thought it would make us soft."
"José is an idiot. They only speak Catalan in Barcelona, everybody knows that."
"Regardless, I think James is too young to carry a team. Perhaps he needs more seasoning."
"Rubbish," Wenger asserted. "He might be young, but I see greatness in his future. It will be perhaps largely unintelligible, but genius is genius and you can never have enough of that."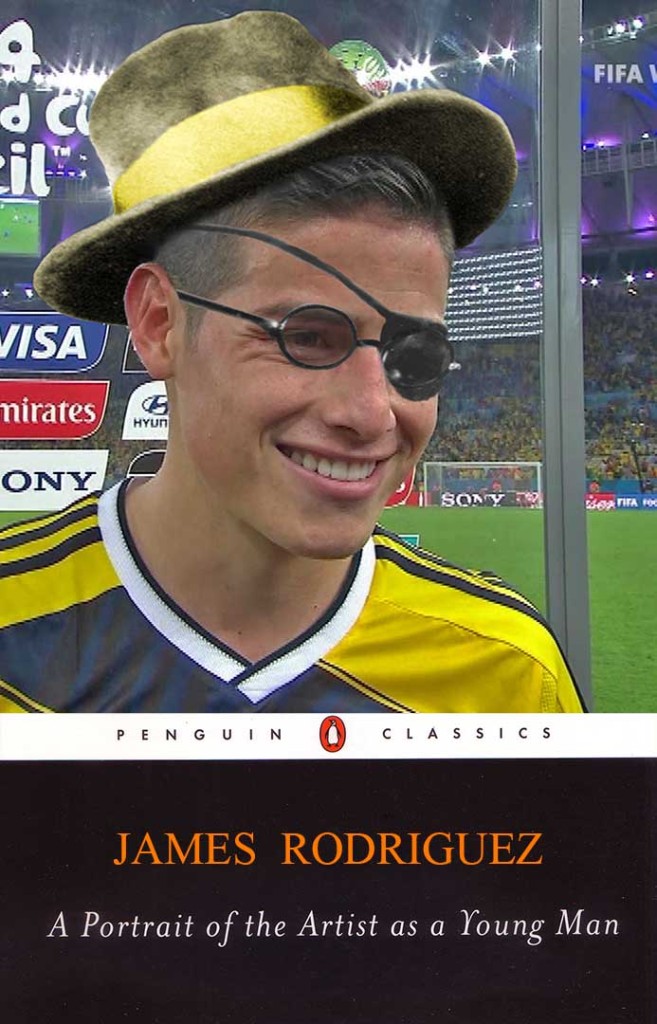 No but seriously James had a bright future ahead of him.
With his attack set, Wenger turned his attention to defense, because Arsenal had terrible defenders and terrible goalkeepers. His first impulse was to sign the American Tim Howard, who had heroically recorded sixteen saves in their valiant 2-1 loss to the Belgians. Some sportswriters had gone so far as to liken Tim Howard's stand to the Battle of the Alamo, which makes a certain amount of sense unless you happened to know anything about history. Arséne did know a thing or two about history, however, and recalled that the Battle of the Alamo had been waged for Texan independence, and fought by a bunch of dudes who got pissed off when the mayor of Mexico told them that slavery is totally illegal there. "It is hardly the Texas Cinco de Mayo, is what I'm saying," Wenger said.
Özil pointed out that Cinco de Mayo is actually a celebration of the Battle of Puebla, a humiliating defeat for the French, who were subsequently expelled from the country in 1862. "Bullshit," called Wenger. "France's only loss to Mexico came in the 2010 World Cup, everybody knows that." He reasoned that the Battle of Puebla had been fought by Belgians, who often speak French instead of Belgian because it is slightly less humiliating to be French. For proof, he pointed to the stat sheet for the USA-Belgium match, which indicated the Belgians had taken thirty-eight shots on goal. This would tend to indicate that, for all Howard's heroics, his opponents in all likelihood prolly just couldn't shoot straight.
In lieu of Howard, Wenger considered signing both of Holland's goalkeepers, but ultimately couldn't choose just one. Krul had famously been substituted for Cillessin against Costa Rica for the quarter-final penalty shootout, but in the semi-final against Argentina the Dutch had used all their substitutions before the shootout, Cillessin neglected to save a single one of Argentina's penalty kicks, and the Netherlands were eliminated. Ideally Wenger could have signed a centaur-like Krul-Cillessin beast to mind the goal, but Arsenal's bioweapons division had no luck with such crossbreeding experiments as yet. Instead, Wenger decided to sign the Costa Rican Keylor Navas, who had seen off the Greeks during the Round of Sixteen.
The Greeks, as per their tradition, fought in a boring and highly defensive phalanx, which didn't make sense against 10-man Costa Rica but tradition is tradition and the Greeks are nothing if not Greek. Navas played brilliantly to take a 1-1 draw to penalties, whereupon he saved two and put Costa Rica through. It was a performance worthy of Ochoa, Howard, or either Krul and Cillessin or Cillessin and Krul, depending on how you looked at it, but in any event it was a damn sight better than anything Arsenal's keepers would have been capable of.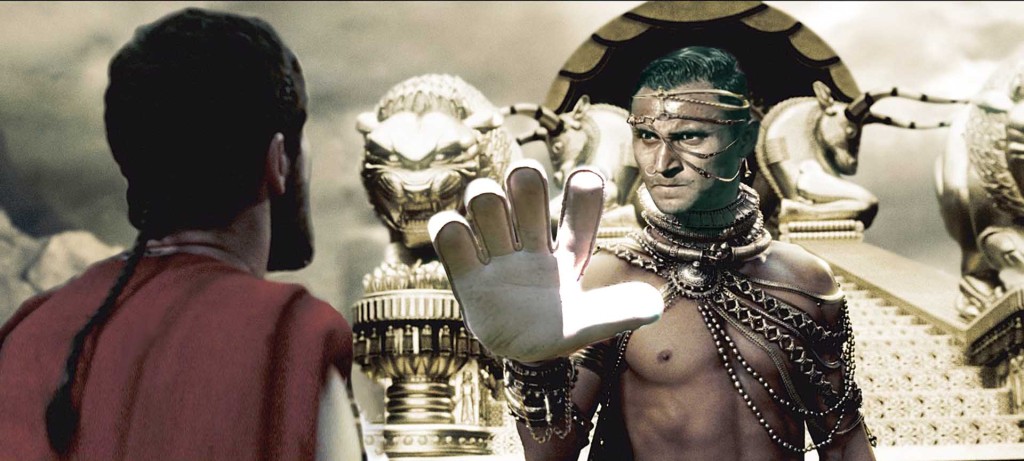 No but seriously 300 Greeks could not have gotten past Keylor Navas that day.
Now Wenger needed some defenders. Varane of France had played exceptionally well in their 2-0 defeat of Nigeria, but Hummels of Germany simply manhandled him before heading home a cross in Germany's 1-0 victory over France in the quarterfinals. Hummels may well have been the best defender in the tournament, if not Mascherano of Argentina; once the championship had been decided Wenger would sign both of them and play three at the back with the German Neuer.
"I thought Navas was your goalkeeper," Mesut reminded him.
"He is. Neuer will be our sweeper," Wenger said.
"But Neuer is a goalkeeper. That's his position."
"Don't be foolish. Neuer is an outfield player, everybody knows that."
"No, he just doesn't like being in the box."
"But that's where goalkeepers play."
"That's just kind of Neuer's thing, not being in the box. Nobody bothers him about it. Seriously, he's fucking huge, he just does his thing."
"Well, regardless. He put on quite a performance against France in the quarter-final. And then you played who in the semi-final?"
"Brazil."
"Oh, I forgot to watch that game."
"How could you miss that game?"
"The bar I was at was showing the Pistorious trial. I finally convinced them to put on the game, but the sound was off and it was almost over. You missed an empty net and then he changed the channel again. I was prepared to sell you right then and there, I was so embarrassed for you."
"You didn't see the rest of the game?"
"Honestly, Mesut, your finishing is terrible. If you're such a playmaker, why don't you just pretend you're passing the ball into the back of the net? I'll never understand that about you."
"But you don't know what happened when we played Brazil?"
"Nope. I assume you won in another damn shootout after another nil-nil snoozefest, Mesut, because otherwise José would have called and tried to buy you at a discount."
"So you don't know how the game went."
"I just got so tired of watching defense, defense, defense in every match. Maybe score on the counter, play for penalties otherwise. It is like José when we play Xbox at his place. Just total bullshit. I've broken like three of his controllers."
"Brazil. Germany. Seriously?"
"Uh-uh. Tell me about it."
"Just…nevermind. It doesn't matter, Wenger; after Sunday I'll be through with the whole business and I am leaving finally this Copacabana."
No but seriously the only part of Germany-Brazil that wasn't shocking was the part where David Luiz totally melted down.
"Wish me luck in the final," Mesut said by way of excusing himself.
"Just stop playing like garbage and you'll be fine," Wenger assured him. He had no plans to watch the game itself; after all the excitement of the group stages, the knockout rounds had been the kind of boring slog that only a deviant like Mourinho could enjoy. As for Arsenal's grand plan, Wenger already knew to buy Neuer, Mascherano, and Hummels. Oh, and Messi, just to piss José off.
Beyond that, he'd know who won simply from his twitter feed; dozens of tired variations on 'don't cry for me' would mean Germany had taken the cup despite Mesut's shockingly poor form, whereas dozens of tired 'Downfall' videos would mean Argentina had won, somehow. It didn't matter in the end, not to Wenger anyway. All he cared about now was beating José; if Arsenal could do it on the pitch that would be fine, but Wenger also planned to buy himself an Xbox, finally, and practice video game soccer until he stood a chance against The Special One's bullshit tactics when they played at his place.
"It's entirely possible I hate José more than I love anything," Wenger grumbled to himself, although it was entirely possible the reverse was also true. Regardless, he closed out the tab and then sauntered out of the gin joint next to the Copacabana. He would have been silhouetted by the setting sun against the breaking waves, if not for the fact Brazil is in the southern hemisphere, which makes the sun rise and set in the wrong direction; everybody knows that.