Is Bosnia-Herzegovina about to join its neighbors as a new tennis superpower?
---
As the sun set in Melbourne on the third day of the Australian Open, two emerging but seemingly unremarkable tennis players waved goodbye to their adventure Down Under for another year. Bosnian pair Damir Džumhur and Mirza Bašić did well to reach the second round of the tournament but ultimately were outclassed by more illustrious opponents in the form of Belgian 15 seed David Goffin and Czech 6 seed Tomas Berdych, respectively. Yet despite their early eliminations, the progression of the pair past the tournament's first round marked the first time in history that two players from Bosnia and Herzegovina reached that level of a Grand Slam and saw them depart Australia optimistically, hoping that they can both keep the momentum going from their performances at Melbourne Park and have a breakthrough 2016.
While some may consider the results of Džumhur and Bašić on the pristine Plexicushion hardcourts of Melbourne rather humdrum, doing so ignores the marginalised status that tennis holds within Bosnian sports. It is not surprising that a country beset of political and economic problems and still struggling to overcome the scars inflicted by the brutal civil war of the 1990s has little resources for tennis, with investment and infrastructure in the game minimal at best.
However, this is nothing new, with tennis often occupying a position of niche status during the time of Communist Yugoslavia, where it was of little importance in comparison to the dominant team sports of football and basketball. Subsequently, unlike other socialist bastions like Czechoslovakia, Yugoslavia was never recognised as a strong player in the tennis arena, excluding a few rare exceptions.
Croatian Nikola "Niki" Pilić was a Roland Garros finalist in 1973 and the dominant Grand Slam doubles champion of the early to mid-1970s. Today, he is better remembered for being a trailblazer as part of tennis' "Handsome Eight", alongside Australians Rod Laver and John Newcombe, in addition to being the central protagonist behind the 1973 Wimbledon Boycott, which led to the establishment of the ATP. Serbian Slobodan Živojinović reached the semi-finals in both the 1985 Australian Open and the 1986 Wimbledon, but he achieved greater success on the doubles circuit, in which he occupied the position of world number one in 1986.
Then, just as Yugoslavia was about to fall apart, there emerged two young prospects in Split native Goran Ivanišević and the teenage sensation Monika Seles, an ethnic Hungarian from the northern Serbian province of Vojvodina. As a teenager, Ivanišević sprung onto the world stage by reaching the quarter-finals in both Melbourne (1989) and Paris (1990) before reaching number two in the world and winning Wimbledon in 2001, a decade since Croatia's independence from Yugoslavia. By the time Seles was 20, she had eight Grand Slam titles to her name and had replaced German Steffi Graf as world number one. However, her career took a turn for the worse when she was stabbed on court by a deranged Graf fan at a tournament in Germany in April 1993, spending the next two years out of the game before winning her fourth Australian Open title in 1996. However, the injury and psychological trauma of the assault prevented Seles from recapturing her teenage best.
Following the turbulent and chaotic 1990s, Croatia emerged as the dominant force of the former Yugoslav countries, culminating in a memorable Davis Cup victory over Slovakia on enemy territory in Bratislava in 2005, as Mario Ančić and Ivan Ljubičić became triumphant national heroes under Davis Cup Coach Pilić and Captain Ivanišević. Buoyed by impressive junior results, Serbia overtook that mantle in 2008, when Novak Djoković won his first Australian Open and both Jelena Janković and Roland Garros Champion Ana Ivanović reached world number one.
To most pundits, Serbia's tennis rise came out of nowhere, with little tradition and infrastructure in the country to support the view that their emergence and subsequent dominance could have been years in the making. In December 2010, Djoković along with former Australian Open Junior Champion Janko Tipsarević, Viktor Troicki and doubles specialist Nenad Zimonjić defeated France in front of a partisan crowd in the Belgrade Arena, with Pilić as the team's coach and Zivojinović as captain. Since then, Djoković has established himself as one of the all-time greats by winning nine further Grand Slams and maintaining the world number one position for 182 weeks running.
Given these recent achievements by its more tennis-illustrious neighbours, Bosnia and Herzegovina has a lot of ground to make up if it wants to be considered anywhere near the level of Serbia and Croatia in terms of tennis prestige. However, the signs are promising that Bosnian tennis may experience its very own Golden Age in the years to come. Initial progress began two years ago when Džumhur became the first Bosnian in the main-draw at a Grand Slam, where the little-known Sarajevo-born right-hander reached the third round before falling in straight sets to Berdych.
Despite not being able to build on that result at last year's event, in which he was eliminated in the qualifiers, Džumhur has maintained steady progress across the Challenger tournaments and has now firmly entrenched himself within the world's top 100. Currently ranked number 81 in the world and expected to make it back into the 70s following his Australian Open performance, there were signs in his defeat to the seeded Boffin that the best is still yet to come for the 23-year-old. After dropping the first set 6-4, Džumhur stormed to a 6-0 victory in the second and looked to have the upper hand over the fatigued Belgian in third by taking two breaks and leading 4-1. However, unforced errors crept into his game as the rejuvenated 15 seed took the next five games to win the set before ending Džumhur's aspirations of reaching the third round by taking the fourth 6-2.
Džumhur's Davis Cup teammate Bašić fared little better with a straight sets defeat to world number five Berdych, although the fact that the world number 138 made it to the second round is quite an achievement. Bašić follows Džumhur in becoming the second Bosnian to reach the main draw at a Grand Slam after making his way through the qualifiers before defeating the more favored Dutch Robin Haase in the first round in straight sets. If he can keep up his future performance in the Challenger tournaments, he might well join Džumhur inside the top 100.
With their Davis Cup Group II results improving of late, Džumhur and Bašić's pioneering recent performances and increased junior participation, there is hope that Bosnia and Herzegovina can one day in the near future become known for its tennis stars and not just its footballers. In fact, the two players' emergence in the tennis world has come about in a period of great success for Bosnian sports all around as of late. While 2014 marked another bleak year in the Balkan nation's short history with heightened political turmoil and record floods ravaging parts of the country, sporting success did give its citizens some cheer.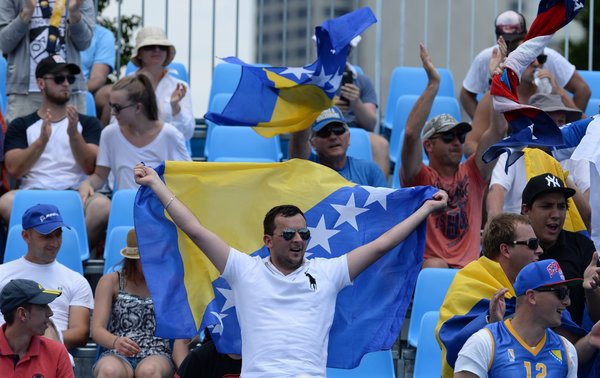 The national football team qualified for their first-ever World Cup in Brazil and put on a respectable performance despite a group stage exit, while Džumhur's Australian Open performance gave them more reason to cheer. This was followed in 2015 by middle-distance runner Amel Tuka, winning the bronze medal in the 800 metres at the World Championships in Athletics held in Beijing, becoming the first Bosnian to win a medal at a major athletics championship. The Under-16 National Basketball Team then sensationally upset more esteemed basketball nations by claiming the 2015 FIBA Under-16 EuroBasket after defeating host nation Lithuania in the final, showcasing how a group of ethnically mixed teenagers born after the war could work together and achieve more than many of the country's often corrupt political leaders ever could.
However, despite these recent achievements, most sports – but particularly tennis – suffer from a lack of funding, which is often directed at other resources. Private investment in the game has helped it evolve immensely of late, but without any government contributions, players like Džumhur, Bašić and others hoping to break into the ATP top 1000 are forced to find sponsorship from individual and commercial donors in a country where 60 percent of young people are unemployed.
Another problem facing Bosnia and Herzegovina's tennis reputation is the exodus of top players to rival countries. Croatia's Davis Cup hero Ivan Ljubičić was born in Banja Luka, Bosnia and Herzegovina's  second largest city, while both 2014 US Open Champion Marin Čilić and Ivan Dodig also play for Croatia, although they hail from Medjugorje. While other ethnic-based factors may contribute to their choice of representing Croatia, these players are often given little choice by the cash-strapped Bosnian Tennis Federation, which offers them no incentives to represent their country of birth.
There is hope that the recent achievements and results of Džumhur and Bašić can lead to increased sponsorship and state investment in the sport. Interest in the game is at an all-time high, and if the government and other relevant stakeholders can grasp the potential financial and sporting opportunities on offer through greater backing of the sport that their counterparts in both Zagreb and Belgrade realised upon the success of their own nation's tennis stars, then Bosnia and Herzegovina may become a nation more regularly represented on the ATP, WTA and Grand Slam Circuit. Whatever the future holds for tennis in the country, one thing is certain: Džumhur and Bašić will have to continue their 2016 season with the optimism that they can reach new heights on the court but knowing full well that they don't enjoy much of the same support that their opponents do from their respective member federations.
Cover photo: Bašić (far-left), Džumhur (second right) with fellow Davis Cup teammates Nerman Fatić, Aljoša Pirić and Tomislav Brkić (credit: bosniansports.wordpress.com)