Much ink has been dedicated to considering the delicate line Serbia walks as it tries to maintain friendly relations with Russia despite pressure from the European Union to do the opposite. The discussions reached another decibel level on Thursday with Russian President Vladimir Putin's visit to Serbia to commemorate the 70th anniversary of Belgrade's liberation from Nazi occupiers by Partisan and Russian forces.
What has been trumpeted in the international media and by officials from both Russia and Serbia are the close historical ties between the two countries. It's true the two nations are both predominately Orthodox Christian and share a Slavic heritage, but as with much of history, the truth about the relationship between these "natural allies" is a bit more complex.
The relationship between the two countries vacillated as far back as the 19th century, when the allegiances of Serbia's two royal families were divided. The Obrenovic dynasty allied themselves with the Austro-Hungarian Empire, while the Karadjordjevici allied themselves with Russia.
In Vojvodina, the agricultural province comprising northern Serbia where I live, Russia tends to be somewhat less appreciated. Older generations have passed on stories of the Red Army sweeping in on their way to Belgrade, murdering citizens, looting local stores, and raiding farms and villages. Women hid for fear of being raped.
These stories perhaps fell to the wayside as Tito's communist regime took power and allied itself with the socialist states of the USSR. Three years later, however, Yugoslavia and the Soviet Union famously split due to disagreements between Stalin and Tito.
Relations deteriorated significantly as Tito found new allies in the West and lead the creation of the Non-aligned Movement, the third power bloc in Europe after WWII. The former USSR comrades were depicted as Yugoslavia's enemies, and many Yugoslav citizens who supported them were sent to Goli Otok, a Gulag-like prison camp on a barren island in the Mediterranean Sea.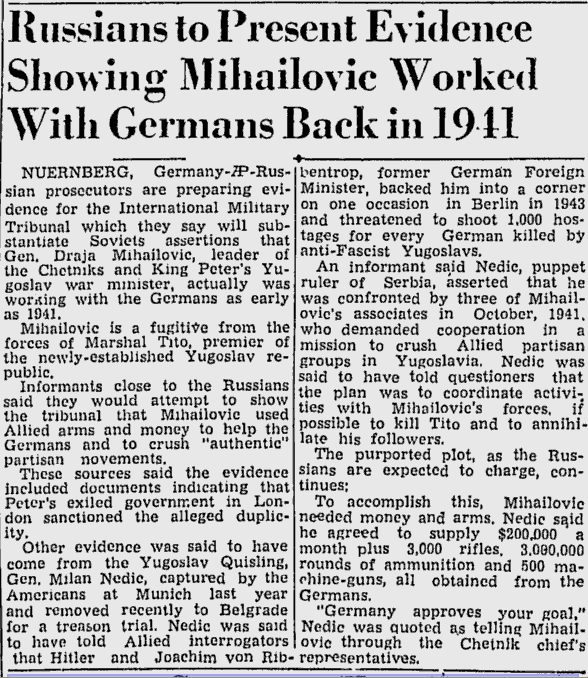 In Moscow, Stalin sent numerous agents to assassinate Tito. Some historians put the attempted assassination count at 22. Tito survived of course, and responded with a letter found in Stalin's office after his death that read: "Stop sending people to kill me. We've already captured five of them, one of them with a bomb and another with a rifle… If you don't stop sending killers, I'll send one to Moscow, and I won't have to send a second."
Relations normalized after Stalin's death when his successor, Nikita Khrushchev, renounced some Stalinist policies and even complimented Tito on surviving the attempts on his life.
Most Serbs believe that Russia was an unwavering ally during the 1990s breakup of Yugoslavia, but once again, relations between Belgrade and the Kremlin were not always so simple as collective memory suggests. The 'Yugoslav' Crisis in International Law, compiled by Daniel L. Bethlehem and Marc Weller, contains a chronology that describes the April 1994 assaults on the UN safe area of Gorazde by Serb forces in Bosnia as a turning point for Russia.
In response to repeated shellings of the town, NATO aircraft bombed ground targets for the first time in its history. The reaction in Moscow was initially critical, and President Boris Yeltsin told Bill Clinton that future NATO airstrikes should not be carried out "without prior consultation between the USA and Russia."
However, after Bosnian Serb forces intensified their bombardment of Gorazde, Russia revised its position. Special Envoy Vitaly Churkin accused their Serbian allies of "broken promises", and said that "the time [had] come for Russia to stop all discussions with the Bosnian Serbs." Churkin also said that he would advise Yeltsin "to authorize the use of force against the Serbs". A few days later, Foreign Minister Andrei Kozyrev confirmed that the Russian government had agreed to the use of force.
Relations have appeared quite close recently, hitting a notable high-point with Putin's impassioned support of Serbia's territorial integrity regarding Kosovo, despite the growing number of countries that recognize its independence. Putin has maintained this stance (and reiterated it in Belgrade on Thursday), which has made him dear to Serbs who view Kosovo as the heartland of Serbian culture and the Serbian Orthodox Church.
It seems Putin's public position on Kosovo has obscured the checkered diplomatic history Russia has in the region. For his part, Serbian President Tomislav Nikolic has been particularly ardent in his support of Russia.
"The only thing I love more than Russia is Serbia," Nikolic said during a visit to Sochi in 2012. On Thursday, he expressed the same sentiment. "Serbia will not compromise its morals with any kind of bad behavior towards Russia," he said.
Putin replied with an equally affirming message. "Russia, just as it was in the past, will always see Serbia as our closest ally."
Despite the love the countries' leaders might have for each other, The Economist summarized their relations in a 2012 report as "mutually opportunist". Russians say Serbs are friendly when they need something, but distant when things are going well. Serbs say Russia is interested in Serbia only when they have something to gain.
"[The Serbian] government demonstrates such servility towards Russia, which is our ally only when it suits it," Aleksandra Pasic, a 29-year-old clerk, told Reuters.
Publicly, however, "Russian and Serbian officials love talking about their Slavic and Orthodox brotherhood." It would seem this is still very true.
In all of this, there is the idea that the two nations "love" for each other, as it was displayed across the internet during Thursday's parade, is quite silly. Nations love themselves and are driven by selfish interests. They "love" each other when there is something to be gained, as The Economist noted.
Allegiances are not decided by a nation's cultural or religious history, as the current regime would have the world believe. History is not written by the victors; history is written by the most recent victors, and in Serbia the victors are currently Vucic's political party and Vladimir Putin in Russia, where Belgrade has always been its "closest ally" — give or take a few assassination attempts.