On the invitation of the feminist association Klara i Rosa, The School of Disobedience will open its doors May 16-20 to offer a series of free workshops and performances in Subotica. Improvisation, performance, creative writing, and digital media classes will address topics such as domination, control, fear and desire… How can we register and what will we learn?
Anna Ádám (A. Á.): It is very simple to participate: you only have to fill out the application form on the school's website, and choose the classes you want to participate in. You send it in, and you will receive a confirmation email with the details. As for the learning outcomes, I would say you will learn on three levels: On a personal level, we will work on self-confidence, recognizing and recycling hidden tensions, blockages, and denials into self-empowerment and courage. On an artistic level, we will experiment with different techniques and tools such as movement, writing, and drawing. We will also be introduced to the topics of interactive-, participatory-, activist-, and community-art forms. And on a societal level, we will produce knowledge and tools on sustainable community building- and organising practices; we will share learning and unlearning processes, and develop new forms of relational aesthetics on togetherness, care, inclusion, and trust.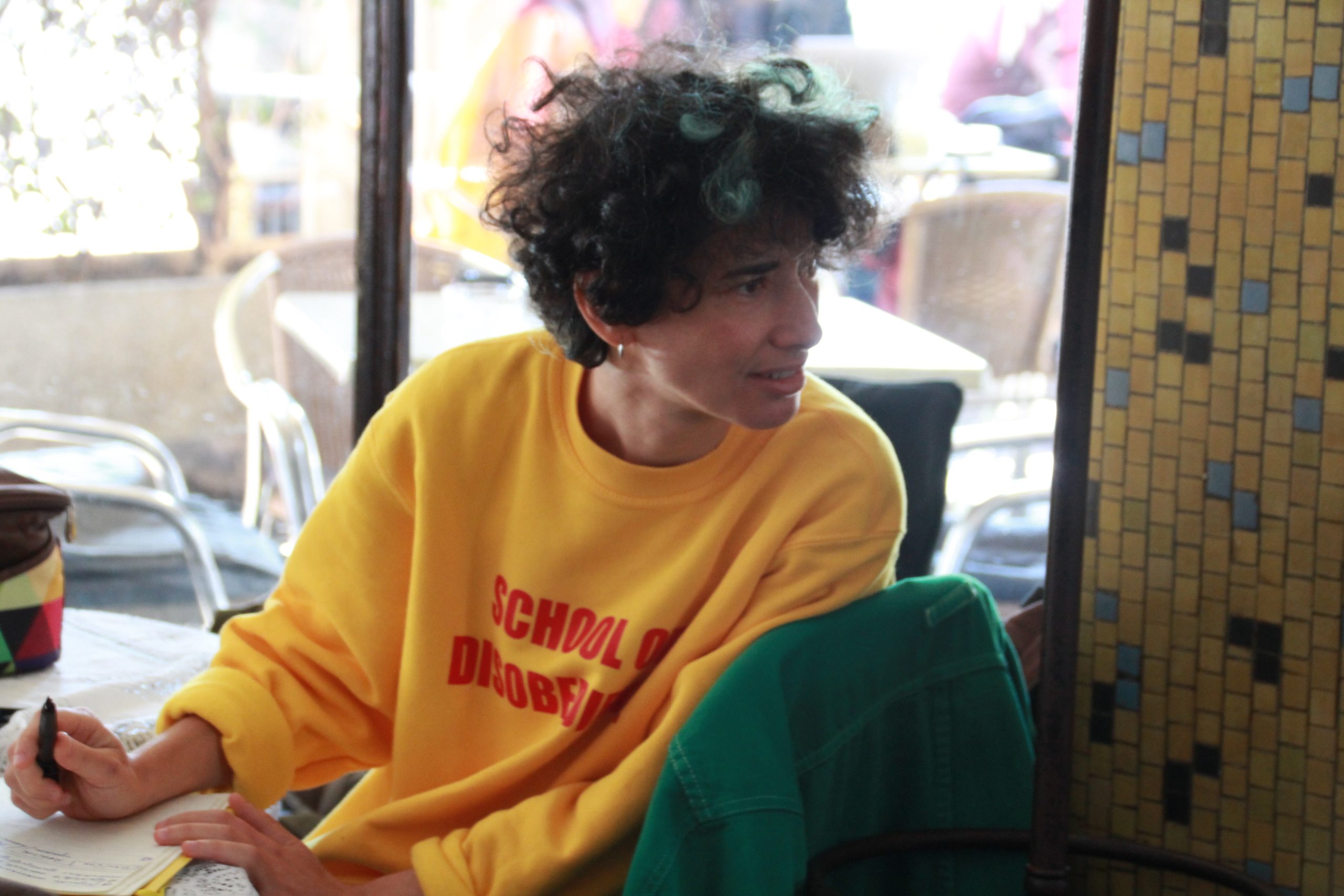 On May 17, you will hold a "Fight Club" in a boxing club. However unlike any rule-based sport or technique-based martial art, your method is inclusive, adapted to every type of body, and doesn't require any experience or specific knowledge. Tell us a bit more about this special event! What will participants do?
A. Á.: My "Fight Clubs" are political soft spaces of care and empowerment, where through the practice of play fighting and self-defence, we liberate our body and voice, discover our power and challenge our strength, and develop self-confidence and resistance. Against the intimidating and objectifying male gaze used as an instrument of women's oppression, we regularly do eye-gazing exercises, and learn how to confront it instead of looking away. We reinforce our eyes as a muscle, and rehearse to gaze back proudly again, again, and again. Making our eye muscles stronger and stronger, we gaze back day after day with a little bit more confidence, and a little bit less of fear.
The School of Disobedience is a community art project you dreamed up in 2014 and co-realized with the support of the Paris-based performance company, Gray Box. Your school doesn't have a permanent address, rather you set it up temporarily in artistic and cultural institutions where you are invited, and create inside of these "hard" structures a radical and experimental "soft space" for women's empowerment and resistance. Participants can register independently for different thematic workshops for free, and explore through embodied practices and theoretical insights social, political, cultural, and ecological issues. What is "school" for you?
A. Á.: A school is a positive, warm, and generous framework, where you are encouraged, challenged, and pushed forward to realise your dreams. Based on the values of open-mindedness, curiosity, and courage, it's a safe space where you can express yourself openly, freely, and simply, without the fear of being judged or laughed at. In a school there are some guidelines, such as mutual respect, but there is no hierarchy, no domination, no control. No one and nothing is above the other: the organisation is horizontal, cultures and different types of knowledge and systems of thinking are all on the same level. A school doesn't teach you "rules", but the ability to question them. A school doesn't teach you how to follow existing paths, but how to forge new routes, alternative ways, and find experimental solutions. Through critical self-reflection, fearless creation, and trustful collaboration, a school is a kind and warm place for "unlearning" and "relearning" together.
You have significant teaching experience in the academic environment. You have taught at the Academy of Fine Arts in Vienna and at the University of Artois, to name a few. Why did you decide to create your own school? Is it a lack of hope or trust?
A. Á.: It's a taboo, and we don't often talk about it, but contemporary art is just boring as hell. It's an exclusivist bubble, an elitist microcosm in which some people use art to solidify their social status, notoriety, influence, power… Since conceptualism became the dominant trend, artists make art that very often only educated people can understand. A socially mixed audience definitely needs the help of "riddle solvers" (descriptive text, guided tours…), translating abstract "riddles" into a language that everybody can understand. Contemporary art that can only be received through mediation are not for the general public, but for a privileged segment of society. 
Museum pedagogy is a business that tries to convince you that if you don't understand art, it's because you are lacking something: knowledge, tools, references, taste (!)… So basically it's your "fault". But what if it was the "fault" of the artists who are not taught to create in a way that is directly accessible to a wider audience without the help of "riddle solvers"? If we admit this as an option, we acknowledge that there might be a problem with the system where artists learn how to make art, that there might be a problem with art education. The "School of Disobedience" is an attempt to reinvent it.
The School of Disobedience is not only an "anti-canonical", radical, and experimental art school, but also a Fight Club for women's empowerment and a Healing Centre. Situated next to Lake Balaton in Hungary, composed of unique experiences, rituals, celebrations, and community activities together with time for creativity, what do participants focus on in the Healing Centre?
A. Á.: At the intersection of art, women's empowerment, and personal development, our Healing Centre offers creative summer camps, where participants can learn how to unblock barriers, get unstuck in their creative process or period of life, break through their fears, and learn how to handle internal and external pressure and expectations. In our camp, through different exercises and immersive community experiences, participants develop creativity and critical thinking, and discover new tools, aesthetics, processes, and methods. If they are ready, they move out of their comfort zone to feel a little bit more free and liberated.
May 20th is the last day of your stay in Subotica. In the evening you will perform "Right for Fight" in a boxing ring with the Spanish dancer Eva Mora. What is this performance about?
A. Á.: From love to hate, blindness to open eyes, desire to boredom, harmony to conflict, we want to stay but leave, break up but forgive, take care but hurt, open but close. Full of contradictions, oppositional emotions, ambivalent reactions, paradoxical decision, passionate and irrational choices, this duet conceives love as a universal combat sport without protective equipment, in which vulnerable fighters constantly rewrite rules, negotiate power, fight with each other and for each other, against each other and next to each other…
Register for this week's School of Disobedience in Subotica
All photos with permission