Tomorrow, the first ever European Games will commence in Baku. Cristina Maza dissects Azerbaijan's human rights record, its strategy of 'caviar diplomacy' and the cowardice of European politics.
As Azerbaijan showcases its prowess as a major regional player by hosting a glitzy and extravagant international sporting event, civil society activists are calling for an end to the repression in their homeland.
With news of FIFA corruption monopolizing the world's attention, other questionable events in the world of sports may end up on the back burner. But on June 12, 2015, the inaugural European Games will begin in Azerbaijan, an oil-rich country on the Caspian Sea best known for hosting the kitschy Eurovision song contest in 2012, but which human rights activists say should be better known for jailing critical journalists and silencing all opposition to its corrupt and authoritarian regime.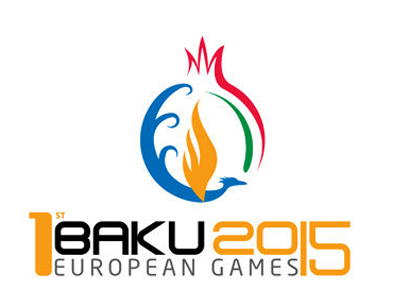 The European Games, a new continental, multi-sport event, were first conceived in Rome, Italy, in 2012 when 84 percent of the National Olympic Committees of Europe voted in favour of their creation. Supporters say the games will prepare European athletes for the Olympics. But the decision to host the inaugural games in Baku was mired in controversy, and critics are growing increasingly exasperated with the European Union's habit of turning a blind eye to human rights abuses in Azerbaijan in order to continue business as usual.
In April, a coalition of human rights groups wrote to the head of the European Olympic Committee, the Irishman Pat Hickey, asking him to discuss their concerns about human rights violations with Azerbaijan's President, Ilham Aliyev.
"By remaining silent, the European Olympic Committees risk sending a message that it is acceptable for the Azerbaijani government to silence critics while hosting an event that, according to the Olympic charter, should stand for human dignity and sport at the heart of the harmonious development of society," the activists wrote.
But the Olympic Committee responded that it will not "pass judgment on the legal or political processes of a sovereign nation".
Meanwhile, the Human Rights group Amnesty International has identified several dozen prisoners of conscious in Azerbaijan. Journalists, bloggers, human rights campaigners, and lawyers, are all languishing in prison in 'the land of fire', while the Aliyev regime doles out cash to host his foreign guests in style.
An increasingly authoritarian regime
Politics in Azerbaijan is largely a family affair. After the death in 2003 of Heydar Aliyev, the leader of the Soviet Republic of Azerbaijan turned president and strongman of a newly independent "democratic" republic, his son Ilham took the reins of leadership. Bolstered by oil wealth, the second Aliyev has maintained his grip on power through three elections that many international observers determined were rigged. As highlighted in a January New York Times editorial board op-ed, Ilham Aliyev's government is vastly corrupt and has one of the world's worst human rights records.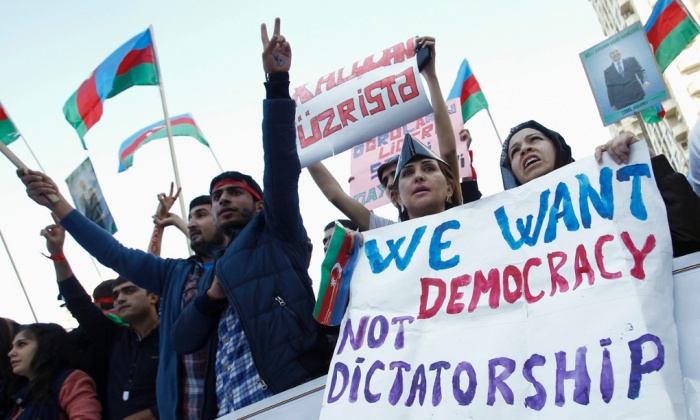 But while prisoners of conscious have filled Azerbaijan's prisons for years, things took a turn for the worse in the year leading up to the European games. Azerbaijani police raided the Baku offices of U.S. financed institutions such as Radio Free Europe/Radio Liberty and the Open Society Foundation, forcing them to close their in-country operations. At least 60 independent non-governmental organizations have been forced to end their activities in Azerbaijan.
Only over the last couple of weeks important NGOs and monitoring organizations, such as Amnesty International and the OSCE have been kicked out of the country. In November 2014, the OSCE's media freedoms representative, Dunja Mijatović, said that "practically all independent media representatives and media NGOs in Azerbaijan "have been purposefully persecuted under various, often unfounded and disturbing charges."
Then, in December 2014, the well-known and highly respected investigative journalist Khadija Ismayilova was arrested and charged with driving her former boyfriend to attempt suicide. An unabashed critic of the Aliyev regime, Ismayilova was regularly threatened and blackmailed prior to being thrown in prison. Her opponents assumed their scare tactics would force her to stop uncovering corruption among high-ranking officials. They were wrong, and now Ismayilova is in jail.
Meanwhile, despite persistent health problems, human rights activist Leyla Yunus has been jailed since the summer of 2014, charged with high treason for alleged espionage.
While some had speculated that a few prisoners would be released on May 28, Azerbaijan's Republic Day, as Institute for War and Peace Reporting journalist Afgan Mukhtarli pointed out, no such amnesty took place. Instead, the arrests continued.
Most international observers agree that the charges against these journalists and human rights activists were invented by the Aliyev regime to silence them.
But instead of investigating these questionable incidents, European officials maintain a positive relationship with Azerbaijan, which has been a member of Europe's top human rights body, the Council of Europe, since 2001. In an Orwellian turn of events, in May 2014 the country even held the chairmanship of the Council of Europe's decision-making body, leading critics to question the council's legitimacy.
Of sports and caviar
Much of Europe's acquiescence can be attributed to what analysts have dubbed "caviar diplomacy", or the doling out of gifts, free trips, and money to officials who act as apologists for the regime.
Hosting costly sporting events is also a form of caviar diplomacy.  It is no secret that Ilham Aliyev views sports as an easy way to bolster his country's image abroad.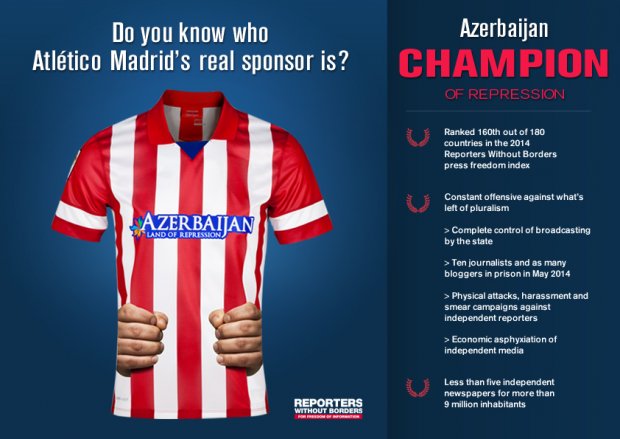 Many sports fans will recognize the logo of the 'land of fire' from the t-shirts of football clubs such as Atlético Madrid, Sheffield Wednesday, and RC Lens. That is because the wealthy Azerbaijani businessman and Aliyev supporter Hafiz Mammadov has been busy signing advertising deals between Azerbaijan and economically vulnerable European football clubs. The deals are a relatively easy way for Azerbaijan to promote its image in front of European football goers.
"He [Aliyev] realizes how sport can be used to deliver political objectives, whatever those political objectives are," Simon Clegg, former leader of the British Olympic Association, and now the chief operating officer of the European Games, told CNN.
An Expensive Public Relations Campaign

But critics argue that the European games are a costly way for the 23-year-old nation to reinvent itself on the global stage. As the country prepares to host a major international sporting event, life is becoming more difficult for the country's citizens.
"Aliyev's regime is using a big sporting events for its own PR at home and on the international level," explains Emin Mili, managing director of Meydan TV, an independent Azerbaijani media outlet based in Berlin.
"European Games have been utilized by this regime and serve as a legitimization tool for neo-totalitarian regimes. They are ready to pay generously for their small and big toys."
While spending an estimated $10 billion to refurbish existing sports stadiums and spruce up the city's historic centre, a new series of bans and restrictions have been placed on Baku's residents, observers say.
Local residents told Eurasianet and Meydan TV journalist Lamiya Adilgizi that security forces prohibited them from photographing the city centre in the run up to the games.
Then, on May 19, a deadly fire destroyed an apartment building in Baku, killing 16 people, including five children, and injuring 50. The blaze, which was attributed to the widespread use of flammable plastic cladding in renovation projects in the centre of the capital, led to the resignation of Rasim Adjalov, the head supervisor of the European Games.
The deadly fire is a perfect example, critics say, of how the government prioritized its image over citizens' safety.
"Things have gotten worse here," explains one Baku resident, who spoke on condition of anonymity. "Officials cut the salaries of teachers and doctors allegedly to support the Baku European Games. For the people, Baku2015 is about bans, rules, and inconvenience."
Meanwhile, residents say that cars registered outside of Baku are forbidden from entering the city, and people working near the vicinity of the sporting arenas are being forced to take unpaid vacation for a month.
But regardless of the inconveniences for local residents, Azerbaijani officials insist that the games are good for the country.
"It will be a major chance to show Baku to the world as a European country, as a Muslim, but secular state, as a good bridge between East and West, between the Muslim Orient and the Christian Europe, and to show the beauty of the country, [its] very ancient history, our music, art, food, and hospitality," Azad Rahimov, Azerbaijani Minister of Youth and Sport, told Euroactiv's Georgi Gotev.
Rahimov denies that Azerbaijan has journalists in prison.
Rewarding Human Rights Abuses
Meanwhile, many activists are wondering when the international community will stop turning a blind eye when countries like Azerbaijan, Russia, and Qatar, with human rights records that range from the heinous to the dubious, attempt to redeem themselves through lavish sporting events.
Similar to Azerbaijan's wasteful spending on the European Games, Russian President Vladimir Putin was criticized for spending close to $51 billion to host the Winter Olympic Games in the southern beach resort Sochi, the most expensive sporting event to date. Meanwhile, spectators in Sochi complained of unfinished roads and hotel faucets spouting difficult-to-identify liquid. For a full overview of the Olympic spending, Russian opposition leader Alexei Navalny created an explanatory interactive website.
As in Azerbaijan, human rights groups accused Russia of cracking down on opposition activists during the Winter Olympics.
Now, Russia is set to host the 2018 FIFA World Cup, an honour many believe the country won by bribing the suspended FIFA executive Amos Adamu.
Qatar, another small nation rich in natural resources, is set to host the subsequent World Cup in 2022. The human rights abuses in Qatar's construction industry are well documented, and it is estimated that at least 4,000 migrant workers will die while constructing the massive vagina-shaped stadium where the games are meant to be held.
Promoting Social Change
In the face of widespread criticism, members of the European Olympic Committee have argued that the European Games could be a catalyst for social change in Azerbaijan.
"The European Games is not a reward for Azerbaijan's progress over 23 years of independence. Rather, it is an incentive and a catalyst to continue that progress and create a meaningful legacy of sporting and social development," said the EOC.
But activists are calling their bluff.
"The past year, I would argue, has been the worst on record for human rights in Azerbaijan since the breakup of the Soviet Union," Rachel Denber, deputy director of Human Rights Watch, told CNN.
And while others have expressed complete disillusionment with the European Union's inaction, they are determined to continue to fight for democracy at home.
"The EU has chosen to support a neo-totalitarianism in our region. They traded human rights, freedom, and democracy for very little oil," concluded Mr. Milli.
"I do not care about EU and its position. We fight for freedom and human rights and democracy, for ourselves, our children, and our society."
As hordes of EU representatives arrive in the land of fire, including 6,000 of Europe's best athletes, many Azerbaijanis feel that Europe has abandoned them. As an institution that maintains its commitment to promote and protect human rights, democracy, and rule of the law, the time has come for the European Union to put its money where its mouth is.
Cover Photo: Vassil Donev/EPA