Hanieh Khosroshahi looks at how the practice of knitting is changing the lives and livelihoods of women in Bosnia. 
---
This past January, Samija Klipo, a housewife, was browsing the Internet as she sat in her Sarajevo home in Bosnia and Herzegovina. Unemployed and with two children, she came across a company called Udruzene that was offering female knitters paid work.
Having knitted since she was a child, she decided to give it a try. Fast forward to today, and Samija has improved her knitting skills, is now employed, and has an increased sense of confidence.
"It is important for me to learn new things, make new connections and to feel useful," she says.
For her, Udruzene provided a safe haven where she gained the courage to overcome challenges and the confidence to rebuild her life.
From its beginnings
Since leaving for Paris when the war broke out in Bosnia in 1992, Nadira Skaljic Mingasson continuously looked for ways to bring her two worlds together. Originally from Sarajevo, she recalls a time when she met a few women who worked for knitting organizations. After buying something for her son, she began to learn more about their lives as they relayed their stories.
They were all from Srebrenica, the town that in 1995 experienced one of the greatest mass atrocities of the Bosnian war. More than 8,000 men and boys were killed, among them the husbands, brothers and sons of these women.
"I was a young mother, so it was an emotional storm for me," Nadira recalls. "I was really touched by their stories."
She began to split her time between the two countries, and for more than 10 years, she arranged for these women to show their work in France. Sparked by her studies in fashion design, and with her connections in the Parisian fashion world, she collaborated with fellow designers and set up fashion fairs in places like Tokyo and Paris.
In 2011, she moved back to Sarajevo permanently, and with that, Udruzene was born.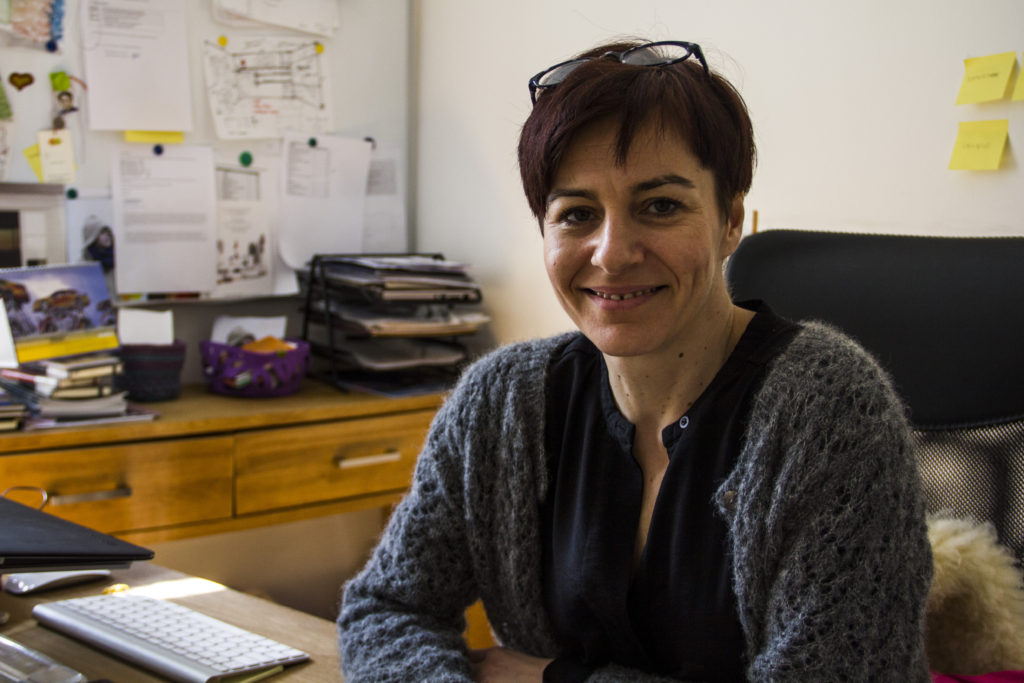 Protection, promotion, preservation
Udruzene, meaning "united women", is a registered non-profit organization based in Sarajevo. It seeks to give women the opportunity to re-engage in their communities through knitting, and aims to protect, promote and preserve the handcrafts of female knitters.
In addition, it attempts to transfer traditional skills to younger generations, as well as to create advantageous economical and psychological conditions for women of all ages and ethnic backgrounds.
"The aim of this association is to convert knitting into a profession," Nadira explains.
However, Nadira quickly realized that there were some unforeseen challenges that would need to be addressed.
A matter of quality
Many women in Bosnia have basic knitting skills, but their skill levels did not meet the standards of the fashion industry.
"If we want to be competitive and be able to present our models abroad, this is not enough," Nadira explains.
The need for training and development of these skills was a priority. At Udruzene, Nadira and her team began to train student knitters, starting with a global general overview of how the fashion industry works abroad, and later on the process from start to finish, including drawing, designing, sales and marketing, and finally production and distribution.
"They need to understand how big of an investment it is for the customer," Nadira says. "We need to train them to respect technical specification," she adds.
In 2011, there were 15 women who were part of the organization. Since then, Udruzene has trained more than 200 women, and currently 150 of them are working.
Why knitting?
It shouldn't come as a surprise that knitting is at the center of Udruzene's activities. Knitting is a tradition in Bosnia; it holds an intimate association for most women, many who were taught as young girls as it was passed from previous generations through their grandmothers, mothers and aunts.
It was therefore natural to continue to knit even in times of great suffering and grief. Knitting became therapeutic for them, allowing them to forget the past, even if momentarily. It was a time when they didn't think about lost homes, the dead and unrecovered bodies of husbands and sons, or perhaps their own experiences with sexual violence and abuse. With knitting came temporary relief.
Creating connections
Udruzene provides a platform for women who have been affected by war, or have little or no income to make a living through knitting. It's also a way for them to connect to the rest of the region and world, and to feel like they are contributing in some way.
For Nadira, her roots in Sarajevo and her life in Paris were both important and defining experiences in her life. Her desire to bridge the gaps and bring these two parts of her life closer together inspired her to try and do the same for fellow women.
"My links were broken, and through knitting I created or rebuilt these links. I think it's important to mix together and support each other," she explains.
And this is precisely what these women have done. Regardless of their background, religion or ethnicity, they create new friendships, learn different skills, and attain a sense of freedom and autonomy that was often lacking in their lives beforehand.
"All women are welcome here"
Udruzene places a great emphasis on diversity, integration and acceptance. Women are often the most vulnerable victims of war. In some cases, they become defined by their trauma, are split into various categories, and become identified by their suffering.
At Udruzene, Nadira's vision extends to women from all walks of life.
"We don't like to separate. All women are welcome here," she says.
While in the beginning the majority of women were victims of sexual violence, today, there is a wide range of women from various backgrounds knitting together, including those with little or no income.
Sabina Ozegovic has been working at Udruzene for two years. With no income and a 15-year-old daughter with health problems, Sabina's main goal was to make enough money for medical supplies and bills.
"The most important thing for me is that I'm able to buy things for my daughter," she says.
"I have a difficult life, but meeting and talking with other ladies makes me deal with it better. I love it; it's like therapy for me," she explains.
Aside from financial freedom, meeting new people and connecting with other women has given her a support system she didn't have before.
Sense of community
There's something else that draws these women to Udruzene, and that's a sense of community.
Since last December, 120 new women have joined, many of them young ladies. They crave to be part of a community that is empowering and allows them to work in an environment that connects them with women who are in similar positions. It also gives them the opportunity to connect with women from different backgrounds, religions and ethnicities.
"It opens their mind and they start to feel some things that they in their circles don't have the opportunity to meet or engage with," Nadira says.
"They feel that they belong to something else that is different from family. They are proud of it," she adds.
But pride for Udruzene means much more.
"We are what we wear. We are what we buy"
Helping women overcome challenges is important, but Nadira believes that it shouldn't end there. At the forefront of the work Udruzene produces is a strong sense of responsibility towards sustainable and ethical fashion.
"We need to work globally to makes some changes. It's not just about product. We need to slow down in everything if we want to conserve this planet," she says.
"I have three kids and I must say I'm a little bit worried about their future," Nadira adds.
Future generations depend on what people do today, and transmitting this philosophy and carrying it out in their work is essential to the work Udruzene does. They hope their attempts at reconciling fashion and sustainability will in turn inspire others to do the same.
Hanieh Khosroshahi is a designer, photographer and writer based in Toronto. She is interested in storytelling that raises awareness, triggers the imagination, and creates discussion. She writes on a variety of topics including international affairs and politics, arts and culture, and technology. She loves to read, enjoys exploring new places, and will never say no to a cup of coffee.
Cover photo: Samija Klipo. Photo courtesy of author.