The controversial closure of a family-owned corset shop on Istanbul's famous İstiklal Avenue marks the end of an era, as the street's last minority shopkeeper has been forced to leave the area.
---
This year would have marked the 80th anniversary of Kelebek Korset, the small shop that İlya Avramoğlu's grandfather opened on Istanbul's most famous street, İstiklal Avenue, in 1936.
But after an exhausting legal battle left the 55-year-old Avramoğlu feeling painted into a corner, he relinquished the space that his family had operated just weeks shy of the new year.
"When the shop closed down I didn't have much money left, and I entered a major period of depression," Avramoğlu said.
The last time we spoke, weeks before the shop shuttered, Avramoğlu already looked sunken and defeated. "I've lost my health," he confided in me.
Avramoğlu's disposition has improved considerably in recent months, and in April the resilient shopkeeper reopened at a new location in Istanbul's Feriköy neighborhood, where he is trying to rebuild his business from scratch, selling the corsets, bras and other undergarments that he has been surrounded by his entire life.
"Things are so-so," he said, adding that he recently took out an ad in a monthly Armenian culture magazine in an effort to attract attention from the area's formidable Armenian community.
Avramoğlu himself is a Karaite, a sect of Jews that came to Constantinople in the Byzantine period and spoke Greek rather than the Ladino once spoken by the Sephardi that constitute the vast majority Turkey's Jewish community.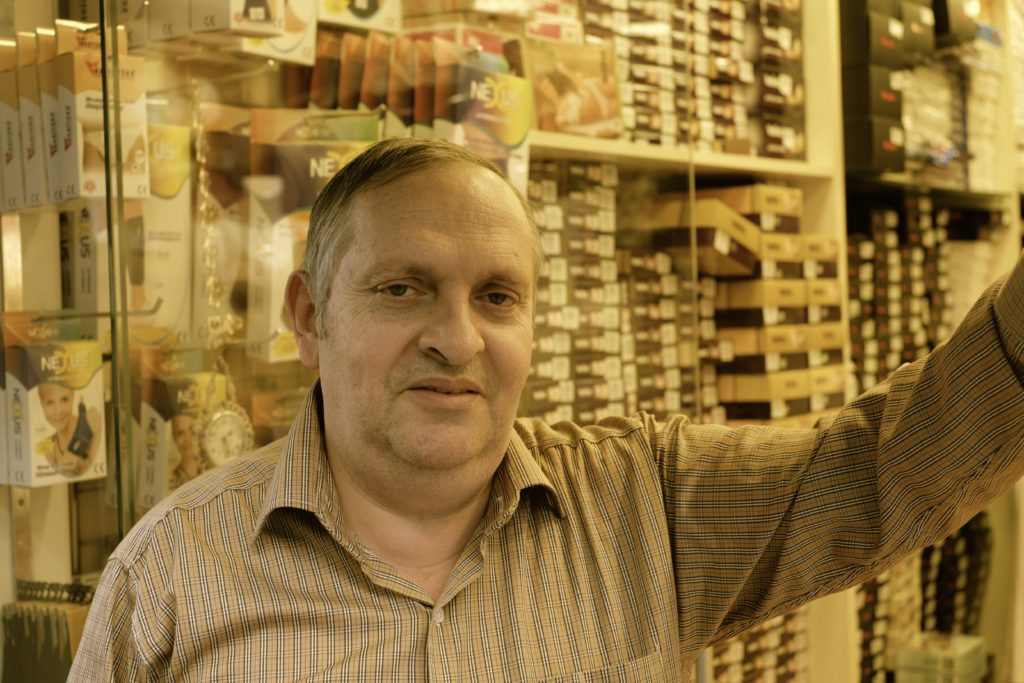 A very small number of Karaites remain in Istanbul, while Avramoğlu was the very last in a long line of non-Muslim merchants who did business on the cosmopolitan İstiklal Avenue and neighboring areas of the Beyoğlu district. İstiklal today is dominated by fast-food restaurants and chain clothing stores.
"The history of this area has been erased. In 2015, I took a look and realized I was the only one left," Avramoğlu said of the street.
In the early days of the shop, Avramoğlu's grandfather and great-uncle would cut the corsets by hand, as the requisite machinery still didn't exist. They later built a workshop on the upper floor when the machinery arrived, purchasing fabric from nearby artisans until the 1980s, when they had to start buying factory products.
The tiny 20-square-meter shop is owned by its neighbor, the St. Mary of Draperis Catholic Church, and the family enjoyed strong ties with the former priest until his passing.
That's when things took a turn for the worse, ultimately resulting in Avramoğlu's departure from İstiklal, and along with it the last remaining minority shopkeeper on an avenue once dominated by Greeks, Jews, Armenians and Levantines.
Avramoğlu alleges anti-Semitism on the part of the current priest, Eleuthere Makuta, and claims that the problem started in 2013 when Makuta requested that Avramoğlu testify against one of the church's tenants, which would have required him to swear by things he had neither seen nor heard. Avramoğlu promptly refused. In 2014, after a new law came into effect allowing tenants with a 10-year rental history to be evicted without reason, the church handed Avramoğlu an eviction notice.
In the months leading up to his exit, Avramoğlu claims that the TL 3500 ($1170) he paid in rent for the miniscule shop was nearly twice the per-square meter price that other properties owned by the church were paying. If that weren't enough, court-appointed experts determined last year in the heat of Avramoğlu's struggle to stay afloat that his rent should be increased nearly threefold to TL 10,000 ($3355).
Facing the prospect of losing a court case over retroactive rent that Avramoğlu feared would result in the seizure of his home, he opted to settle by paying the church TL 25,000 ($8387) and vacating the shop, ending its 80-year history on İstiklal.
Reached over the phone, Makuta declined to comment, saying that the matter was finished. "We're the ones who love Beyoğlu the most, because we're here night and day," he added.
"I can't be a hero at the expense of my family," Avramoğlu said of his difficult choice to abandon his beloved İstiklal shop. He had gained significant public support and conducted a number of interviews with the media, and even spoke before the Parliament. But despite these efforts, he was unable to secure his continued existence at the historic location.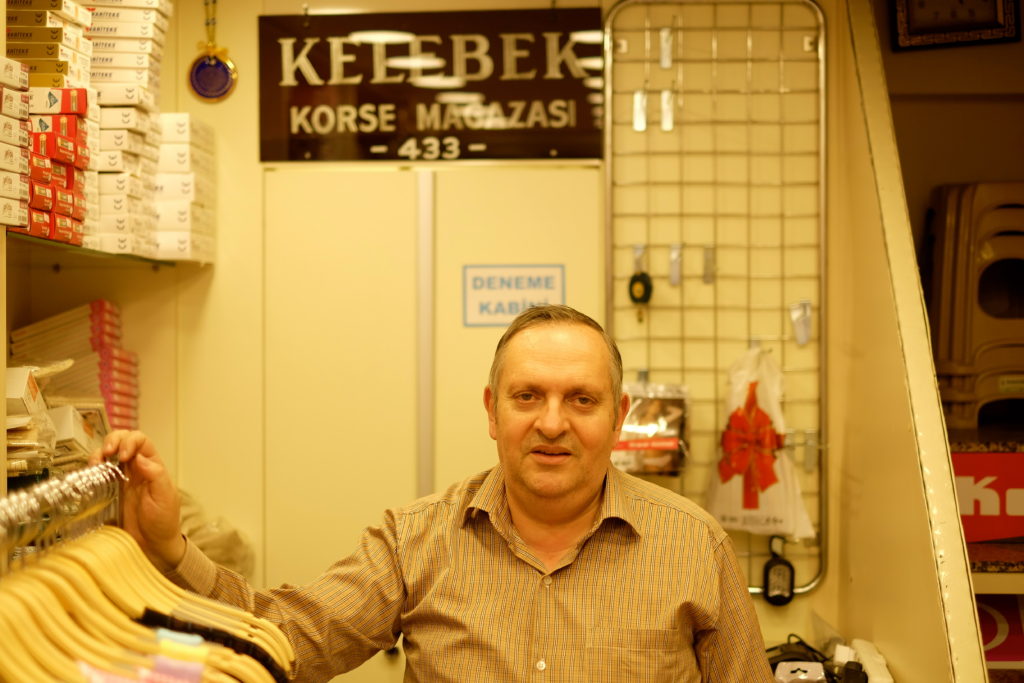 More than just a shop, the tiny kiosk was a symbol of the age-old connection Avramoğlu's family shares with Beyoğlu.
"There were once horse-powered trams on İstiklal, and the area behind Taksim Square was forestland. When it rained, wolves would come down," Avramoğlu said of his grandfather's early memories of the area.
1942's Wealth Tax was imposed upon non-Muslims at exorbitant rates, and was instrumental in inflicting severe damage upon the financial integrity of Istanbul's Jews, Greeks and Armenians. Those who could not pay were promptly shipped off to harsh labor camps in the snowbound eastern province of Erzurum. Avramoğlu's grandfather took out a second mortgage on a home he owned in Beyoğlu in order to pay the tax — a loan that took years to pay off, putting considerable strain on the family.
On September 6 and 7, 1955, a devastating stream of riots targeted Istanbul's Greek community, after false rumors spread that Mustafa Kemal Atatürk's childhood home in Thessaloniki had been burned down. Other non-Muslim business owners were also targeted, and Avramoğlu's shop was looted from top to bottom. Just as they had done in 1942, the family pressed on.
In the decades following the riots, Beyoğlu fell into disarray. The bulk of its resident minorities, frustrated with years of discriminatory policies, fled the country. The district once known for its smart cinemas, patisseries, and corset shops became a haven for crime and vice.
"It was desolate. There was nothing but brothels and gambling dens," said Avramoğlu of certain areas of Beyoğlu in the decades leading up to its rejuvenation in the 1990s. Still, Avramoğlu never budged.
As we chatted in the newly-opened store in Feriköy, several elderly women came in, evidently stunned to see the new location of a shop they had remembered from its original location. They had to double check with Avramoğlu to be sure they were in fact in Kelebek Korset. While the new shop is compact, it's spacious compared to the one at its former location. Most importantly, the opening of the new shop marks a new beginning for the resolute Avramoğlu.
But the tradesman hasn't forgotten about the old shop, nor the injustices he says have been foisted upon him by the Church of St. Mary Draperis.
"I'm very sad. Why? Because a very important chapter of İstiklal's history has come to an end," Avramoğlu said.
He writes a letter to Pope Francis detailing his ordeal nearly every morning.
"I will continue to write, until I die," Avramoğlu said.