In Georgia, no comment is too insignificant to blow up and become a full-scale political crisis. It started with a simple observation from the minister of defense that perhaps he should have been notified — or in the country — when five officials from his ministry were arrested last week for allegedly embezzling four million Lari, or about $2.43 million.
The most popular politician in the country, plush-lipped Minister of Defense Irakli Alasania, was sacked for slinging accusations that the detention of his colleagues was a politically-motived ploy to derail the country's Euro-Atlantic integration.
"When the Defense Minister was visiting France and Germany for meetings and talks with his counterparts on the issues related to increasing Georgia's defense capacities" several defense ministry officials were arrested, Alasania said on November 4th. "I want to clearly state that this is an attack on Georgia's Euro-Atlantic choice; this is an attack on the structure, which has been and is distinguished with its successful reforms and is distinguished on the path of achieving this foreign policy goal."
The prosecutor's office has accused the Defense Ministry of using a sham procurement tender to award telecommunications company Silknet with a lucrative government contract. At least 10 officials (and one former official) from the defense ministry have been arrested since October 28th.
Now the political crisis is known on the Internet as the "Night of the Dull Knives", and is the only thing Georgians and Georgia observers are talking about, with many debates centered on the question of who is genuinely "pro-Western" and who's just pretending.
In general, no one seems surprised that the Georgian Dream coalition fell apart. The only shock is that it happened so quickly. Thrown together by former Prime Minister Bidzina Ivanishvili as a vehicle to counter the political dominance of former President Mikheil Saakashvili's United National Movement in the 2012 parliamentary elections, the ruling coalition is a hodgepodge of parties and people with conflicting ideologies.
Alasania, a member of the Free Democratic Party and an open proponent of Georgia's integration with the West, has come into conflict with colleagues in the Georgian Dream before. But on this occasion, his outspokenness led 32-year-old Prime Minister Garibashvili, the youngest head of state in the world after Kim Jong-un, to sack him. (Garibashvili is believed to be nominally in favor of Euro-Atlantic integration but suspected of harboring secret desires to reconcile with Moscow).
Little did he know that Alasania would take a significant chunk of the coalition with him on his way out, as other members of the Free Democratic Party scrambled to resign in solidarity.
The Free Democrats' departure has left the Georgian Dream coalition short of a parliamentary majority, a situation that could prompt a whole new round of elections.
As pundits from Tbilisi to D.C. speculate about the potential implications of this latest parliamentary conundrum, the crisis highlights another problem within Georgian politics.
Many of Georgia's politicians are connected by blood or business, and insulting one can have a domino effect as allies jump to defend their friends or family members. Amid the clatter of accusations about secret alliances with the Russians, politics remain a deeply personal matter, characterized by various loyalties.
For example, after Alasania was dismissed, his sister-in-law, Foreign Minister Maia Panjikidze, immediately announced that she too would be leaving the government.
Panjikidze, speaking in the opaque language that has been the preferred tone of those involved in this latest breakdown of unity, echoed statements made by her brother-in-law last week, when she suggested that all of Georgia's accomplishments and plans for integration with the European Union and NATO were under attack from elements within the government.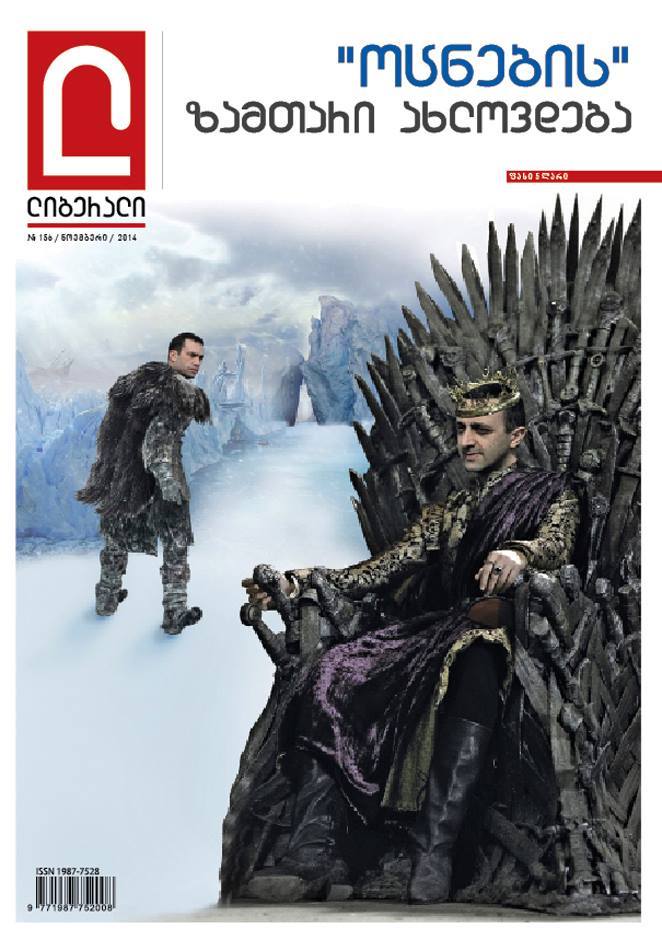 Georgia still has no Foreign Minister. Aleksi Petriashvili, the State Minister for European and Euro-Atlantic Integration and another member of the Free Democratic Party, has also resigned.
Allegations that Garibashvili and other members of the Georgian Dream plan to cozy up to Moscow have, until now, been regarded as mere rumors spread by those who wish to discredit the disintegrating coalition — namely rivals from the United National Movement.
But ordinary Georgians are beginning to wonder if the current crisis isn't a case of self-sabotage with the ultimate aim to steer the country away from the West.
Garibashvili, meanwhile, has been adamant that the accusations against him are "ridiculous", and that Georgia's Euro-Atlantic commitments "will not be compromised".
Meanwhile, others suspect that the crisis has more to do with Garibashvili's own jealousy and desire to settle a political rivalry, as results of a recent poll conducted by the National Democratic Institute (NDI) showed that Alasania is the most popular politician in the country.
Garabashvili certainly did nothing to dispel these speculations when he fumed that Alasania's accusations amounted to "betrayal".
In statements that made Garibashvili look like a schoolyard bully, lacking both emotional maturity and political astuteness, he threatened that there will soon be "many surprises" about Alasania made public that will be "personally embarrassing for him and his allies."
He also accused former Foreign Minister Panjikidze of sabotage.
Now, Mindia Janelidze, a secretary of the state security and crisis management council in Garabashvili's office, will replace Alasania as minister of defense. Many have noted that Janelidze is completely unknown in politics and has nothing especially remarkable going for him aside from his close relationship with Garabashvili.
Of course, the allegations lodged against officials in the defense ministry may very well be true. Georgian governmental bodies have a history of tailoring tenders so that only one preferred company can meet its narrow criteria, a fact that has been documented by Transparency International Georgia.
However, civil society organizations, including Transparency International, have stated that the prosecution should have presented more evidence before making the arrests.
US Ambassador Richard Norland also expressed concern that the judicial system is being used for political purposes.
Perhaps most importantly, serious questions have been raised regarding the prosecutor's tactics of interrogation. Deputy Defense Minister Aleksei Batiashvili, the official who signed the contract with Silknet, was called in as a witness and questioned for 10 hours. His lawyer claims the interrogation process was full of violations. Batiashvili is a close relative of Silknet's financial director, a fact that has been cited as the possible motive for awarding the tender to this company. He later refused to sign the interrogation protocol because he claims it was different from his testimony.
Now, people on social media are comparing Georgia's political landscape to an episode of Game of Thrones. If you take the family connections, infighting, and allegations of betrayal into account, perhaps the comparison isn't so far off base.
Questions remain as to whether or not this is really about Euro-Atlantic integration at all. Still, others wonder if this latest breakdown will prompt those on the throne to team up with the foes from the north.