But all was not grim. Berat Albayrak had been appointed CEO of Calik Holdings, and with Erdogan's son-in-law with the group, it would be even easier doing business in the next region Calik hoped to conquer: the Balkans.
They started in Albania. In 2006, Calik Holdings acquired a majority share in Albania's second biggest bank, Banka Kombetare Tregtare (BKT). Then they opened a few branches in Kosovo. BKT has become the largest Albanian bank in the region, and has plans to expand into Macedonia and Bosnia.
The Albanian government later sold the majority of its stake in Albtelecom, the state telecommunications agency, to a Turkish consortium dominated by Calik the following year. Then the Calik-led consortium launched Eagle Mobile, now one of three major cellular communications companies in Albania.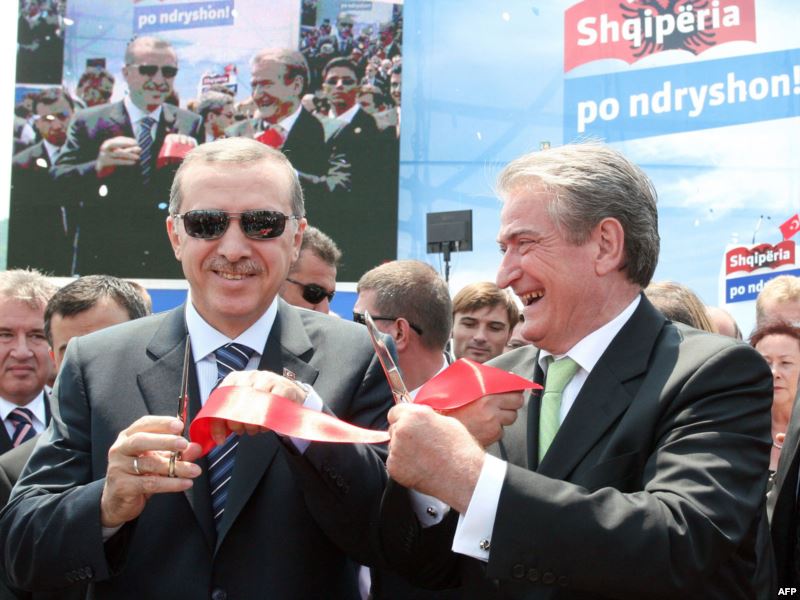 Erdogan even used his political clout to promote his son-in-law's new Eagle Mobile brand. The mobile service was opened with a ceremonial first phone call between Erdogan and former Albanian Prime Minister Sali Berisha. Calik Holdings is now the biggest investor in Albania.
But the most controversial Calik deal in the region to date has been the KEDS takeover in Kosovo, which was so resisted by members of the public that it triggered violent confrontations with police.
A consortium comprised of two Erdogan-affiliated Turkish conglomerates, including Calik, won a tender for Kosovo's KEK Electricity Distribution and Supply (KEDS) in 2012. The sale price was just $35.5 million, which some in Kosovo called "offensive and ridiculous". Investigative journalists compared the cost with those of other privatizations of electricity distribution and supply companies in the region, and the differences do seem disproportionately large: Montenegro sold its state-owned company for $514.2 million, while Macedonia's was acquired for $379 million.
The opposition party Vetevendosje! (Self-Determination) organized numerous demonstrations against the Limak and Calik acquisition, where they were often joined by union members. A final confrontation occurred in front of parliament the day the deal was signed. Interior Minister Bajram Rexhepi of the ruling Democratic Party of Kosovo (PDK) ordered police to block any of the opposing MPs from entering the building. A violent clash broke out. Riot police used pepper spray against protesters and beat them with batons. About 60 demonstrators were arrested, and some were dragged away along the ground.
Prime Minister Hashim Thaci and PDK are believed to have brokered the controversial deal. Thaci and Erdogan are known to be especially close. Erdogan reportedly started referring to Thaci as his "brother" during one of the many visits he made to Kosovo before the Limak and Calik consortium's takeover of KEDS was finalized.
Thaci also found Erdogan politically useful, and an image of the two of them was printed on a PDK campaign poster in 2010. In October, the Turkish leader visited the city of Prizren with Thaci to deliver a speech before Kosovo's local elections.
While many in Kosovo expressed concerns about the KEDS tender procedure, the US government and USAID were unwavering in their support for Calik and Erdogan's son-in-law's acquisition.
The Institute for Development Policy (INDEP), a Prishtina-based think tank, wrote that the agency's involvement "frequently exceeded the terms of their contractual obligations" and that "USAID's consultants, unqualified as they are, have ended up acting as the decision makers" regarding the privatization of the government's grid and distribution services.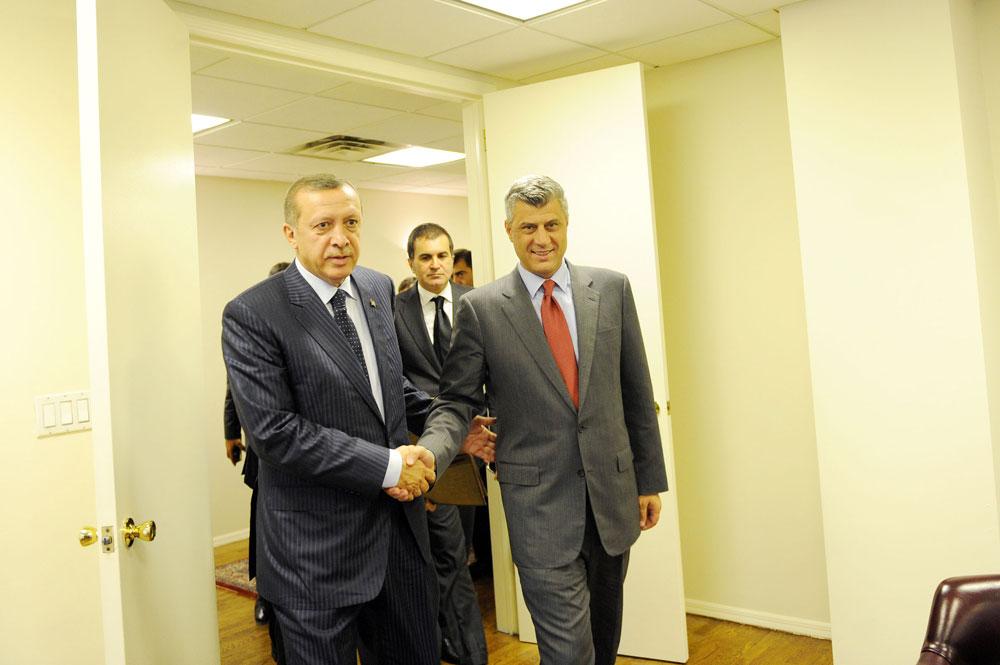 But USAID dismissed these and other concerns, insisting that Limak and Calik "won the tender in a transparent bidding process". In addition, USAID representatives implied that civil society didn't really care as much as they claimed because "only one person showed up to a meeting organized to address concerns" about the privatization.
Still, the American diplomatic community in Kosovo must have been well aware of the Erdogan family's deep and dubious involvement in the Calik consortium. In one leaked cable, an American analyst put it plainly:
"…It is not as if Chalik and Erdogan are separate. Their political pacts stretch in deals across the former Soviet states. Chalik has received much financial backing from his relationship with Erdogan, who has set state banks to backing many of Chalik's enterprises…Chalik is Erdogan's project."
Besides, the KEDS acquisition wasn't the first time the current American ambassador to Kosovo, Tracey Ann Jacobson, had supported Ahmet Calik's business interests. She'd first met the Turkish tycoon years earlier — when she was the ambassador to Turkmenistan between 2003 to 2007. She'd even written an embassy cable about a lunch they'd had to discuss US government cooperation with Calik Holdings, among other things.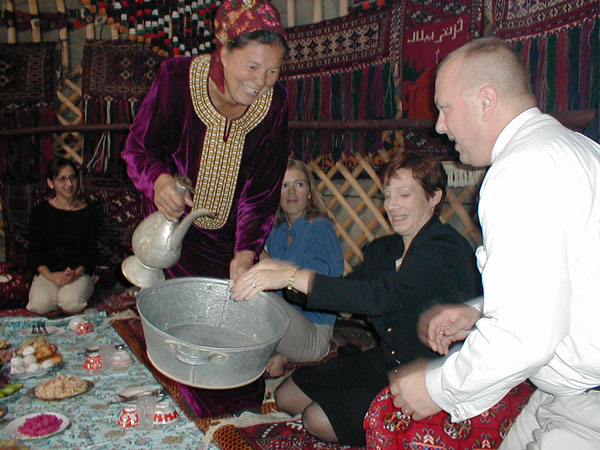 A diplomatic cable describes what must have been a surreal meal in Ashgabat: In 2006, Ambassador Jacobson attended a working lunch hosted by Turkmenistan's Foreign Minister Rashit Meredov. Turkmenbashi, Ahmet Calik, and Deputy Assistant Secretary of State Matthew Bryza were also in attendance. (Bryza would later have his confirmation as ambassador to Azerbaijan blocked over alleged ties to the "oil-soaked" Aliyev regime; nowadays he lives in Istanbul and works for a Turkish-Azeri petroleum company).
After Ambassador Jacobson briefly addressed complaints about the religious persecution of Baptists in Turkmenistan — the Bush administration had been particularly concerned about the ability to hold prayer meetings — Bryza asked what needed to happen in order to attract foreign investment for a trans-Caspian pipeline project. The submarine pipeline would allow transport of Turkmen natural gas from the city of Turkmenbashi in the Balkan Province of Turkmenistan to Baku, Azerbaijan. The project is of great strategic interest to both the United States and the EU because it would allow Central Asia's natural gas to reach Europe through a pipeline built beneath the Caspian Sea, while completely circumventing both Russia and Iran.
Calik eagerly jumped in, saying that his energy subsidiary, Calik Enerji, was interested in "leading a consortium of investors in such a pipeline." However, he stressed that in order for the plan to succeed, the consortium would need the participation of both a U.S. company and the Overseas Private Investment Corporation (OPIC), the American government's development finance institution that facilitates the flow of private capital to advance its foreign policy goals.
Ambassador Jacobson had a second meeting with Calik later that same month, and wrote in a separate cable that pipeline negotiations were off to a "positive start". Moving forward, Calik and Erdogan lobbied for construction of the trans-Caspian pipeline with full backing from the United States government. Plans are currently stalled due to strong opposition from Russia and Iran.
But it was the takeover of the second-largest media company in Turkey that has prompted the most pointed criticisms of Calik and Erdogan's relationship. Accusations of official malfeasance have surrounded the acquisition since it was made in 2007. One U.S. diplomatic cable called it "an eyebrow raising deal". What's also interesting — and probably far less known — is that the New York Times would later establish a relationship with the compromised paper.
The entire sale of ATV/Sabah was conducted under highly unusual circumstances: First, a Calik media subsidiary called Turkuvaz Radyo Televizyon was formed and Erdogan's son-in-law Berat Albayrak made his own brother Serhat its CEO. There were no competing bidders. A full $750 million of the $1.1 billion acquisition was paid for with subsidized loans from two state-owned banks. One of those lenders was Halkbank — whose director was arrested in December and found with shoe boxes stuffed with millions of dollars in cash.
The dubious deal gave Erdogan's family and associates total control over Sabah — a formerly "pro-reform, liberal, modern daily". After Turkuvaz acquired the newspaper, several of its veteran columnists and editors were dismissed. The newspaper has since taken what its former Ankara bureau chief has called "an unwavering pro-government line".
Shortly after control over Sabah was transferred to the Erdogan clan, the New York Times established a business relationship with the Turkish newspaper. In 2009, a representative of the news service division in New York announced that the Istanbul-based daily would start carrying some New York Times articles in a Turkish-language Sunday supplement.
What is troubling, however, is that at the onset of this past summer's Gezi Park protests, the New York Times ran an op-ed about media and democracy in Turkey by Sabah ombudsman Yavuz Baydar. It was a pretty critical piece, coming from a newspaper so intimately linked to the prime minister. "Dirty alliances between governments and media companies and their handshakes behind closed doors damage journalists' role as public watchdogs and prevent them from scrutinizing cronyism and abuses of power," he wrote.
Baydar went on to cite several examples of questionable alliances and conflicts of interest that exist between the government and the Turkish media, but never mentioned that of his own employer. What's worse, the New York Times did not disclose that Sabah, whom it cited as Baydar's news organization, is operated by members of Erdogan's family.
That said, the rest of the New York Times' coverage of the Gezi protests appears to have been entirely fair and free of any obvious pro-Erdogan bias.
Coincidentally, while researching this story, I was approached by Sabah and asked to be the editor of a new, Balkan version of the newspaper. A friendly senior editor kept emailing me with offers of money, and messages hinting at other benefits that writing pro-Erdogan propaganda might bring. "I think this could be very good thing for Balkanist," he wrote, vaguely. Just to make sure, I asked a friend in Turkey about the paper.
"Sabah is to Erdogan as Zaman is to the Gulen movement," he said. I didn't take the offer.
It's easy to see why Erdogan's camp wants more influence in some of its former Ottoman possessions. The Gulen movement, with whom they are still involved in a power struggle, is certainly far ahead when it comes to foreign outreach: There are already regional editions of Zaman in Azerbaijan, Bulgaria, Romania, Kazakhstan, Kyrgyzstan, Macedonia, and Turkmenistan. Gulen-affiliated schools operate in most countries in Central Asia, the Balkans, and the Caucasus.
Still, Erdogan and his inner circle look to being doing pretty well in this region even without Balkanist's help — just as they are back home.
In October 2013, Ambassador Jacobson attended the opening ceremony for Prishtina International Airport's new terminal building. The Limak half of the Limak-Calik consortium had also taken on the massive 20-year airport project.
The flags of Albania, Kosovo, Turkey, and the pro-Erdogan Turkish conglomerate Limak Holding A.S. hung from beams crossing the new ceiling, and reflected off the gleaming floors below. Erdogan also attended the opening ceremony. He helped his "brother" Hashim Thaci cut a big red ribbon and smiled broadly for many bright cameras bulbs.
Limak chairman Nihat Ozdemir, a man with an estimated net worth of $1.2 billion, told the crowd, "This terminal will be the door that opens Kosovo to the world."
Two months later, Ozdemir would be arrested in Turkey's corruption probe along with 40 others suspected of "founding a criminal organization," "bribery and influence peddling," "tender fraud," "forgery in official documents," "clearing assets acquired through criminal activity" and "threats."
But Ambassador Jacobson was pleased with the ceremonial opening, and shared her thoughts on Twitter:
Impressed with new terminal at the most modern and well-travelled #airport in the Balkans here in #Pristina. Privatization success story. — Amb. Tracey Jacobson (@AmbTracey) October 23, 2013