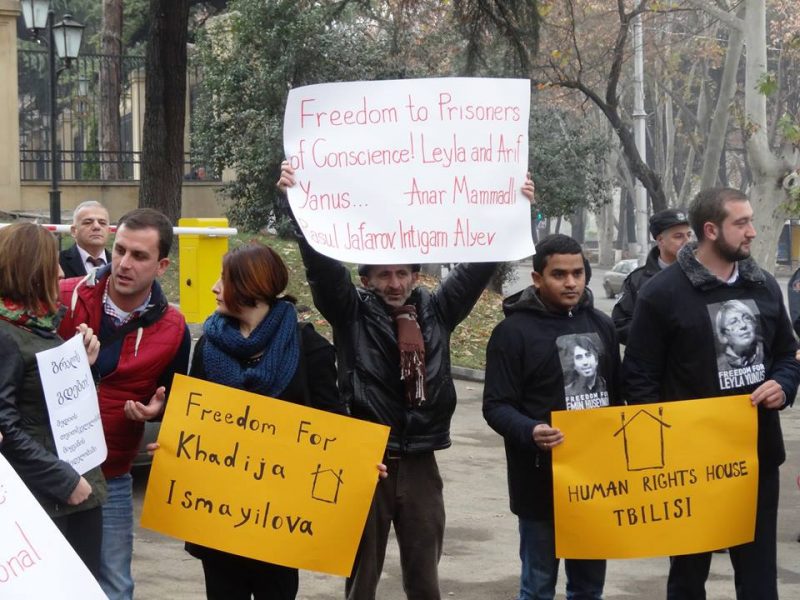 The detention of a pioneering female journalist in Azerbaijan has exposed the increasingly repressive nature of its energy-rich regime.
Officials at the Azerbaijani embassy in the Georgian capital Tbilisi peered through their windows in bemusement on December 10 as a few dozen young protesters gathered outside the gates, holding up home-made placards demanding the release of award-winning investigative journalist Khadija Ismayilova.
If this had been Azerbaijan rather than its neighbour Georgia, the scene would have played out rather differently. In the Azerbaijani capital Baku, when anyone attempts to hold even the smallest human-rights rally, the police move in immediately and drag away everyone they can grab.
Because these days in Azerbaijan, speaking out against the oil and gas-fuelled autocracy led by President Ilham Aliyev means you're likely to go to jail. As the Eurasianet website noted recently: "Prison is increasingly the place to find the most prominent of Azerbaijan's journalists, activists and freethinkers."
This time it was Khadija Ismayilova's turn. After publishing a series of investigative reports that exposed the corruption of the country's ruling elite, she was arrested on December 5 and sentenced to two months of pre-trial detention on suspicion of committing some preposterous made-up 'crime'.
As Nino Danelia, one of the protesters at the rally in Tbilisi, told a reporter for Balkanist: "This was just the latest in a long series of arrests and intimidation intended to silence critical voices in Azerbaijan."
Khadija expected to be arrested, sooner or later. She even posted a message to Western diplomats on her Facebook page in February, urging them to confront the Aliyev regime openly if she was detained.
"Please [show] support by standing for freedom of speech and freedom of privacy in this country as loudly as possible. Otherwise, I rather prefer you not to act at all," she wrote.
Her arrest came just a couple of days after President Aliyev's chief of staff, Ramiz Mehdiyev, published a vicious denunciation accusing her of treason.
"She puts on anti-Azerbaijani shows, makes absurd statements, openly demonstrates a destructive attitude towards well-known members of the Azerbaijani community and spreads insulting lies," Mehdiyev ranted.
As anyone who remembers the detentions and disappearances in the dismal twilight years of Slobodan Milosevic's rule in the former Yugoslavia knows, such official denunciations are often a coded message to police, security services or hired thugs to take a troublesome critic down.
What is remarkable in Khadija's case however is that the Azerbaijani authorities haven't even tried very hard to conceal the fact that this was a politically-motivated arrest.
The bizarre reason given for the prosecution is that Khadija goaded a young man into attempting suicide. But the man in question, when quizzed by Khadija's colleagues at the Organised Crime and Corruption Reporting Project, couldn't even remember what she was supposed to have told him.
If this is the potential testimony of a prosecution witness, it's rather a long way from being convincing. Not that little things like evidence really matter in cases like this in Azerbaijan at the moment. If you're marked for jail, you go to jail.
But could prove to be the toughest opponent that the authorities have faced.
In her first message from jail to her journalistic colleagues on the outside this week, she was defiant: "The charges against me are fabricated. The charges are put forward as part of the dirty and black PR. Despite all of this, I remain strong. I understand it is not easy for you either. But you should stay motivated. You should continue your work."
A woman this courageous should never be underestimated.
Back in 2012, after Khadija published a story detailing some of President Aliyev's daughters shady business interests, the Azerbaijani intelligence services installed a hidden camera in her apartment and covertly filmed a video of her making love with her boyfriend, which was then posted on the internet – a warning shot aimed at shutting her up.
It had the opposite effect.
After the video was made public, she continued her investigations even though she was hit with another case in early 2014 that alleged she broke secrecy laws by publishing material about attempted government blackmail.
Now the Organised Crime and Corruption Reporting Project has launched a new initiative called The Khadija Project, aimed at carrying on her work while she is in jail by getting other reporters to investigate the financial assets of the Aliyev regime worldwide.
As one of the placards at the Tbilisi demonstration pointed out: "Our liberty depends on freedom of the press."
The story continues…
For more information, see the Organised Crime and Corruption Reporting Project's Free Khadija Ismayilova website.
All photos for Balkanist.