Hotel Goricina
The first Hotel Goricina was built on the Kupari-Srebreno project site in 1962 and had 162 beds. Like Hotel Pelegrin, the original Hotel Goricina I was designed by Finci. In the Croatian architectural magazine Oris, contributor Darko Latin shed some more light on the restrained quality of the young architect's work: "Importance is given to functionality and rationality, while the design, in most cases, takes the form of a 'box'".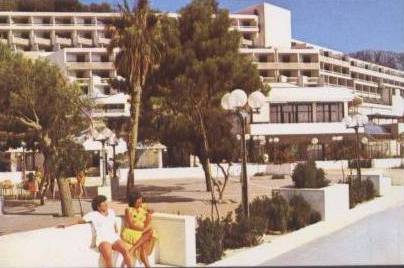 Over a decade after Goricina I was built, it was decided to expand on the existing facility. "Hotel Goricina II" was finished in 1980, and was connected to the original building. It added 352 new beds to the hotel, giving it the second-largest capacity of the resort. Some visitors would later say Gorcina II introduced a "disco" design element to the hotel. It also introduced an actual disco club into the basement.

Like the other three Kupari hotels, the hybrid Hotel Goricina was almost completely destroyed during the JNA offensive.
Next Page: Hotel Grand