Cheap flights have encouraged gangs of young men to leave their dismal homeland and terrorize the streets of European cities rich in culture. And now the notoriously drunk British stag party tourist has a new destination in Eastern Europe: The Chernobyl Exclusion Zone. What could possibly go wrong?
This could get ugly very fast. The newest stag weekend destination for British bachelors behaving badly in Eastern Europe is Chernobyl, the site of the worst nuclear power plant disaster in history.
"Take a trip to one of the most iconic facilities in all of the 20th Century!" reads one offer from top stag party organizer Maximise, which is headquartered in a wealthy suburb of north London. "In 1986, Pripyat's Chernobyl nuclear power plant suffered a huge explosion, leading to the town's population to drop from 49,000 to 0 [sic]."
And that's the extent of the social and historical context given to potentially Pripyat-bound bachelors looking for somewhere "unique" to celebrate that "last night of freedom".
After a day in Chernobyl, the next stop on the itinerary is a "VIP nightclub" with a female guide and free beer. One stag tourist named Paul described the experience of visiting a site where people had died or lost their homes forever. "It's something that is very moving and sobering," he said. "Then again, it does fuel a fantastic night out."
The Chernobyl Tour Weekend costs £293 ($384.31) per person, excluding airfare between the UK and Ukraine.
There are other stag agencies taking groups of (mostly) British men inside the Chernobyl Exclusion Zone — the 30 kilometer radius around the Chernobyl nuclear power plant so contaminated with radiation that experts say it won't be inhabitable again for "at least 20,000 years." Meanwhile, three additional stag party companies are advertising similar trips — Stay in Kiev, Kiev Stag Weekends, and Kiev Stag — all of which look to be based in Ukraine.
Of course, Britain's notoriously drunk-and-disorderly stag revellers aren't the only travelers interested in "the holy grail of disaster tourism". An official from Ukraine's Ministry for Emergencies, the government body that oversees the Exclusion Zone, said that Chernobyl received 13,000 tourists between January and November of last year. "Dark" or "disaster" tourists have been criticized for their tendency to seek out aesthetic or experiential stimuli in order to get an emotional "buzz" from sites of human catastrophe.
Stag parties, however, should be kept away from irradiated ghost towns for safety reasons. According to one recent poll, about 10 percent of Brits who'd been on a stag weekend admit to having been arrested while abroad. Given their predilection for engaging in "anti-social behavior", guys on a stag do are probably some of the last people you want around unsecured nuclear materials.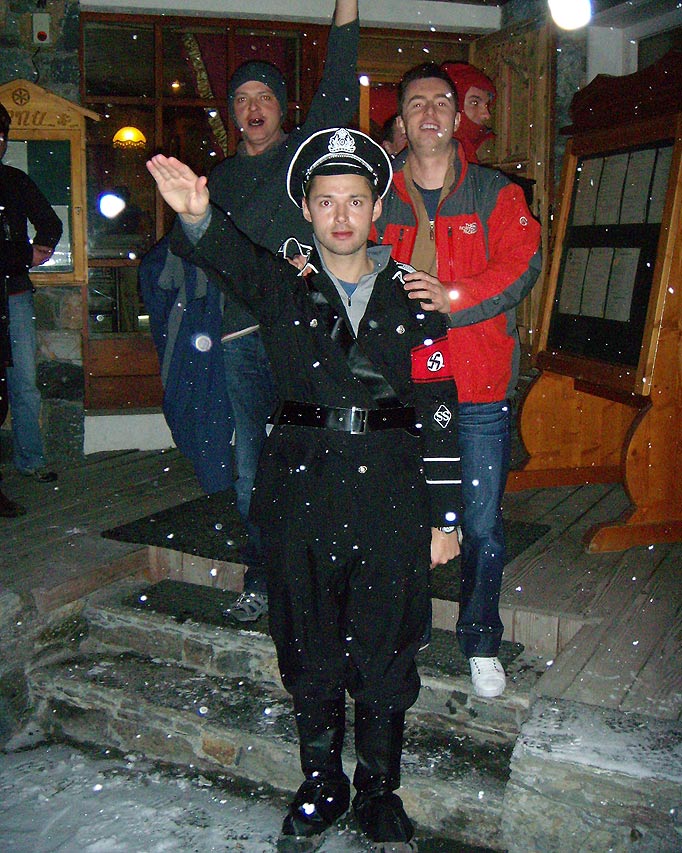 But there's another disturbing layer to the Chernobyl stag party: The reminder that Eastern Europe is still seen as a "single Western man's playground" where anything goes, and none of the rules from home apply. One commenter summed it up pretty darkly on a thread about stag parties in Croatia:
"I was in Croatia (istrea) this past summer, and yes it's pretty, cheap and cheap diesel, it's not Europe. No matter what the politicians would have you think this year.
Remember, as soon as you leave the EU it's wildwest time."
When British guys like the commenter above celebrate a stag weekend in Croatia (or presumably anywhere else he considers "not Europe"), it's fine — patriotic, even — for him to go "wild". However, teenagers from the Czech Republic whose parents have relocated to Gloucester, England are "hordes of marauding migrant louts" if they "listen to loud music" or "get drunk and shout". And regardless of what they do, Romanian and Bulgarian migrants are seen as a strain on the "fabric of British society".
The stag party or "do" (bachelor party for those of you outside the UK and the Commonwealth) has evolved over the last 15 years, from a pub night with male friends and relatives to a destination event held far from the prying eyes of soon-to-be wives and everyone else back at home. About 70 percent of stag weekends take place abroad these days, so what happens in Pripyat, stays in Pripyat.
Central and Eastern Europe has, over the same period, become Britain's number one foreign stag party destination.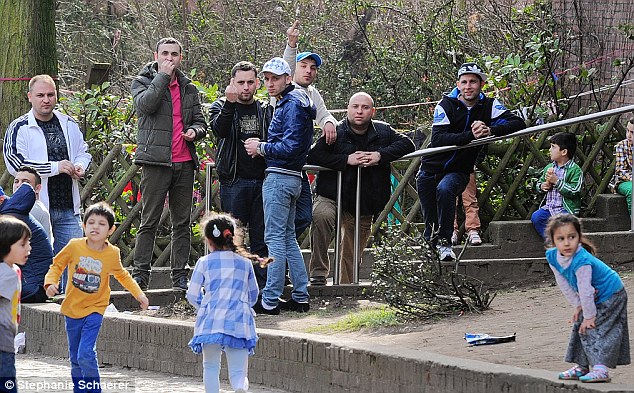 The region became more accessible with the emergence of discount airlines like RyanAir and easyJet in the 1990s, and in nearly every city where a low cost carrier has opened a flight to and from the UK, a small stag tourism industry has followed.
However, the region grew popular among the stag do set because it supposedly had an unlimited supply of three things: cheap beer, gorgeous women (who, the guys still hope, cannot resist the charms of Western men), and what Maximise refers to as "high-octane activities" — like driving tanks, shooting Kalashnikovs, and now, getting a little cesium-137 and strontium-90 exposure.
"Beer, Babes, Bullets"
They disembark from low cost carriers in droves, drunk-on-arrival. Their destinations are Prague, Budapest, Bratislava, Krakow, Riga, Tallinn, Vilnius, or Wroclaw. But many of those places have enacted laws or formed new police units to manage the stag parties' and their "humiliating horror show" behavior, which means there are also several up-and-coming cities that some say could become the "new Prague", including Bucharest, Belgrade, Dubrovnik, Kiev, Ljubljana, Sofia, and Zagreb.
But becoming the "new Prague" might not be the most desirable achievement. About ten years ago, Prague was the top stag trip destination in Europe. The city received half a million gentlemen on bachelor parties, mostly from Britain, each year. But the influx of often belligerent, entitled foreign men has come with some very unfortunate consequences.
In 2004, the Czech tourism board said that 20 percent of its weekend crime was caused by British stag tourists. Posters and beer mats were printed with the words "Don't get arrested for drinking." But it didn't seem to work. Bachelors still got blitzed on Becherovka and beer and ran across Charles Bridge wearing nothing but a boob apron (the Brits call that "fancy dress").
They vomited in the streets, and lost their passports along with their dignity. (15 percent of all lost passport cases in the Czech Republic are thought to be for British nationals on stag weekends.)
Soon, a committee in the British parliament convened to discuss the enormous burden stags were imposing on consular officials in Prague. The notes from that meeting include some amusing case studies. Here's one, emphasis mine:
"The embassy got a call from the airport police to say that a distressed British national (DBN) had been detained in the police station…When we arrive the DBN was still a little drunk. We asked the police officers why he had been detained, the response was that he was caught wandering around the airport hangars. When we ask the DBN about what had happened he said that he was separated from his party and ended up in a taxi drunk, he then fell asleep, the taxi driver took him to the airport, stole all his money and kicked him out. Because he was so drunk he thought that he was going home and tried to get on any plane leaving the airport. Nobody knows how he got into the hangar."
At least the DBN wasn't wandering around drunk in off-limits storage areas on the Chernobyl tour.
The "British Behavior Abroad" report notes that in 2007, the Czech Republic was one of the countries where Brits had "a disproportionate number of lost passports, arrests and hospitalisations."
But with tourist agencies like Crazy Stag advertising "liver-busting tours of a local brewery, white-knuckle rides in a Communist Trabant deathbox or grappling with assault rifles at an outdoor shooting range" as bachelor party activities, it's little wonder.
With each passing year, more of Prague's bars, clubs, and restaurants have hung signs on their doors with the same warning: "No stags". Hoteliers and tourism board officials have worried that other visitors, those with more money to spend and an interest in the city's Bohemian culture and history, had been "turned off" by too many roving bands of delirious naked Englishmen urinating on monuments to the struggle against fascism. Even the mayor was starting to loathe it: "What is happening here in Prague is going too far," he said.
Go to page 2