Good morning, dobro jutro, добро јутро, доброе утро, and welcome to our live(ish) blog of the 2014 Belgrade Pride Parade, the first to take place in Serbia since the "anti-gay riot" in 2010 that left some 100 people injured, some seriously. As participants in that event, the danger to our physical safety was such that police had to transport us in the back of a pitch black paddy wagon from downtown and to the city's outskirts. Then we took a taxi to the apartment where our co-founder's parents live, and watched the city center burn on live TV.
Your editor is in Odessa, but we've got people on the ground in Belgrade, and will gather updates all afternoon, along with thoughts and commentary from around the world. This means we want your comments — even if you are critical of the Pride Parade. That said, we will not publish hate speech of any kind. So if you're going to criticize, say, the US Embassy's support of LGBT and human rights in Serbia while simultaneously droning multiple countries around the world, don't be an idiot about it.
Email us your thoughts/photos at editor@balkanist.net or tweet them to us at @balkanist. We do hope the glorious, glorious streets of our beloved Belgrade remain a safe place for everyone today.
1220 CET: The gathering of "oathkeepers" in front of St. Sava temple, their frisking in front of St. Sava temple, and the bizarre news story that PM Vucic's brother was beaten near St. Sava temple at Slavija square (i.e. near the anti-pride demonstration) is, in our opinion, a crude version of a Surkovian stunt. In other words, a lie. 
1400 CET: Waiting for Pride. 
1350 CET: Important to remember the bigger picture here. This government lacks any ideology other than power for power's sake, and they can hold the most peaceful Pride Parade in Belgrade history (and people in Serbia and the international community might ask themselves why that was the case) and turn around and give Vladimir Putin a hero's welcome a few weeks later.
Large banner right near government building, where Pride Parade participants are gathered against NATO aggression in 1999, and the Kosovo Liberation Army (KLA):
1330 CET: Our co-founder says the march has yet to begin. Meanwhile, there is a counter-demonstration of "oath keepers" in front of St. Sava Temple in central Belgrade.
1310 CET: According to Balkanist co-founder Srecko Sekeljic: "The march is about to start now from the govt building, opposition politicians are here:Radulovic, Ceda, DS MPs, haven't seen ministers yet."
1250 CET: Belgrade mayor Sinisa Mali, a member of the ruling Serbian Progressive Party (SNS), who has recently been accused of plagiarizing his PhD, is at the Belgrade Pride Parade.
1235 CET: 7,000 police officers dispatched to patrol Belgrade's streets today. In 2010, that number was an estimated 5,000.
1220 CET: So far, no signs of gangs roaming around town, per our co-founder Srecko Sekeljic. Police holding things down. (All photos courtesy of Rade Maroevic).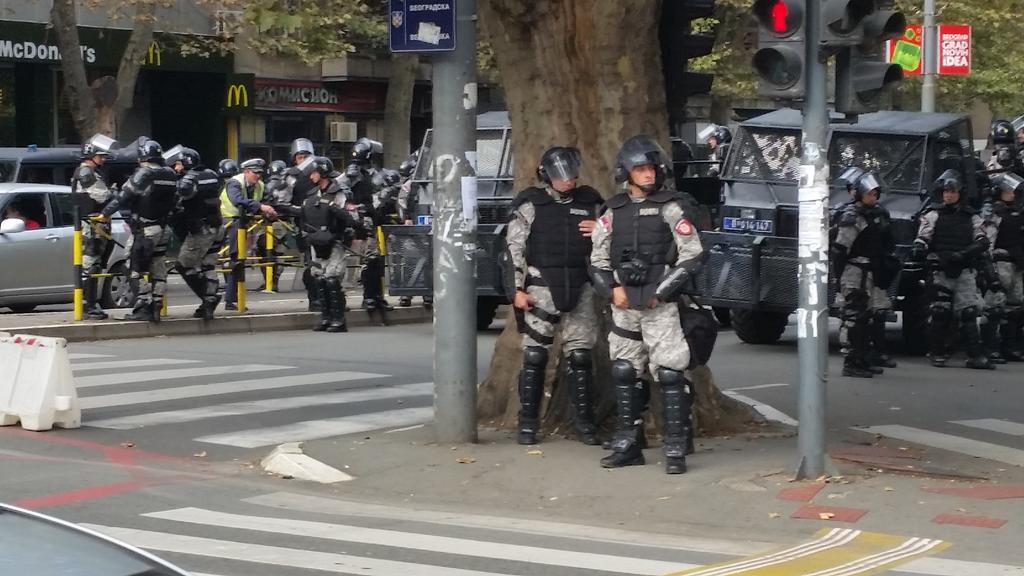 1200 CET: The Parade will most certainly be a test for Prime Minister Aleksandar Vucic. If there is not a massive amount of hooligan violence, it will suggest that the government really is as closely aligned with the far-right hooligans as many have suspected for years. On the other hand, if there is a lot of violence, it will demonstrate that Vucic is not the standard-bearer of regional stability he claimed to be during the campaign.
Cover photo of the 2010 Belgrade Pride Parade by Balkanist.