What happened when football clubs from the isolated Maoist outpost of Enver Hoxha's communist Albania encountered their counterparts in Europe? Craig McCracken explains it all in a series originally published on Beyond the Last Man.
---
Geographically positioned on the edge of southern Europe and politically positioned way over the edge of any recognisable sanity, the People's Republic of Albania under the dictatorship of Enver Hoxha was a deeply odd and isolated place. People, information, news or pictures; not much got out of this hermetically sealed nation and despite its semi-regular participation in European club and international competition, Albanian football was no less opaque.
With a lack of prominent teams or recognisable players as points of reference during the communist years, for the typical British football fan at least a single, surreal icon became the defining image of the Albanian game – the beard of Scottish fullback Danny McGrain.
McGrain's Celtic side had been drawn to play Partizani Tirana in the First Round of the European Cup in 1979 and with nothing to write about the Albanians, Scottish press coverage focused instead on the clash of facial hair cultures. Danny McGrain's beard was a popular and wholly benign Scottish institution, but in Hoxha's Albania it represented a national threat – facial hair was at the top of the country's banned list, just ahead of long hair, flares and rock music.
A great defender, a nice man, an almost unintelligible speaker: Danny McGrain was many things, but this was the first time he had been cast as a symbol of western decadence likely to corrupt Albanian youth. Understandably anxious before travelling, the Celtic man later wrote in his autobiography that he would have shaved off his beard had it been demanded of him. It wasn't and Danny and his beard both played in Celtic's 1-0 defeat.
An unusual obsession with the hirsuteness of visiting footballers was to be the least of UEFA's problems with Albania. Of greater concern was the country's continual political posturing and downright bloody-mindedness that made them the continent's problem child for a quarter of a century.
Albania's first participation in European competition came in 1962 and typically was born more out of spite than sport. Hoxha had fallen out ideologically with the Soviet Union in 1960 and was taking every opportunity to tweak the tail of his former allies. The Soviets and the Albanians had been the only nations to exclude themselves from UEFA club competitions for political reasons, so Albania suddenly ending their boycott would leave the Soviets isolated. Partizani Tirana duly took up the country's European Cup place.
That first tie came against Swedish champions IFK Norrköping. Partizani gave a decent account of themselves and the home leg was a relative success if you overlooked the barrage of rocks thrown onto the pitch at the end by the Albanian fans. Missile throwing of this nature was an all too common event in European club football back then and spectator misbehaviour, like beards, was a pretty minor issue in the grander scheme of Albanian misdemeanours.
A little light was cast on the Albanian experience when Scottish champions Kilmarnock drew 17 Nëntori Tirana in the first round of the 1965-66 European Cup. The Kilmarnock manager Malcolm McDonald wanted to take 16 players to the away leg, but only 15 visas were granted with no explanation being given for the other omission. 17 Nëntori translated directly as 17th November, the date Tirana was liberated at the end of WWII and a droll journalist deadpanned that 17 Nëntori was the date you finally cleared Albanian border patrol after your plane landed on 15 Nëntori.
Knowing nothing about the opposition, the Killie boss turned to Fleet Street reporter Roger McDonald who claimed some knowledge of the Albanian game. McDonald looked at the list of opposing players Kilmarnock had been sent in advance of the tie and noticed the name of Panajot Pano. That Pano had been the previous season's Albanian League top scorer was not an issue; that him and several other names on the list were actually Partizani players was more concerning. Centralised player registration records were scant in those days and Kilmarnock tacitly accepted they would playing a team that featured ringers.
Air entry to Albania was only permitted via special charter flights forcing the Kilmarnock party to travel there via London and then Rome. No flights were permitted to land after dark and with their take-off delayed in Italy, it was hit or miss whether the Scots would arrive in Tirana before the curfew. They just made it, touching down at dusk amidst the anti-aircraft batteries at Tirana airport.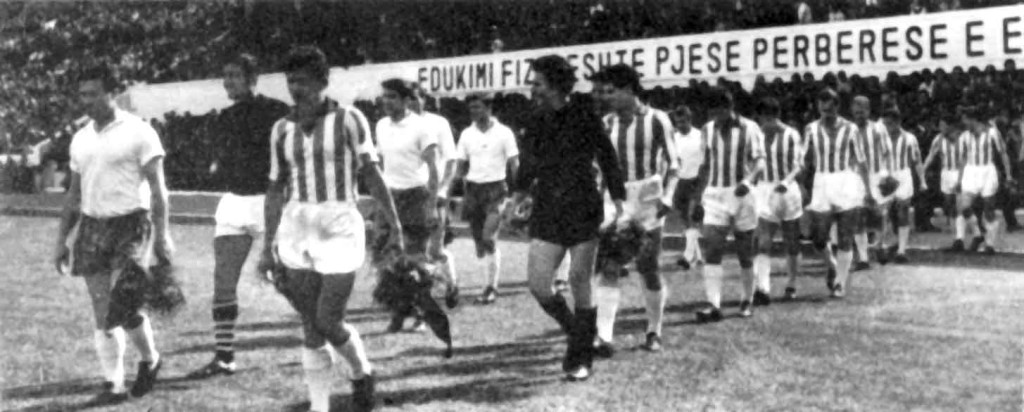 Some of the Kilmarnock party's recollections of the experience were more interesting than the scoreless draw the teams played out. When trying to phone home to let their families know they had arrived safely, the Kilmarnock players discovered that telephone lines were only open for one hour in the morning and two hours in the afternoon. Meanwhile the club's physio found the match quite baffling: each time he ran on the pitch to treat one of his injured players he was accompanied by a large number of well-intentioned Albanian doctors in white coats, all eager to assist him.
Kilmarnock narrowly won their home leg and were relieved to do so. Play-offs in neutral locations were needed in the days before the away goals rule was introduced and rumours suggested Albania had proposed any third match be played in the land of their main political allies – China!
European club football then as now was underpinned by a couple of basic tenets that participating nations were expected to adhere to: each country should put forward the requisite number of entrants each season and clubs should play who they are drawn to play. Undemanding in principle, understandable for maintaining the integrity of the competitions and unthreatening for all participating nations. All except Albania of course.
The first issue arose in 1966 when our friends at 17 Nëntori withdrew from the European Cup upon drawing the Norwegian side Vålerenga in the First Round. A theory circulated that Norway remained an unfavoured nation as far as Albania was concerned for their perceived acquiescence to Nazi occupancy in 1940. It was just that though, a theory, one of many that would spring up over the years in the absence of a single word of official explanation for Albanian withdrawals.
While teething troubles with travel and general Albanian oddities were seen as an acceptable price to pay for reaching out to the more extreme corners of the continent, withdrawals like this greatly undermined the European club competition ideal. UEFA did have to take into account a couple of precedents here. Back in 1958 Greek champions Olympiakos had withdrawn from the European Cup rather than face Besiktas of Turkey, while five years later the Greek national team did the same thing when drawn against Albania – the countries were still technically at war – in the qualifying rounds for the 1964 European Nations Cup. As Albania had been a victim itself of political posturing, UEFA took the high road. Vålerenga were given a bye into the next round and 17 Nëntori were quietly told off and asked not to do it again.
UEFA's policy of gentle diplomacy towards Albania failed then, just as it would fail over the next two decades. The following season Dinamo Tirana withdrew in similar circumstances from a First Round European Cup tie versus West German champions Eintracht Brunswick and again it was hard to find the specific motivation, especially when the Albanian national team had played West Germany that same year in a European Nations Cup qualifier. A slightly less patient and slightly more exasperated UEFA banned Dinamo from European competition for a year.
For the 1971-72 season three Albanian teams were initially put forward for European competition for the first time, yet this seemingly positive step towards closer integration disintegrated when Vllaznia Shkodër withdrew from their UEFA Cup tie against Rapid Vienna. It appeared an utterly contrary decision, what with Dinamo Tirana also drawing Austrian opposition in the Cup Winners Cup and this tie going ahead without a hitch. Partizani Tirana had similarly played Wacker Innsbruck the previous season without complications. The now standard year-long ban was duly handed out.
UEFA's problems with their Balkan refuseniks took on another dimension during the 1970s. Having registered for competition and occasionally, randomly withdrawing once the draws were made, now Albania simply stopped participating at all. Between 1973 and 1978 the increasingly paranoid regime went into a state of almost total isolation with no one able to predict from year to year if, or when, they might return to the European fold. Rumours would emerge each season that their teams were ready to come back and the Albanian Federation did declare an intention to nominate entrants for the 1977-78 European season. They were true to their word too, but typically their registration arrived a week past the UEFA deadline and they missed out again.
Back they finally did come in 1978 with half a decade in the international wilderness doing nothing to soften their political entrenchment. When Vllaznia Shkodër drew Dynamo Moscow in the Cup Winners Cup, a weary UEFA knew what was coming. To Albania the reviled Marxist-Leninist revisionists from the Soviet Union were even more despised than fascist imperialists from the west. There was no prospect of this tie being played.
Broader Europe-wide irritation with Tirana's intransigence started to grow significantly by the early 1980s. Assuming Albanian authorities deigned an opponent benign enough to play in the first place, the bizarre rules and regulations and the arduous experience of travelling there was becoming too exasperating for opponents. The beard ruling that so bemused Celtic had actually been in existence since 1970 when Ajax drew 17 Nëntori in the European Cup. The Albanian state travel agency notified the Dutch in advance of their meeting that players would not be allowed to enter the country if their hair exceeded 1.5 inches in length, or if they sported beards. Female members of the travelling party were not permitted to wear mini skirts and hemlines were allowed to be no higher than 2.5 inches above the knee. The furious Ajax president, Jaap Van Praag, complained to UEFA and demanded the expulsion of the Albanians, although ultimately the tie passed off without undue difficulty or Dutch compromise.
While it was hard enough for players to gain entry to the restrictive country, journalists found it a near impossibility. In an age of developing technology and growing television coverage of the European game, the only reports of Celtic's match in Tirana came second-hand from Yugoslav journalists monitoring the game from Albanian short wave radio commentary. Travel to the country for those who could get in often involved multiple changes of flight and many hours clearing border control upon arrival. Clubs would take their own food and water for the duration of their stay in a country where living conditions were the poorest in Europe. When Linfield played a European Cup tie there in 1982, club secretary Derek Brooks made sure no players took cameras for fear of being arrested as spies. A report of Linfield's Albanian trip read like a word-for-word retread of Kilmarnock's visit 17 years earlier. Nothing had changed in the interim; the country was a Stalinist theme park locked in a time warp.
And still the withdrawals came. 17 Nëntori eliminated Linfield but withdrew immediately from their Second Round tie when Dynamo Kiev were drawn as prospective opponents. The cursory year ban now also came with a fine of 100 Swiss francs (£300). When Vllaznia Shkodër withdrew from playing Hamburg in the opening round of the 1983-84 European Cup, the sixth forfeited game in 17 years, resolve hardened among the other UEFA member nations. If Albanian teams wanted to pick and choose who they played, in turn the rest should be allowed to pick and choose not to play the Albanians at all. UEFA started quietly exploring the possibility of a broader Albanian club ban that would also have been convenient in eliminating the unpopular European Cup Preliminary Round. Ultimately the pariah state gained an ill-deserved stay of execution when English clubs instead were banned in the aftermath of Heysel.
There was one final episode in this chronicle of bad Albanian behaviour, albeit one that took a quite different form from what had gone before. In 1987 Partizani Tirana travelled to Lisbon for a First Round European Cup tie against Benfica. As half-time approached, Partizani goalkeeper and national team captain Perlat Musta retaliated brutally to a Rui Aguas foul by kicking the striker in the stomach. He was sent off and Partizani's collective discipline went with him as three of his teammates were red carded during the second half for wild fouls and violent abuse of the referee. UEFA responded with uncharacteristic harshness: the second leg was annulled, Partizani were thrown out of Europe for the next four seasons and the offending players received lengthy bans. After a quarter of a century of having to deal with the Albania problem, this was probably a very cathartic punishment to hand out.
While no official information exists that allows us to shine much of a light on the decision-making process in communist Albania during these decades, some patterns emerge that let us draw some tentative conclusions. It seems that apart from the few ties pitching them against Soviet teams, undiluted political ideology was not necessarily the main driving force behind their teams' withdrawals. In not a single season between 1962 and 1985 – the year that Enver Hoxha died – did Albanian clubs take up their full allocation of European places. It was actually rare that there might be two clubs participating in any single season and what was telling was that never, at any stage during this entire period, would two Albanian clubs be playing matches outside the country at the same time.
Foreign travel was banned for most Albanians after 1968 and away trips by football teams were always accompanied by members of the sigurimi – the Albanian secret police. A paranoid fear of bad publicity dictated policy and during the 1980s in particular there were several high-profile incidents of defections and players shoplifting at Heathrow Airport. Whether ties would be honoured was dependant upon the logistics of the draw. If one Albanian club was drawn at home in the first leg and the other was drawn away, there would be no issue. But if both were drawn away in the same leg, then trying to keep a tight rein on two travelling parties with upwards of 20 people in each would be considered too risky. It was safer and easier to withdraw one of the teams.
An apt metaphor for Albanian football during this era is a Russian doll: the further you delve inside, the more mysteries within mysteries you find with nothing ever quite how it first seems. Just to be semantically correct; it would of course be a Marxist-Leninist revisionist doll, each nested figure painted with a stern and implacable face, a revolutionary glint in its eye and sporting no facial hair whatsoever.
Cover photo credit: www.giovanniarmillotta.it